It was hard not to go crazy buying up all the skincare in sight while I was in Japan earlier this year. Very hard. It helped that there was a language barrier – it prevented me from quite literally falling for every product out there! Yet, I managed to hoard a number of items, predominantly sunscreen, and one that caught your eye was the Kanebo Allie Extra Perfect UV Sunscreen SPF50+ PA++++ I showed in some of my pictures back then.
Quite a few of you asked me about it, but I wasn't comfortable sharing, as I'd quite literally opened it up to use while in Japan, and it was too new to actually form an opinion on. I wanted to come home where the heat and humidity is high, to see how I'd like it. Then, I wanted to really put it through its paces, so I took it to the beach, where I spent an ungodly amount of time in the sun and by the pool.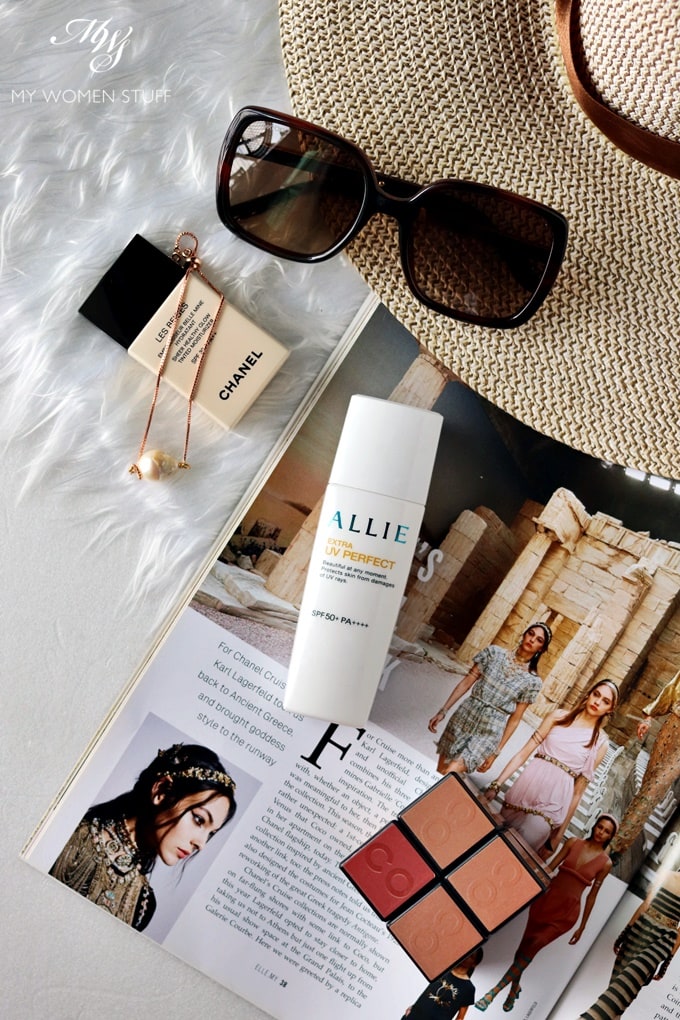 I wanted to be very sure about how I felt about this one. This was because I'd already fallen in love with it while in Japan, and I really really wanted to know if it was as good for me as its first impression was.
Happily, or unhappily, I think this is the perfect successor for me, to my long-time favourite, the Shiseido Perfect UV sunscreen. The latter has been reformulated this year where the name now states "Multi-Defense" and before you ask, no I have not yet tried it. I know I should, but I am working through other sunscreens I own (I need to before they go off – 2 years shelf life for best efficacy!) and to be honest, I've read too many unhappy comments about this new formula – enough to put me off trying.
Well, let's just say that I'm not actively looking to try the Shiseido one either, because this Kanebo Allie Extra UV Perfect sunscreen has me very happy with it. And yet sad.
Why sad, you may ask.
Well, let's deal with the happy bits first 😀
This Kanebo Allie Extra UV Perfect sunscreen is a very liquid sunscreen. There is another gel formula that I'll try and share with you another day. This is your typical Japanese style fluid sunscreen that you shake up to mix before applying to the skin.
The texture is very fluid, and the temptation is great to use just a little, because it spreads so easily. I will however, caution against that, because you may not be using enough product. Despite how fluid it is, I still use the same amount I use with ALL my sunscreen – One finger's length for each portion of my face.
As I said, the temptation will be there, to use very little, simply because it spreads just like water all over. Just resist that temptation, and rub in as much product as you can. Not that anyone's listening 😛
I personally find the formula very comfortable on my skin. I have read reports of people who find it drying (and it may feel that way for some) but on my dry skin, I don't find it to be so. I don't find it to be uncomfortable either.
I do find that it makes a good makeup base as well, which is great for me, because I don't use primer otherwise. This seems to keep my makeup in place and doesn't react with it at all. If you're familiar with the formula for the Shiseido Perfect UV sunscreen, this one is more runny but it feels the same on skin.
There is however a small snag. Deeper skin tones may experience a white cast. I attribute this to the use of zinc oxide and titanium dioxide as its UV blockers. These physical blockers do tend to leave a white cast on skin. I do find that when I first rub it into my skin, I do notice it. But then, it disappears, or perhaps just blends into my skin so I don't notice it after that. It does not leave my face looking noticeably whiter than my neck so for me, it wasn't something I was very concerned with.
In terms of sun protection, the Kanebo Allie Extra UV Perfect sunscreen boasts an SPF50+ UVB protection and PA++++ UVA protection. That, by all accounts is very high and basically what I look for in all my sunscreen. I rarely will look any lower than SPF50. Never, in fact 😛
Its UV blockers/filters are Zinc Oxide, Titanium Dioxide, Octinoxate and Uvinul A Plus, so it is a mix of physical and chemical blockers/filters. I do try to find sunscreen with a mix, as often, the formula is a little more elegant and easier to apply. While I do realize that physical blockers offer the best protection as they don't get absorbed into the skin, I have not found a formula I'm comfortable using.
What makes me happy using this Kanebo Allie Extra UV Perfect sunscreen is the fact that despite my being on the beach and by the pool, under noonday sun, I did not burn nor did I even turn red where I applied this sunscreen. I used it all over my face and body (arms and legs) and because I was aware of being under prolonged sun exposure, I reapplied about every 90 minutes. I barely even tanned! Yes, that's a good thing 😛
I suffer from hyperpigmentation, and the time I've been using this (since May – about 3 months) I have not noticed new spots forming, although my recent frolic in the sun did leave my existing spots a little darker. But nothing new that I spotted, which for me, is a good thing! 😀
The Kanebo Allie Extra UV Perfect can be used all over face and body, and it is also water resistant. I did find that because I was reapplying so often while on holiday, I had to really make sure that it was properly removed from my arms and legs. I've found that a little oil cleanser helps. For my face, because I double-cleanse every evening, I make sure it's properly removed at the end of the day.
Personally, I thoroughly enjoy using the Kanebo Allie Extra UV Perfect sunscreen, which brings me to the bad news. It's hell of a hard to find outside of Japan, and here in Malaysia. I think you can get it in Hong Kong or Taiwan where they carry many Japanese drugstore brands. But here in Malaysia, you may be limited to resellers and the like who jack their prices sky high. [Edited to add: I've just learnt that Kanebo Allie is available in Thailand where I go at least once a year, so I hope they carry this version there too! 😀 ]
So, if you are planning a trip to Japan or know someone who is, shop there. I swept a couple before I came back because I knew I'd not be able to get it here, and because, as I told you above, I'd already fallen in love with it in Japan! 😀
Dec 2019 UPDATE: Kanebo Allie sunscreen is now available in Malaysia at Watson's stores and online!
IN A NUTSHELL

The Kanebo Allie Extra UV Perfect sunscreen SPF50+ PA++++ is a drugstore brand of sunscreen from Japan. This version is a very fluid version that you must shake up before dispensing, to mix up the ingredients. The texture is very light and very liquid which makes it easy to spread. There will be the temptation to use less because of this, but please resist and use a significant amount for best protection. Deeper skin tones may experience a white cast which I notice when I first apply it to skin, but not after I've rubbed it in. I find it makes a very good makeup base for me, which allows me to skip using primer. I also don't find it drying, although some people do. It's fragrance-free and waterproof and best removed with a cleansing oil at the end of the day. You can also use it all over your face and body. I thoroughly love this one, and only wish it was easier to get outside of Japan!

PROS: Lightweight texture, Not particularly drying, Waterproof, Can be used on face and body, Compact packaging, Affordable, Protects my skin well, No fragrance

CONS: Not easy to find outside of Japan, Possible white cast on deeper skin tones, Some people complain of it being drying (I don't), Light fluid texture may result in people using less product

WHO WILL LIKE THIS: Anyone who wants a versatile sunscreen for face and body, Anyone who wants a light textured sunscreen with very high sun protection factor

PRICE: ¥2800 for 60ml (approx RM103 at today's exchange rate) (Dec 2019 Update: RM97 for 60ml)

WHERE TO BUY: Watson's stores and online, Most drugstores in Japan, Some online sites like Rakuten, YesStyle, Ebay or sites that specialize in products from Japan but I haven't tried any so have none to recommend. Please ensure you are buying the right product and check for expiry dates
Here is the ingredient list for the Kanebo Allie Extra UV Perfect sunscreen:
Methyltrimethicone, Zinc Oxide, Water, Ethylhexyl Methoxycinnamate, Alcohol, Cyclopentasiloxane, Titanium Dioxide, Triethoxycaprylylsilane, Bytylene Glycol, Octyldodecyl Myristate, Diethylamino Hydroxybenzoyl Hexyl Benzoate, Polymethylsilsesquioxane, PEG-8 Trifluoropropyl Dimethicone Copolymer, Dimethicone, Aluminium Hydroxide, Trifluoropropyl Dimethiconol, Silica, Dimethicone/PEG-10/15 Crosspolymer, Nylon-12, Dimethicone/Vinyl Dimenthicone Crosspolymer, Dipentaerythrityl Tripolyhydroxystearate, BHT, Sodium Hyaluronate, Hydrolyzed Collagen
Kanebo Allie Extra UV Perfect sunscreen or Shiseido Anessa Perfect UV sunscreen
Let me preempt your question 😀
I know I said before this that the very popular Shiseido Anessa Perfect UV sunscreen is an alternative to the Shiseido Perfect UV sunscreen and in many ways, it is accurate. I did edit to review my view after prolonged use, if you missed it 😉
But if I were to pick from either the Kanebo Allie Extra UV Perfect or the Shiseido Anessa Perfect UV sunscreen, it'd be a no-brainer. It'll be Kanebo Allie Extra UV Perfect all the way because the smell of the alcohol isn't as strong, and it protects my skin far better than the Anessa. With the Shiseido Anessa Perfect UV I still get a little red even with re-application, and my skin can feel heated. I even feel it on a daily basis. With the Kanebo Allie Extra UV Perfect, I don't. For that, it wins my vote 🙂
Have you tried the Kanebo Allie sunscreen?
In Japan, this is a very popular brand and very highly rated, on par with Shiseido Anessa. Was very thrilled to finally be able to try it after reading about it for years and years! Now, if anyone is headed to Japan, you know what to get me 😛
Paris B