A few years ago, after much experimentation, I hit on a planner system that worked for me. It was loosely based on the bullet journal that was very popular then, but which did not work for me. I was actively using planners from Moleskine and Leuchtturm 1917 then, which were pretty pricey.
I use a planner primarily for work and various engagements, so in the last few years, when things were quieter, I fell out of using one.
This year, life has somewhat returned to normal and in early January, I found myself needing a new planner. As luck would have it, I was unable to find any from Moleskine or Leuchtturm 1917 in the market. I guess I was just too late to the party, because most 2023 planners were out of stock by then.
When I lamented about this sad state on Instagram, someone sicced me onto a Kinbor planner. I was intrigued, primarily because it was so affordable! I mean, we're talking just under RM30 for what looked to be a decent planner with lots of space for to-do lists, appointments and notes.
It's been about 2 months since I started using the Kinbor planner, and I have to say that it's a nice one that I'd recommend to anyone looking for an affordable but effective planner 🙂
I preface this by saying that I use planners purely as planners, not as a journal. I am also the sort who does not decorate their planners, am not into fancy stationery, am not fussed about the type of pens I use, and I scribble and strike things out as I fancy.
In short, I am not your usual stationery geek, so this review of sorts, is coming from someone who uses a planner for a very practical purpose.
Handy A5 size planner
I picked the A5 size as experience had taught me that it was the best size for my purposes. The A5 size (half A4) fits into most bags, and is a good size to hold in your hand.
I also like using the A5 size as it offers sufficient space to write in, and is the most comfortable size once you splay it open. I used to use the A5 size for Leuchtturm planners, and it is a size I'm happy with.
Unlike the Moleskine or Leuchtturm 1917 planners, the Kinbor A5 planner does not come with an elastic band nor a pen clip. I have a pen clip from Muji that I clip to the cover, that is useful to slip a pen in, so I don't have to hunt for a pen when I need one.
Not Heavy and is well made
What I liked about the Kinbor A5 planner is that it was not heavy, and the soft cover does not make the book too stiff. The paper inside is a little thin, but feels smooth, and from my experience with it, quite sturdy.
The book is sewn together in sections, and the spine and cover are nicely glued. The sides of the book feel smooth, and the rounded edges are smooth to touch and to the eye. I have not experienced fraying or folding at the cover, which has a faux leather feel that does feel more expensive than it is!
The cover comes in various colours, but I picked a dark blue. There is some gold embossed text on the cover, with the year in Chinese characters. The Kinbor name is printed on the back. The whole effect is very minimalist and simple, which is exactly how I like it.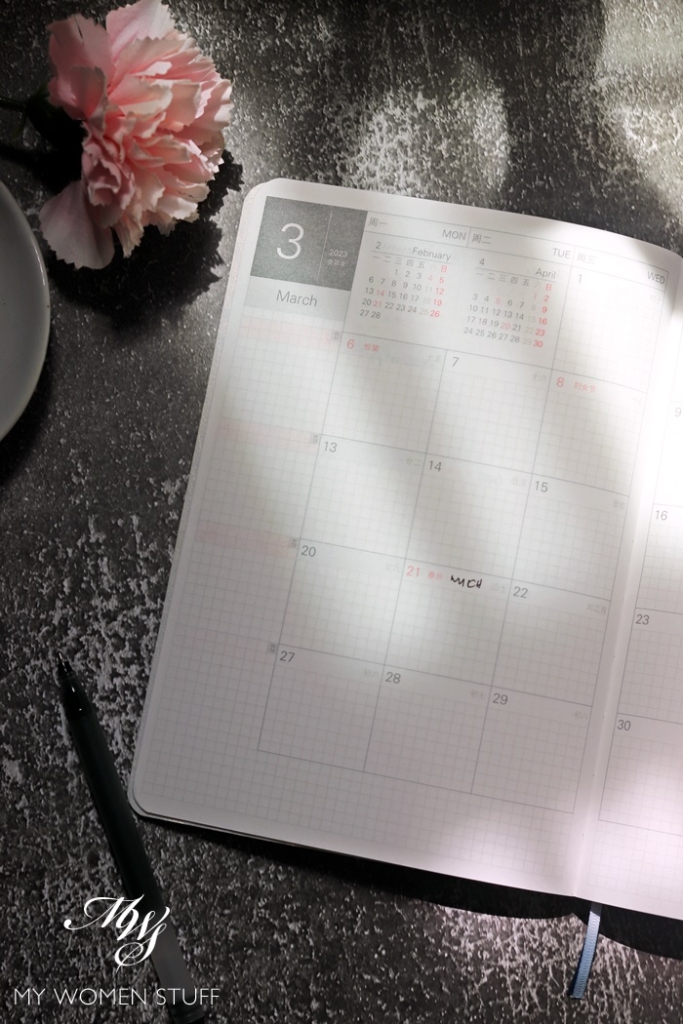 Paper is smooth and thin
I know of many stationery or planner geeks who are very particular about the quality of the paper in their planners. I am not such a person 😛
I have been told that the best quality papers can be found in the Japanese brand planners and journals, like the Jibun Techno or Hobonichi Techo which I actually considered purchasing earlier this year. I gave up on the idea after looking at the price 😛
Happily, the Kinbor planner seems to be a dupe of the Kokuyo Jibun Techo in terms of its vertical layout and features, so I guess I could play around with it and see how I like it before I decide if I ever need to go down the road of expensive Japanese planners 😛
For a lay person like myself, I found the paper quality of the Kinbor A5 planner to be very good. It is smooth and thin, yet not so thin as to allow much ink to bleed through. I use a gel pen (from Xiaomi of all places! It's a pretty decent smooth gel pen that is very inexpensive, so I do recommend it as well! Get it here) and I don't see much of a shadow on the back of the page I'm writing on.
I know it can be irritating to have pen ink bleed through the back, but I had no trouble with this. I must say however, that I do not use a fountain pen, so I don't know how the paper will perform with fountain pens. I'm the sort who will use ball pens (even free ball pens) so I'm not your best judge of paper or ink quality 😛
I like how smooth the paper is, because it's lovely to the touch, and it does not catch on the sharp point of the gel pen. Writing in the Kinbor planner is a cinch!
The paper is printed with small boxes on all pages, which I initially found a little restrictive. I believe it's printed this way as Kinbor is a brand from China, and the boxes are helpful for those writing Chinese characters. If your handwriting is large, it can be a little constricting to stay within the lines.
But if you don't care (as I don't), then you'd be able to scribble everywhere as you like 😀
Multiple sections to allow for different planning needs
For a book that's fairly slim and compact, there are multiple sections in it, that allow for different planning needs.
There's a section for viewing 4 months daily, over 2 pages. This allows you to plan ahead for projects in the future, and to be able to view at a glance where you are in each month.
There's a Month-to-2-pages section, where you can view a month at a glance, so you can plan you monthly activities and view them easily.
The section that follows is the one I use the most – the weekly section. It stretches over 2 pages and comes in a vertical format that I wasn't used to at first. I used to use the horizontal weekly format.
Vertical Weekly Format
The vertical format is divided into hours, which allow you to insert your appointments and plan your day. I don't usually use it as I don't have a lot of appointments. But I do like the space at the top, bottom and on the side.
I use the long space on the side to list my weekly to-do's and tick them off as they get done. These would be things to do that aren't time-sensitive, but need to be done in that particular week.
On the top and the bottom spaces of each day, I list the things I need to do on that particular day. This helps me stay more up to date on the things I need doing on a weekly basis.
While I initially struggled with the vertical weekly format, I soon came to appreciate it, because of the spaces there are to allow me to be a little flexible with how I input the information I need.
There are 2 ribbon bookmarks which I appreciate, that allow you to keep your place in the book easily. I keep one on the week I'm working on, and one on the month, so I can easily refer to the pages.
However, if you look on the side, each week has the month in a grey box that is arranged in a descending manner, so if you look along the side of the pages, you can quickly find a week in a month you need.
Handy blank note pages
Another handy feature is the blank note pages towards the back of the book. I was always a little irritated at the lack of empty pages I could scribble in when I was using the Moleskine and Leuchtturm 1917. In the Kinbor A5 planner, they have included 60 numbered blank pages at the back that you can use to jot notes or ideas. There is also a little index that you can use, to help you find the relevant notes more easily. I don't use this feature yet.
There are also a few other features at the back with timezones and schedules and even pages of tips, which are (unfortunately for me) all in Mandarin so I did not find them very useful. I have not found a use for the features at the back of the book, so I don't have much thoughts about them.
Very affordable
The Kinbor A5 Planner is listed on Shopee at RM66+ but it's now priced at under RM30, which is what I bought it for. It's still early in the year if you're thinking of trying a new planner or are curious about the Kinbor A5 Planner, and it won't break your bank 🙂
I was honestly not expecting very much for the price, but I am very much blown away by its affordability for what you get.
The shipping from China was relatively quick and it arrived well packed and in good condition.
WHERE TO BUY: Shopee
I've bookmarked it here so I can revisit and purchase my 2024 Kinbor A5 Planner when the time comes 😀 Yes, you could say that I'm sold on this planner!
Have you tried using the Kinbor planner?
The most affordable planner I got back in the day was from Muji but even that was more expensive than the Kinbor. It was also more restrictive in its use. If it means I have to wait till January of the new year for the price to drop, I'll do that LOL! 😀
Paris B