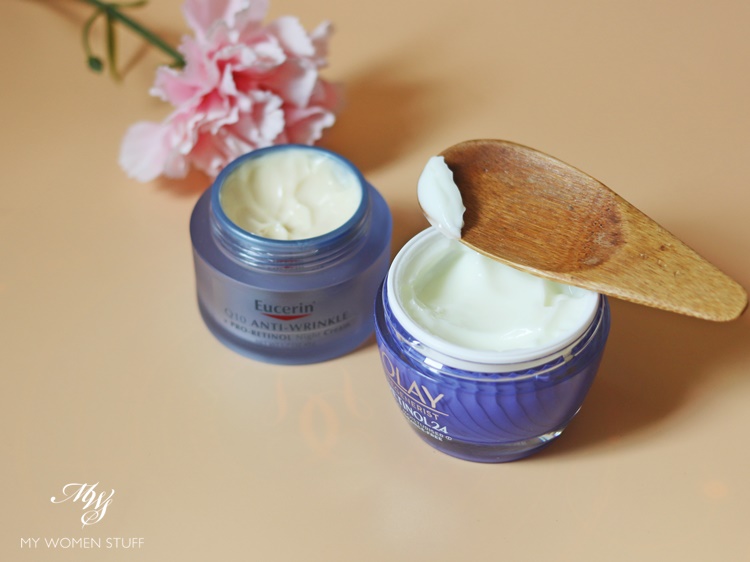 I bought 2 night creams recently, and because retinol is such a hot topic these days, I saw that they both say they contain retinol. In a cream? I'd only used it in a serum, but I was intrigued.
I did not expect much from them, if I'm to be honest. I do use a retinol serum of a higher percentage, and the creams don't contain a very high percentage of retinol, or it would come with a warning to use sparingly.
Still, I wasn't quite prepared to not be very impressed by either 🙁
Olay Regenerist Retinol 24 Night Moisturiser
To be fair, I used to be quite a fan of the Olay Regenerist cream that comes in a red tub. This was the original version, but I have not used the brand in a while. It was because I remembered my affinity with the product, that I decided to try their new Olay Regenerist Retinol 24 Night Moisturiser.
Olay says that this night cream contains a blend of niacinamide and retinol, that renews and resurfaces your skin as you sleep, so you wake up to smoother, glowing, plumper, younger looking skin. They say that it can be used nightly, and does not dry the skin out.
The texture of the cream is slightly thick, although it goes on skin feeling quite light. I like that it is fragrance-free, and that it sinks in nicely into the skin.
What I don't quite like however, is the slight film I feel on the surface of my skin, which I recognise as that of silicone. While my skin is not bothered by the presence of silicone, I am not a fan of its texture in creams that go on my face.
The other thing I was let down by was that it was not moisturising enough for my dry skin. I do use heavier creams especially at night, and this was just not enough to keep my skin moisturised and hydrated through the night. I tried layering some facial oil underneath for more moisture, but it didn't quite work out. I put it down to the texture of the cream that did not mesh well with my facial oils.
I did not notice a significant improvement to my skin either, and in fact, my skin was not at its best during the month or so that I was testing this out. I put it down to my skin being parched, and not getting the best out of the cream, or of my skincare routine at the time.
All that said however, the Olay Regenerist Retinol 24 Night Moisturiser does come highly raved by many, who claim that their skin does look and feel smoother with prolonged use. I would say that it should, as it does contain ingredients that do plump and smoothen the skin. But it is no substitute for a retinol serum.
In fact, it is rather hard to say if you should (or could!) use a retinol serum (that isn't Olay's) under this moisturiser, or if that might be too much. I don't personally think there is a very high percentage of retinol in the cream, or they would advise caution when using it, as retinol can be quite irritating to the skin. As they recommend daily use, I'd hazard a guess that the percentage of retinol in the cream is fairly low. Enough to make a difference to some, but not to anyone who already uses a higher percentage retinol serum at other times.
If you have never used a retinol product, and want to ease yourself into it, the Olay Regenerist Retinol 24 Night Moisturiser might be one way to. I would prefer that you get a retinol serum instead, but I can appreciate that this one's affordable and easy to come by, and for the most part, mild.
Just don't skip the sunscreen while using it – it still contains some retinol after all!
Ingredients: Water, Dimethicone, Glycerin, Tapioca Starch, Dimethicone Crosspolymer, Polyacrylamide, C13-14 Isoparaffin, Retinyl Propionate, Laureth-4, Polysorbate 20, Acrylates/C10-30 Alkyl Acrylate Crosspolymer, Hydroxyacetophenone, Laureth-7, Dimethiconol, Polymethylsilsesquioxane, Aminomethyl Propanol, Titanium Dioxide, Phenoxyethanol, Disodium EDTA, Niacinamide, Benzyl Alcohol, Caprylic/Capric Triglyceride, Retinol, Palmitoyl Pentapeptide-4
PRICE: RM109.90 for 50g (goes on sale often)

WHERE TO BUY: Watson's, Olay's Official Store
Eucerin Q10 Anti-Wrinkle + Pro-Retinol Night Cream
I bought this one from iHerb, during one of my usual orders. I buy my pup's supplements from there, and it was always handy to pop in something for myself while I was there – I can't let puppers have all the fun can I? 😛
As it turns out, Eucerin does not officially carry this product here in Malaysia, but you can still buy it on Shopee and Lazada (if you're keen) 😉
The reason I picked this Eucerin Q10 Anti-Wrinkle + Pro-Retinol Night Cream was because the Olay Regeneris Retinol 24 was not working for me, and I was wondering if another night cream with retinol might. It has a lot of positive reviews online, and I was heartened that many normal people enjoyed using it (as opposed to paid reviews or influencer marketing by the brand).
Eucerin's anti-wrinkle range contains Co-enzyme Q10, which helps replenish this diminishing enzyme that occurs naturally in our bodies. It is their signature product, the way niacinamide is a signature product of Olay. In this cream, they have combined Co-enzyme Q10 with Vitamin E and Pro-retinol, to form a powerful antioxidant, to protect skin from free radicals. It is supposed to be good even for sensitive skin and is non-irritating.
The cream is supposed to be for dry skin, which I thought was right up my alley. There is a very light scent but could quite easily pass for an unscented product.
I did raise a brow at the claim of it being non-irritating for most products with retinol can potentially be irritating to the skin. This led me to believe that the percentage of retinol in the cream is fairly low, so you will have to use it for a very long time to see results.
In terms of texture, the cream is much thicker. I was fine with it, but it too left that silicone film on my skin, which is something I absolutely dislike. I can handle my skin feeling oily, but not that odd, dry, velvety feel on the skin.
It does take a little while to absorb, which again, did not bother me.
Between this Eucerin cream and the Olay cream, I definitely found the Eucerin cream to be more moisturising for my dry skin. However, it was a little odd, because it was moisturising only part way. When I wake up in the morning, my skin feels dry. That bothered me for a while.
I also found that it was slightly clogging to my pores, as I experienced a higher number of clogged pores in the few weeks I was using this cream, as compared to previously. I have since stopped using it, and I have not experienced as many clogged pores.
Most of the reviews of the Eucerin Q10 Anti-Wrinkle + Pro-Retinol Night Cream rave about how soft their skin feels, and how smooth it gets after a few weeks. It's a pity I did not experience this, for I would have loved to be able to switch to this more affordable cream!
Ingredients: Water, glycerin, ethylhexyl cocoate, cetyl alcohol, hydrogenated coco-glycerides, stearyl alcohol, butylene glycol, caprylic/capric triglyceride, butyrospermum parkii (shea) butter, glyceryl stearate citrate, macadamia ternifolia seed oil, octyldodecanol, ubiquinone, retinyl palmitate, tocopherol, 1,2-hexanediol, dehydroacetic acid, carbomer, sodium hydroxide, trisodium edta.
PRICE: US$17.13 | RM65+
I was bummed that neither cream worked for me. I have since gone back to using a retinol serum, and a moisturiser that is rich in ceramides, as I have found that to work best for my skin. Sometimes, that's what we should do – work with what our skin likes because not everything out there works for it!
Have you tried either of these creams and do you have an experience to share?
I might use these on my neck and hands, just to use it up. That's the best way to use up a product that your face doesn't like 😀
Paris B