I've been observing with interest the latest, I'd say, fad of using personal planners. Planners aren't new. In the 80's and early 90's, any fresh young executive worth their salt would clutch in their hand a Filofax, bursting with appointments, cards and papers. Heck, I had one. It cost me a lot of money, and I thought I was the bee's knees. I was young and ambitious and out to save the world! *cue superhero music*
And then, I grew up and realised that I wasn't using that expensive white elephant planner sitting on my shelf, gathering dust. Mobile phones evolved from the Nokia 3210 (hands up if you remember the days of tiny monochrome screens and colourful cases!) to the hand-held mobile computers we hold in our hands today. Suddenly, everyone was going digital and ditching the paper. Why carry bits of paper when you can hold it all in the palm of your hand?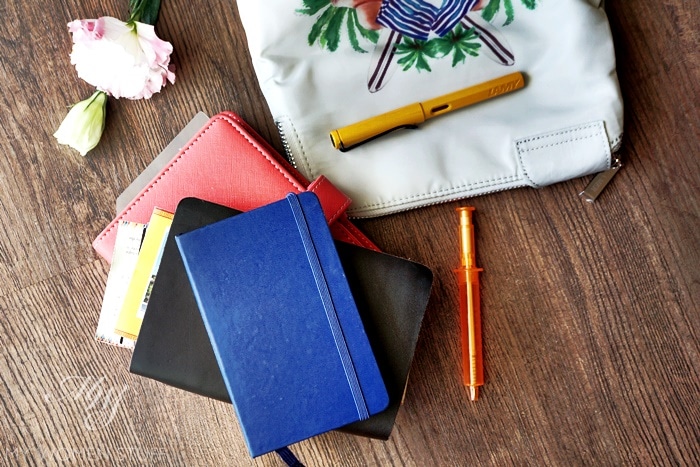 But you know, I'm not surprised at this gradual swing back to using pen and paper to keep track of things. I've found that despite being fairly digitally savvy, I remember things best when I write them down. Also, having something written on paper doesn't disappear if the battery runs out 😛
Yet, I sat back as the personal planner craze hit, and many people surfed that new wave. I wasn't creative. I wasn't about to stick washi tape and colourful stickers in my planner or decorate it with colourful drawings. I love how people do it and how creative they can be, but I'm just not one of them. I couldn't quite care what my planner looked like so long as it served my needs – to help me keep track of what I needed to do.
On the advice of a friend, I tried out a cheap ring planner option. It reminded me of my Filofax days, and like my Filofax days, it pretty much remained unused in the end. I just couldn't get the hang of the different folders and whatnots, and it was bulky, and the rings get in the way of writing. I wanted something simple and streamlined that didn't restrict my movements.
And I found it, in my personal planner system! 😀
Caveat: I did not design this system.
I'm terribly disorganized, at the best of times. But when I kicked off 2016, I realised that there was a lot that I had to keep track of, and I was getting distracted by things like emotions and wandering concentration, so I couldn't keep everything in my head anymore. I needed to write it down.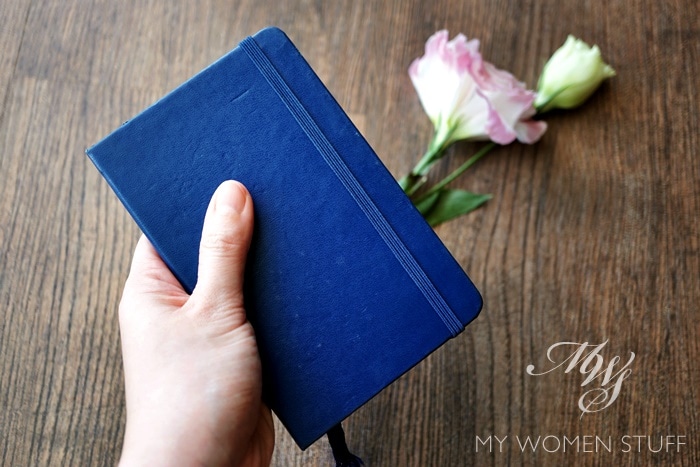 The planner I use is a very simple and utilitarian Moleskine 18 month Weekly Notebook. I bought this in the middle  of 2015 thanks to the recommendation from my friend Lyn at Plannerbug, and although I used it off and on in 2015, I didn't quite get the hang of it till this year.
It's the pocket sized Moleskine which isn't very large, as you can see above, but sufficient for my use, and most importantly, was portable. I could slip it into any bag I carried, and it didn't weigh me down. The Weekly Notebook has dates on one page, and lines on the other and that's how this works for my modified version of what is popularly known as the Bullet Journal.
I like having the dates on one page. It allows me to track my week and I just like pre-printed stuff. Don't make me make my own. I'd make a mess of it, the way I did when I tried out a Midori Travel Notebook style system. Oh yes, I went there! 😛
My Simple Modified Bullet Journal System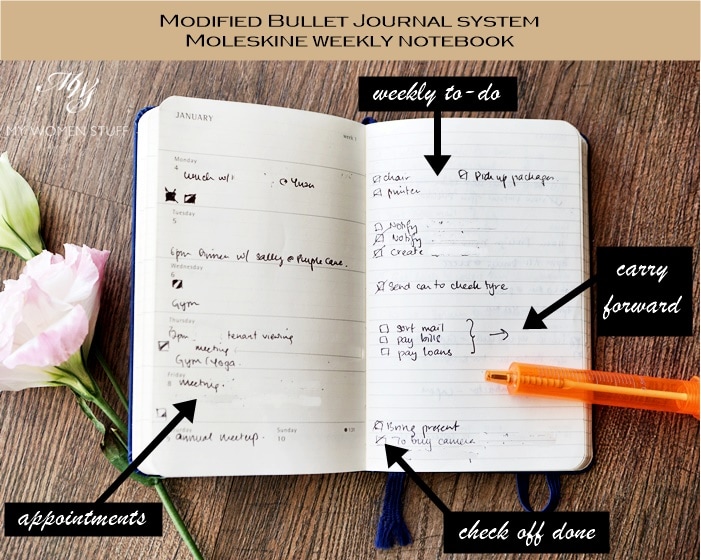 Here's how my modified bullet journal planner system works.
I fill out my appointments and meetings in the dated page. This allows me to keep track of what's happening when, and what time it is, at a glance each week.
On the lined page opposite, I adopt a pseudo-bullet journal system (you can read about the bullet journal system here, but I find it too complicated for me so I streamlined it). I just draw little boxes with what I need to do in a particular week, as and when they pop into my head.
I put some of the tasks next to the particular day I plan to do it. But in general, there's no real hard and fast rule to it. For me, this is my weekly to-do list.
As and when I get a task done, I check it off. If it's something that's cancelled, I strike it out.
If I haven't done a task in a particular week, I draw a little arrow and move it to the next week, so it repeats itself until I check it off. I adopted this from the bullet journal system, and it works, because I get so irritated at repeating it, I get it done!
This is basically a very simple system without any frills or any special symbols to remember, and much to my surprise, it's worked for me. That is, in the sense that I've kept to it for almost a month, and I'm actually finding it useful!
I don't use different coloured pens, nor do I decorate my planner. It's plain and kept intentionally plain, with just pen on paper. It's just how I work and I'm not into frills and fancies. Everything goes in there, from my work meetings and appointments, to my blog-related events, and all it does, is help me stay organized (or more organized than usual) through the week. I keep my blog editorial calendar separately as it's not something I have to refer to often. I didn't want to have 2 planners, so I merge my work-blog-life, and it's fine. All I wanted was a system that helped me stay on top of things, and this does.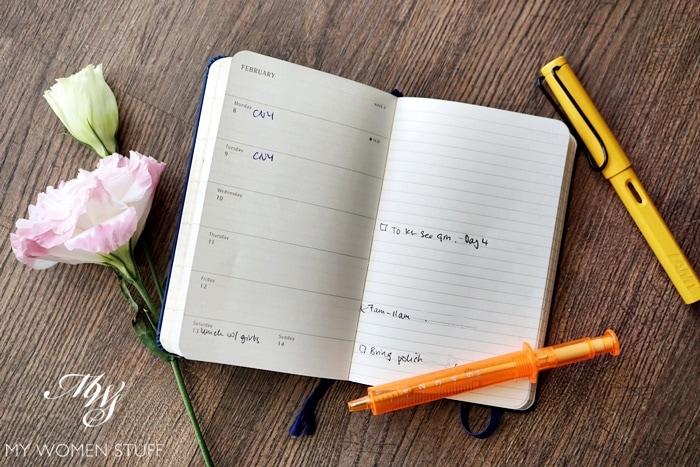 Having the pre-printed dates mean that if I think of something I have to do in 3 months time, I can just input it immediately, without faffing about. I actually also complement the daily events/appointments with my Google Calender, synced to my phone. But I find I rely on that less now. It serves as a reminder of what I have each day, because on my phone, it's colour-coded, but when I want to do an overview, I go back to my Moleskine notebook. Ticking off each task for the week has given me immense pleasure and a sense of achievement! Also, once you write it down, you realise that you've actually accomplished a lot more than you thought you did!
I never thought I'd say this, but I think I've finally found a planner system that works for me! 😀 If you aren't into fancy planner systems, then this simple one I now use might help you stay a wee bit more organized too 🙂
Do you use a personal planner and do you have a system? Do you prefer pen and paper or do you rely on digital planners and your phone?
I've gotten on and fallen off the personal planner bandwagon for many years now. Growing up, all I ever wanted was to own a Filofax. When I did own one, I never used it. Now I know, it wasn't me. It was the system. I had it all wrong from the start, but now I've gotten on the right track and rolling along fine! Do you use a planner and if so, what's the system you use? 🙂
Paris B