I realise that Earth Day has just come and gone, but I'm not approaching this from an eco/environmental angle. I have my views on that, and it isn't something that will sit will with many, so that's a story for another day!
Instead, my approach towards skincare and a skincare routine is this : Am I able to maintain it at this level for the long term? Is it sustainable?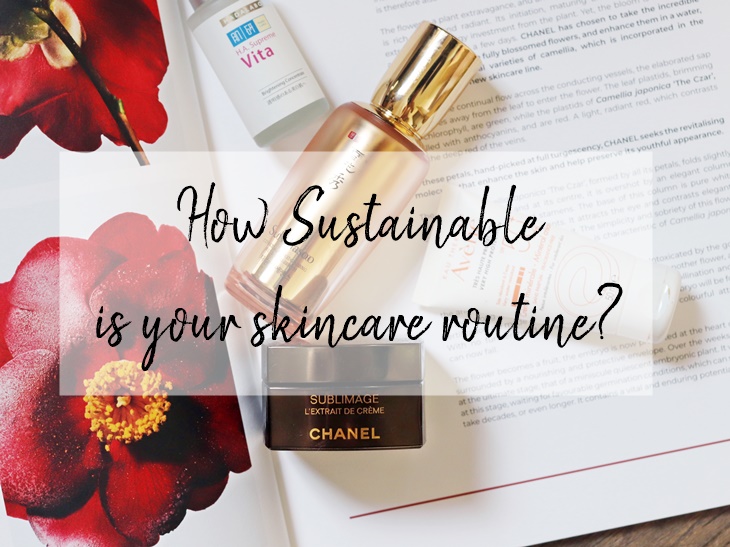 I have been thinking about this because I get a lot of questions about whether X brand is worth buying, or if Y product is a good one. Very often, this question is propelled by the consideration of the price of a product. Very little consideration is given when it's a product that's easy on the wallet 😉
There are lots of skincare products in the market these days, whether available off the shelf, or online. The choices are mind-boggling, and prices vary widely too, even for what appears to be similar products.
For me therefore, what is most important to consider is this – If the product works for you (and if you are in tune enough with your skin, you'd probably know if it will) are you able to afford using it over a long period of time?
Skincare takes time to work
The reason I consider a long-term use of a skincare product isn't about brand or product loyalty. It is about the fact that it actually takes time for skincare to work, and for you to see any significant results on your skin.
This is true especially for products that 'repair' e.g. retinol or Vitamin C. You should scarcely expect to see any results overnight, or even within a week. The only time I see results in a short time when using a product containing high percentages of Vitamin C, is when I have not used such an ingredient for months, and my skin looks sallow or dull from exposure.
Similarly therefore, if you don't generally bother much about your skin or have never treated your skin with a particular type of ingredient/product, then it is very likely results may be seen in a short period of time.
Otherwise, generally speaking, if you have been taking good care of your skin, it will take a while for any additional benefits to show, if at all. Sometimes, it's just about maintaining the condition of your skin, and you know what? That's OK!
This is why I struggle with influencers these days (it used to be bloggers 😛 ) who rave about every new product that hits their desks, proclaiming it to be wonderful for their skin. The truth is that is probably is a good product, but it isn't going to change your skin overnight, and especially not skin that has been treated with lasers, alongside other skincare 😉
Because it can take time for a topical skincare product to work, you may need to go through 2-3 tubs or bottles of the same product. If it's a very expensive product, the odds are that you'd splurge that one time, and not want to repurchase.
This isn't very sustainable.
Is expensive skincare better?
I'd say it depends.
Sometimes, the answer is yes, it is. It could contain a higher concentration of an active ingredient, or be better formulated, or just have better ingredients overall.
Sometimes, the answer is no, it isn't. Sometimes, it's just about slapping on a brand name on a mediocre product and attaching a premium price tag to it.
What is more important, in my books, is whether a product works for your skin, and whether you are able to see it in your routine for the next 6-12 months, if your skin likes it. If you're going to dump it after 1 cycle, not because it wrecked your skin, but because your wallet cannot handle the cost, then there is little point to it. Your skin can only benefit from skincare use over a period of time.
Are you willing to consistently pay for a product that you love?
I often have conversations with people about sunscreen. Sunscreen is a product that I do not compromise on for daily use. It is something I use everyday, whether I'm out or I'm at home, and it's been proven to be your first step towards an effective anti-aging skincare routine. If you don't wear sunscreen, don't bother wasting money on expensive serums and creams.
I used to love the Shiseido Perfect UV Protector sunscreen. It was my go-to sunscreen product for many years, and I extolled its virtues to everyone who would ask. But the prices kept rising year on year, and it reached a point that I was no longer willing to pay almost RM200 for a product that I run out of in less than a month.
I am very generous with my sunscreen usage (and you would be to if you know what's good for you!) so I had to shop around for a more affordable option. I needed to be able to use the product for the long term, without hurting my wallet, and without compromising its benefits for my skin.
Today, my go-to sunscreens are from Allie and Avene, both of which are available at pharmacies and go on sale every now and then. It allows me to use them more lavishly on my skin, and it doesn't hurt my wallet as much when I replenish.
Win for my skin, win for my wallet! 😀
Are you using enough product?
The other problem with using skincare products that are too rich for your wallet, is the feeling of having to skimp on its use, because it's expensive.
You'd be doing a disservice to your skin and wallet if you do.
The general rule of how much product to use each time applies, whether it is an expensive or affordable product. If you use 2 finger lengths of an Avene sunscreen that costs RM80, you must use the same amount even if you use the Shiseido UV Perfect sunscreen that costs RM180. They would both run out in roughly the same length of time. The difference is that I'd replace it without too much thought, while you might balk.
Then, you may find yourself using less product to stretch it further, so you don't have to replenish as quickly. Are you doing yourself a favour? No, you aren't.
The same is true of a serum for example, that generally calls for 1 pump per use. If you want to derive the benefit of the product as claimed, you must use the recommended amount, as that's how they test it in the labs. But the odds are that if you are using an expensive serum or cream, you will be hesitant to be generous with its use.
"I want to make it last" you think, as you pump a careful 2 drops of product in your palm, or scoop a tiny amount of cream to apply to your skin. And then you wonder why the product doesn't work for you, or why your skin still feels dry despite it being the best moisturiser in the market.
Basically, your skin will not receive the full benefit of the product, if you don't use it as recommended. Sure, your product will last you longer, but your skin may not receive the full benefits, and you'd just be wasting money. That would be a bigger crime!
So, before you consider that new, hyped skincare product or brand, think of how it fits in your routine, then think about whether it's sustainable in the long run. I find that this helps me decide if something is worth trying.
It is this reason that stops me from splurging on luxury brands like History of Whoo, Sisley, La Prairie, Augustinus Bader, Dr. Barbara Strum and even Drunk Elephant! It's just not sustainable for me, even if it could be a nice one time splurge.
Of course, nothing is to stop you from actually trying it once, just to see if you like it, or just to experience it. Life is short after all! 😀 But if you want to consider it more seriously (and this is most true of sunscreen and cleanser that finishes quickly), have a little think if it's something you'd replace easily without much thought, or if it's something you might have to save up months for.
If it's the latter, move on. There are so many skincare options available these days, to suit every budget, and there's no shame in using a more affordable product. It may not be sexy nor trendy, but if it works for your skin, and it's kind to your wallet, that's more important! 🙂
Do you consider the cost of a product and its sustainability in your skincare routine?
I used to like flitting around and trying all the latest and newest brands and products in the market, often trying an expensive product "just to try". But these days, I'm a little more careful, so I don't flit about as much – I just flit about brands and products that are kinder on my wallet! 😀
Paris B