I had a little food for thought recently, about being loyal to a product despite its increasing price. It made me think about how much I'm willing to pay for skincare, in relation to how often and how much I use of it.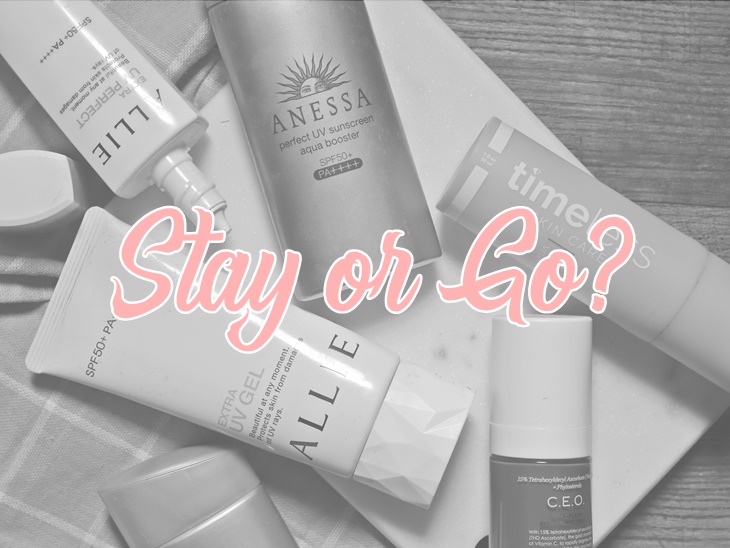 I was asked if I was going to try the new iteration of the Shiseido Perfect UV sunscreen. (If you're new here, you may not be aware of how many bottles of the original Shiseido Perfect UV sunscreen I've made people buy over the years! The answer is MANY! LOL!)
When I first introduced the Shiseido Perfect UV sunscren as my go-to sunscreen in the past, it was the perfect sunscreen. The consistency was just right, the formula was the perfect blend of physical and chemical blockers, and it protected my skin very well.
But 2 things made me stop using it. First, they changed the formula, and the new one (then, called Multi-Defense) sucked.
Second, the price kept going up, and my use of sunscreen increased due to my daily activities. I eventually stopped being loyal to the product, and looked for alternatives.
So, when I was asked recently if I might try and review the new Shiseido Perfect UV Protector with Wet Force x Heat Force, I knew what my answer would be.
It was a firm No.
It's not that I held any grudges against the product. Why should I? 😛
If I were given the opportunity, I won't say no to trying it. The inherent beauty guinea pig in me would not allow me to say no.
But I had a more practical reason in mind. I did not want to buy a product that was quite costly, that I would use up in less than a month. At my current rate, 50ml of sunscreen would last me just about 3 weeks, maximum.
The new sunscreen retails at RM180 for 50ml. I use a very generous amount on a daily basis, and now that I'm outdoors more often, I reapply my sunscreen up to twice a day.
It did not make fiscal sense to spend so much on a sunscreen, when I could easily get more affordable alternatives that are just as effective, at the pharmacy.
I presently use a mixture of Shiseido Anessa and Allie, both available at the pharmacy, and both of which come in larger bottles and tubes for about half the cost of the Shiseido UV Protector.
This made me realize that while I don't balk at paying for pricey skincare, and am fairly loyal to brands and products I enjoy using, I will balk if it doesn't make economic sense, and if I can find alternatives that are as effective.
Another example I can think of, is Vitamin C serum.
I have enjoyed using the Omorovicza Daily Vitamin C serum, and the Sunday Riley CEO 15% Vitamin C Brightening serum. Both of these are quite pricey items, but effective and comfortable on skin.
Yet, I balk at buying them too often, or in being too dependent on them. Instead, my affordable alternative is the Timeless 20% Vitamin C + E Ferulic Acid Serum, that is as effective if not more so, and costs about half the price.
Being conscious about the price I pay for the quantity and value I get out of a skincare product allows me to be more generous with its use. This directly relates to how effective it will be, for if you don't use enough product each time, you won't reap the results.
I do still buy expensive skincare to try now and then, or fall into the trap of trying something new and trendy. But when it comes to long-term use, the price matters to me, and if a more affordable alternative comes my way that performs just as well, if not better, I won't hesitate to drop the more expensive option.
It just makes sense. Doesn't it? 🙂
Have you forsaken a product you love because of the price?
Sometimes, as with sunscreen, I make a conscious effort to look for an affordable alternative, as I use so much of it. It helped of course, that the last version of the Shiseido sunscreen sucked so badly that I was happy to drop it like a hot potato! LOL! 😛
Paris B