Retinol has been a bit of a hot topic here at MWS this past week, ever since I shared that tip on how I deal with milia. It's amused me a little that not many people are aware that it is an ingredient, and not a product per se.
However, I am not surprised, because I cannot assume that just because most of us reading this are crazy about skincare (or have educated ourselves about it), everyone else has.
The thing about using a retinol based serum is that it isn't something you should pick up off the shelves, and slap onto your face, without reading the directions of use. Very often, retinol based products can be drying. It is a characteristic of this ingredient, and very often, you will experience discomfort, peeling, dryness and sensitivity.
So, I always advise exercising caution when using anything with retinol, or any retinol derivative. There are also 5 things I always, ALWAYS do when using a retinol – and you might want to keep this in mind. It will make for a more comfortable, satisfying use 🙂
What is Retinol?
Just very quickly, retinol is a derivative of Vitamin A, and a type of retinoid. Retinoids are the umbrella term for retinol products.
There are different ingredients and derivatives of Vitamin A and retinoids, and new ones are appearing all the time. The one that is proven to show results is 'retinol'. Retinol converts on your skin to retinoic acid, which is the Vitamin A that your skin needs to repair itself.
Others are retinyl palmitate, retinyl acetate, retinyl linoleate, hydroxypinacolone retinoate and retinyl propionate, all of which claim to be less irritating than retinol. However, they are also weaker forms of retinoids, and can take longer to show results (or may not even work for some people).
I'm no expert on this, so I highly recommend that you read up and do some research, or even better, talk to dermatologists and doctors who can explain this to you better 🙂
What does Retinol/Retinoids do?
What this ingredient does is to boost skin cell turnover. As we age, the rate of skin cell renewal slows down. This leads to the collapse in the skin structure, that result in fine lines and winkles, loss of skin elasticity and skin dullness, just to name a few signs of aging.
Retinol is a proven ingredient that jumpstarts the cell turnover, which encourages your skin to renew itself more quickly and boost collagen production.
Over time, this can result in smoother, brighter skin with a reduction in the appearance of fine lines and wrinkles. Skin is also more elastic, and this increased rate of skin cell renewal also helps reduce the appearance of pigmentation/hyperpigmentation caused by sun exposure.
I can personally attest to all of these improvements in my skin ever since I started using some form of retinol/retinoid based serum a few years ago.
Granted, I have not been as regular with it as I should be, but I have been much more diligent in recent times, and I notice the results.
What I notice most significantly, is smoother, clearer skin. I have noticed some lightening of my hyperpigmentation, as I have been indoors a lot in recent months (thanks to the pandemic sweeping the world) so that is a bonus for me.
RELATED READING: I have otherwise come to terms with my hyperpigmentation, and am not considering lasers or any other treatments READ WHY HERE
Retinol can be very irritating to the skin
The primary problem with retinol is that it can be very irritating to the skin. This is because it is essentially 're-training' your skin cells to boost their renewal rate, and this can manifest as irritation for most.
The most common irritations are peeling and flaking skin and dryness. It is very uncomfortable and unsightly too. The higher the percentage of retinol/retinoid in your skincare, the more irritating it is.
It is for this reason that if you are going to use something strong like Retin-A or Tretinoin, you must start small – go for the lowest percentage, and work your way up. This is not a case when going in at the top end will yield better results.
By way of a note, while I understand that Retin-A and Tretinoin (both available at our pharmacies without a prescription) are very effective, I have no intention at this point in time to try either. It's a personal choice not to. If I decide to try it one day, I will share my thoughts on it.
Some of the newer derivatives are weaker and therefore less irritating to the skin. For this reason, some people prefer using a retinoid other than retinol.
I personally am not fussed either way. For me, if it works for me, it works. I'm not an ingredient peeper. Sure, sometimes it may work a little more slowly, as it may be a weaker ingredient, but I'm in no rush 🙂
Sometimes, I like taking a little break with something a little more gentle that I can use more regularly, without my face falling off. An example is the Mad Hippie Vitamin A serum, that I can use almost everyday right off the bat, without any issues whatsoever.
But there are 5 things I always, ALWAYS do when using a retinol or retinoid product, that ensure that I get the most out of the product, without having to endure dry, flaking skin.
While I understand it to be a normal side-effect, why should I put myself through it when I can avoid it? After all, half the fun of using an effective skincare, is in enjoying it, not being afraid of it 🙂
Retinol Tip: Slow and Steady wins the race
The very first, and most important tip of all, is to break into a retinol/retinoid serum in a slow and steady manner.
If you have never used a product with retinol in it, don't jump right in at the deep end with the highest percentage you can find. It will not give you the best results, and it might even scare you away.
Because retinol or a retinoid boosts your skin cell renewal, you are essentially using an ingredient to kickstart the cell renewal process. As with going to the gym for the first time, you don't head in there, crank up the treadmill to the highest speed and difficulty and go at it, hoping to lose all your weight at one go.
You start slow, and that is the same with retinols.
With the more commercially available serums, you will regularly find percentages of between 0.05% to 0.1% of retinol or retinoid derivative. With intensive creams like Retin-A, I believe you can start from as low as 0.025%.
Whichever way you intend to go, start low, and build up your skin's tolerance to the product.
Ideally, retinol serums should be introduced to your skin in a gradual manner. You start with using it once a week for 2-3 weeks, before gradually increasing the frequency to 2-3 times a week. At the end of 3-4 months, you might be able to use it every other day, or in some cases, everyday.
This minimizes the irritation to the skin, and may allow you to avoid the redness, flakiness and sensitivity often associated with using the product.
However, always pay attention to your skin.
Everyone reacts differently to ingredients and formulations, so sometimes, you may be fine using the product 2 times a week, but not more than that.
For example, I am currently testing the Drunk Elephant A-Passioni Retinol Cream, and I had gotten myself to the stage where I was using it 2 times a week. I thought I could push it to using it on every alternate day, but I noticed that after a week of testing this out, my skin was feeling a little sensitive and irritated. So, I dialed back down to twice a week, and it immediately calmed down.
Remember, that's OK. You do not have to use it daily. Use as much as your skin can tolerate.
Results will take a while to show as well, which is why I am loathe to review any retinol serum in anything less than 4 months. That is when you should see actual results and anyone who tells you they're seeing results in a month, or even overnight, is really ridiculous.
Retinol Tip: Buffer your skin with moisture
I am aware that a retinol serum can be drying to the skin. So, when I use a product with retinol or a retinoid in it, I am very conscious about keeping my moisture high, and to use very moisturizing products to protect my skin from the potential irritation.
I prefer to apply my retinol/retinoid serums on a dry face. But if you are new to using this ingredient, mix it with your moisturizer so you temper it down a little. The moisturizer will help make it feel more comfortable.
RELATED READING: To ensure you are getting sufficient product all over your face, the 13-dot technique is your best friend READ HERE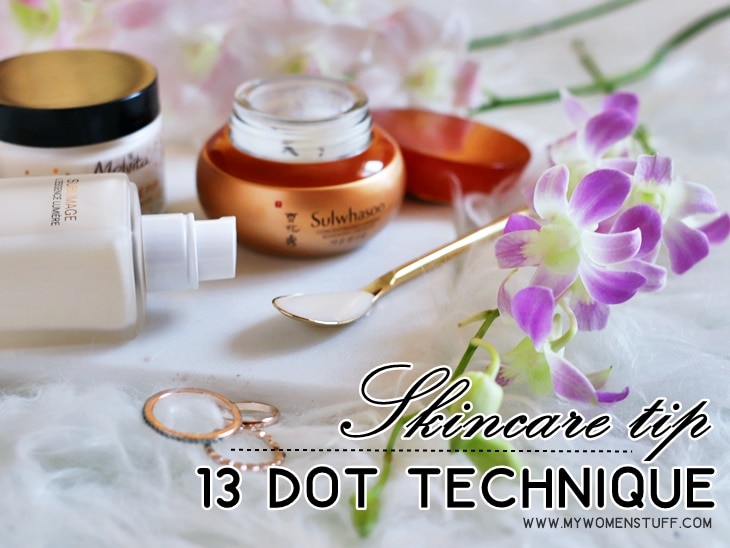 After a few minutes, I usually go on with a facial oil, and then seal it all on with a moisturizer. In between, I moisture sandwich so my skin is well hydrated and sandwiched.
Some people don't use facial oils, or don't prefer using facial oils. That's fine. Just be sure to use a moisturizer that is very moisturizing, so your skin is well buffered and protected.
For me, this is something I do every time that I use a retinol based product. Some products feel stronger on the skin, and I sometimes experience a little irritation the next morning. I feel a little sting when I apply my Vitamin C serums, and I know then that my skin is irritated, so I dial back the frequency of the retinol, and I make a mental note to buffer better the next time I use it.
I pause to note that often, a cream type moisturizer works better to buffer and protect the skin as opposed to a emulsion or gel type moisturizer that is usually far too light for this purpose.
I use creams daily, so there's no change for me. The key difference is in the type of cream I use. I usually just use a fairly basic cream moisturizer because all I want is to protect and buffer my skin, not irritate it further with a cream that is filled with all sorts of other active ingredients.
I cannot stress how important it is to be in tune with your skin. You do not need to see flakiness and peeling skin to know that a product is working. You can work with it, and take your time, without damaging your skin or your skin barrier in the process. You will still get there, you may just take a little longer.
AND THAT IS OK!
Retinol Tip: Sunscreen in the day time – NO BARGAINING!
To be honest, I don't even need to consider this a tip, because you should be wearing sunscreen daily anyway, right? 😛
There is a fallacy that you don't need sunscreen if you don't leave the house, which I call bollocks on. But hey, you do you 😛
But if you're using a retinol or a retinoid based serum, you'd undo all your hard work if you don't wear a sunscreen in the day time.
Remember, the purpose of the retinol is to boost your skin cell renewal. That lovely smooth, clear skin you are seeing is new, fresh skin. Now, shouldn't you be protecting all that lovely new skin from the damaging UV rays?
I'd go so far as to say that if you aren't going to use sunscreen in the day time on a daily basis, there's no point you using a retinol. You'd just be throwing away money, because your fine lines and pigmentation will return even more quickly. Why even bother?
You are generally advised to use retinol based products only at night, as it can cause sun sensitivity to the skin. It is also at night that your skin repairs itself, so giving it that kickstart sounds like a good idea!
However, some people say that you can use it in the day as well, provided you wear a good sunscreen on top. What is questionable however, is what is defined as a "good sunscreen" and are people actually using enough to protect the skin?
I prefer to err on the side of caution and use it only in the evening as part of my evening skincare routine. In the day time, I focus on Vitamin C as my key ingredient, and lots of hydration. At night, I go with retinol and moisture. This works for me 🙂
Retinol Tip: Just a little around the eyes can be beneficial
The skin around the eyes is very thin and that's where a lot of lines appear due to the amount of movements we make in that area of our faces each day. However, most retinol serums will recommend avoiding the eye area.
There is logic in that, because it can be irritating, and therefore irritating to the sensitive skin around your eyes.
However, as I shared my experience with the milia oil seeds around my eye area, using retinol actually helps!
RELATED READING: Have milia (oil seeds) around your eye area? Does it bother you? I managed to remove mine painlessly! READ HERE
So, what I do these days, is use the residue after massaging the product into my skin, and gently apply it around my eye area. Note, I use the RESIDUE on my fingers.
I don't recommend this for everyone, so proceed with caution at your own peril 😛 You know your skin best.
Retinol Tip: Skip the Acids
If you're using some form of acid (AHA or BHA) in your skincare routine, skip it when you're using retinol. It can prove far too irritating for your skin.
You may use it on the days when you don't use a retinol instead. It might even be beneficial to help exfoliate the skin, so the new skin comes through more quickly.
But DO NOT use it at the same time.
You should take note of this if you're using an acid toner too. I have stopped acid toning for a while, even though it is very beneficial, and you can read why I no longer use acid toners so often, in my previous blog post 🙂
Retinol benefits – It's a long game and not for the impatient
I understand that many people are impatient these days. We all want results fast. Well, you can – it's called lasers and botox 🙂
However, if you understand and acknowledge that using retinol is a long-term commitment that will deliver results only after about 3-4 months if you're using it for the first time, then you are in for a treat.
As with the tortoise and the hare, slow and steady really does win the race in this case 🙂
What is your favourite retinol or retinoid based serum?
I've used a few, and can't really name a favourite right now, but you can read about the retinol serums I've tried and see which ones you might like to try 🙂 Now, tell me your favourites! 😀
Paris B