How do you usually apply your skincare or, more specifically, your moisturizer?
The most common, that you still see being done, if you watch videos, is the 5-dot technique. Basically, you put one dot of cream on each cheek, then one dot each on your forehead, nose and chin. Then massage it in.
When I first started using skincare, this was the norm. But I always felt like something was lacking. For me, it just wasn't enough, especially on the forehead.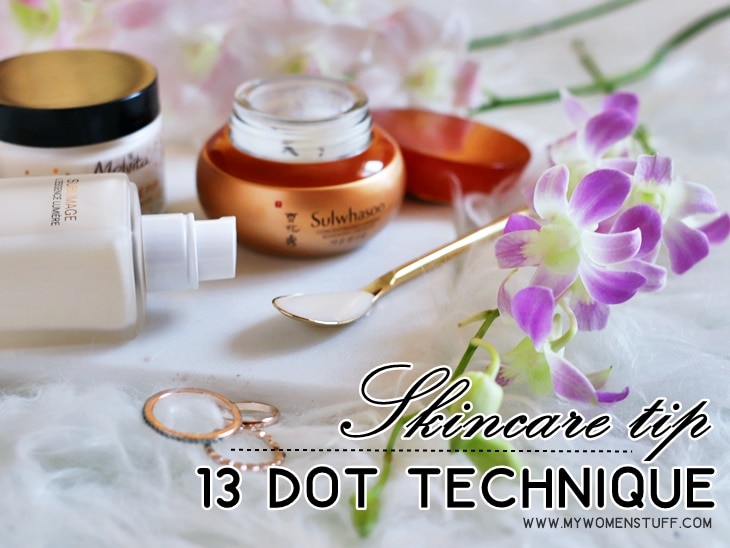 And honestly, it isn't enough product for your skin. Using too little skincare product for your skin does you a disservice. You won't be getting the most out of your creams, serums and lotions.
So, I then learnt to spread it in my palm before applying to my skin. This served a two-fold function – I warm up the product, which helps it absorb better, and I ensure a more even application, ensuring that all of my skin benefits.
I had been doing it this way for many years, and I even had my conviction reinforced, that this was the best way to apply moisturizer.
But then, I recently stumbled on a new technique – the 13-dot technique.
And my life changed.
How did I learn about the 13-dot technique for applying skincare?
I do not take credit for this discovery.
I stumbled upon it quite by chance one day while browsing the internet. As you do 😛 The 13-dot technique is one I picked up from UK dermatologist, Dr. Sam Bunting.
Dr. Sam Bunting is a famous personality in her own right, and her videos are easy to watch and informative, without a lot of fluff. But I had never really watched them before this. I'm just not very big on watching YouTube videos.
But as I said, I stumbled on her Twitter account, which led me to her website and then her YouTube page, and I came across this video.
I'll freely admit to making the mistakes she talks about 😛
I like to say that I have a method to my madness, and I do not ever profess to be an expert. An expert is what Dr. Sam Bunting is, so you're better off listening to her. I only share my anecdotal experiences based on what works for me.
No doctor will talk about the moisture sandwich technique I slavishly practice, for example, and if you ask them, they'd probably tell you you're wasting your time. But I find it helpful, and so have many people who have tried it so do what works for your skin, within reason 🙂
Related post: You can read about my moisture sandwich technique and why I find it so helpful – CLICK HERE
So, coming back to the 13-dot technique.
I watched how Dr. Sam Bunting demonstrated the way to ensure you use sufficient product, and found it very intriguing. So that evening, I put it into practice, and BOOM! I fell in love with it and so did my skin! 😀
What is the 13-dot technique for skincare and how do I do it?
Think of it a little like a combination between the more common 5-dot technique, and the spreading-product-in-your-palm technique, and then multiply that.
How to use the 13-dot technique for applying skincare
Scoop or pour your product into the palm of your hand.
With your other hand, pick up and dot 13 dots of the product on your face

3 dots on your forehead (3)
3 dots on each cheek (6)
2 dots on your nose (2)
2 dots on your chin (2)

I like to add another 2 dots on my neck because I apply all my facial skincare on my neck too.
Warm up remaining product between your palms, or just rub your hands together to warm them up, then massage the dots of product into your skin, spreading them all over.
Give your skin a little firm massage as you rub it in
And that is it! 🙂
It is really easy once you get the hang of it. I have been trying this for over a month now, and I swear, I saw results within a day or two.
Dr Sam Bunting says that she devised this 13-dot technique to ensure that you are using the right amount of product on your skin each time. You can watch her video above, and also in her other skincare application videos.
In many ways, she was right. My skin felt properly moisturized for the first time in months!
What did the 13-dot technique do for my skin?
To be honest, I wasn't expecting very much the first time I tried it. I mean, I was already convinced that I was using enough product (or so I thought) and I was sandwiching my moisture, and my skin already felt quite happy and moisturized.
As it turned out, I surprised even myself.
While Dr. Sam Bunting uses this 13-dot technique to apply her serums and moisturizer, I only employed it for moisturizer, as I find it hard to use this when working with more watery/liquid type serums. But I will slowly work this into my routine whenever using a cream or lotion type product.
What I noticed after just a few days of the 13-dot technique is even more moisturised skin. Is that even possible? Apparently it is!
My skin seemed to just soak up all the moisturizer I was throwing at it, even if it initially felt like it was too much. I stopped getting the bouts of dryness that I occasionally do.
While I used to pay more attention to my cheeks, which tend to be dry, and apply a little more product there, I tended to overlook areas like my forehead and apply only whatever residual product I had on my hands. Now that I actually place the 3 dots on my forehead, I found that it was drinking it all up! The skin even seems to have smoothened out noticably (I wasn't very lined before, but now, even less so)
This is when I realized that all this time, I was not using enough moisturizer for my skin. The change in my skin texture was quite apparent because I felt it softening under my fingers each time I apply product, and I noticed my smoother forehead and cheeks.
If it's even possible, my skin felt even better than it used to. I was using my Sulwhasoo Renewing Ginseng Cream EX at this time, and my skin absolutely loved it, and drank it all up! I hate using the word "glow" because it is very subjective, but I most definitely noticed that using enough product made a noticeable difference to how my skin felt and how it looked and behaved.
All this time, I had treated my moisturiser as just the last step to "seal in product". Because I had serums and oils underneath, I felt I didn't need too much moisturizer. I suppose I was wrong.
Since I started this 13-dot technique with my moisturizer, I have noticed an improvement in my skin texture and I don't even battle dryness anymore. Not even during the heatwave. Not even when I wear makeup all day, which can be drying to skin. Not even when I travel.
If anything, I find that my makeup goes on much better, looks more natural and stays looking better for longer. There are many days when I just go out with some concealer where I need it, and nothing much else for base! I just had very happy, well moisturized skin.
Do you end up using more product?
In a way, you do.
I did find that you do need much more than the recommended "pea sized amount of moisturizer" to achieve 13 dots of product on your face. If you don't believe me, I suggest you test it and see 😉
However, I look at it this way – this way, I am very sure that I am using SUFFICIENT product. Sufficient is not the same as "too much". It is just enough.
Will your products finish more quickly?
Well, following from the above, yes.
But you will be using ENOUGH product for your skin, which I think is far more important. This is why I always say that you must use a product that you are comfortable with budget-wise.
There is no point in splurging on an expensive skincare item, then using insufficient amounts, just to "make it last longer". Your skin doesn't get the benefit of the skincare and it might even be just a waste of money.
Is the 13-dot technique too much product for my skin?
Dr. Sam Bunting says that this is the ideal amount of product. But I am a little more realistic – because I'm not a doctor 😛
So, I say it depends on your skin type and your preference.
I have dry skin or skin that tends to be dry. I am also comfortable with layering on product and with the feeling of "residue" on skin. I don't mind it, and in the evenings, I mind it even less, even if my face is shiny and oily. I therefore find that the 13-dot technique gives me the right amount of product.
But some people don't like that effect or feeling on their skin. They like their skin to feel fresh, but not oily or sticky. Or perhaps if you have oily or combination skin, you may not like how 'heavy' so much product can feel.
For this, I think it then comes down to the TYPE of product and the formula of the product you are using. Oil based products will usually feel heavier if more is used. Water-based products usually feel lighter.
I have not used gel or water-based moisturizers for a while now, so I don't quite know how they feel. Do they feel fresh even if you apply more of it? That is something you will have to decide for yourself – or maybe you can share with us in the comments, if you try this 13-dot technique and have oily skin.
I also note that I use this 13-dot technique to apply my moisturizer, which comes in at the end of my routine. With my serums or oils, I use the 'warm-up-in-palm-before-applying-to-skin' technique. I am also usually quite generous with the use of product. (Note: Dr. Sam Bunting does not believe in using facial oils, but I find it useful for my skin, so yes, I cherry-pick my advice 😛 )
For me therefore, the 13-dot technique has taught me that I wasn't using enough product, and that by using the right amount of product i.e. moisturizer, it has helped my skin look, feel and behave better.
Can I use less than 13 dots if I find it to be too heavy?
Then it won't be the 13 dot technique anymore would it? 😛
To be honest, I won't know. I say the 5-dot is insufficient for almost anyone. So, if you feel that 13 is too much, maybe drop it to 8? 2 each on the forehead, and each cheek, and one dot on the nose and chin.
For me however, the 13 dots are optimum. My skin in the past month has not been happier, and I love the feel of massaging the product into my skin, especially at the end of the day.
Does it take too much time? I don't have a lot of time or I'm too tired
To be honest, it barely takes a few extra seconds. But I know that everyone has different perceptions of how long they should spend on their skincare routine so I will say this.
If you really care about your skin then you will spend enough time on it. If it means an extra few seconds dotting the cream on your face, and then a few more seconds massaging it in, take it.
Self-care is not about that weekly or monthly spa or body massage. It is about the few minutes you spend each day doing something FOR YOU. Everyone, man or woman, deserves this few minutes that is just YOURS. And if the result is better, healthier and more moisturized skin, I'd say that's a win-win all around – physically and mentally 🙂
But if skincare is for you just something to do to get out of the way, then I'm not sure why you're even reading this 😉
Have you come across this 13-dot technique for applying skincare before? Have you tried it? Will you?
If you do try it, do let me know how you find it. I love it so much, and on days when I inadvertently forget to dot the product on my skin before massaging it in, I feel a little nonplussed! 😀 So do let me know if this works for you too 🙂
Paris B