I've been intending to write about this subject for a while, but finding the time to organize my thought process and to pen (or type) it all down has been challenging. But after a recent chat with someone at an event, or close encounter of the nosy kind, I decided to just sit down and pour my thoughts out here, just so I have a point of reference that I can point people to when I am asked certain inevitable questions.
One of the most common questions I'm asked is "Have you considered laser treatment for your skin?" This is usually in relation to residual acne scars I have and primarily, my hyperpigmentation on my cheeks.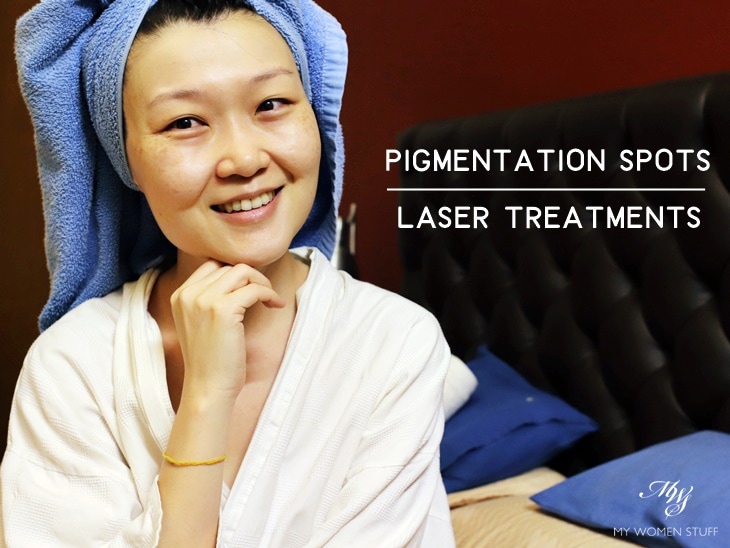 I often find people's eyes wandering over to the spots on my cheeks where I have hyperpigmentation or also commonly referred to as "pigmentation". This is more so when I am speaking to people who are in the aesthetics business. I acknowledge that it is a skin problem I have.
But what puzzles many people is this – As a fairly known and somewhat successful beauty blogger, should I not want to take steps or undergo treatments that will reduce or remove this obvious problem? Might this not make me a more "credible" beauty blogger? After all, the general aesthetic for bloggers is clear, glowing, flawless, poreless skin with zero imperfections.
Let me guess – you have thought the same whenever you look at some of my more close-up or bare skin before-after photos 🙂 Don't worry, I'm used to it 🙂 This is what I have to say.
Yes, I have a pigmentation/hyperpigmentation problem
I don't hide the fact that I have a pigmentation spot problem. You will see it in my photos and even in real life, I don't pile on the concealer or foundation to cover it up and fake a flawless complexion. Well, not anymore.
I used to, once. I would pile on the makeup, because I felt self-conscious. I felt that if I was putting myself out there as an authority on beauty (in my head really LOL!) I should look flawless.
But as time went on, I realised that I am quite representative of many women that I see on the streets here in Malaysia. Many of us of Asian descent, who live here in South-East Asia, have a problem with uneven skin tone, freckles, sun-spots and hyperpigmentation. It is, not to put too fine a point on it, genetics.
So, when someone points out to me that I have a pigmentation problem, and asks me to do something about it e.g. use a whitening skincare product, a spot treatment or to undergo laser treatments, they are pointing out something I already know and am aware of.
But more important, it is something I have come to terms with.
It's not to say that I have not toyed with the idea of undergoing treatments. I have, but I have also balked at the idea for reasons that I will share with you below.
PLEASE NOTE: This is MY approach to my skin. I have absolutely nothing against anyone seeking treatment for their skin concerns. I'd just like to share why I no longer intend to take certain routes nor undergo certain treatments nor use certain products. Perhaps it will resonate with you. Perhaps it won't and you think me a fool. Either way, please do as you see fit for yourself and to keep yourself happy.
Pigmentation or hyperpigmentation can be due to genetics
I have spoken to many doctors in my time, who have at one point or another, offered to treat my pigmentation problem. But I always have one question for them – what about genetics?
Could my genes or genetic makeup make my skin pre-disposed to developing these pigmentation spots or perhaps melasma? The reluctant answer is always a "Yes".
There are members of my extended family who do have problems with melasma and hyperpigmentation. Some of them have clear skin to their old age. Some of them don't. There is therefore every chance that I would inherit the pigmentation gene, which might explain why my skin is so.
A handful of doctors have also explained to me that my form of hyperpigmentation has a name – interesting! It's known as 'hori's nevus'.
Hori's Nevus pigmentation
I'm no doctor, so please feel free to read up on it at your leisure. You can start here and this is a summary of what it is:
Hori's naevus presents as benign (harmless) blue-grey to gray-brown patchy and spotty pigmentation on the prominence of the cheeks. The condition usually appears in adulthood. It is most common in middle-aged Asian women.

The Australasian College of Dermatologists
This is basically what I have and how it develops is attributed to genetics and hormones. Note that both these causes are hard, if not impossible to control.
It is also a condition that tends to manifest itself in Asian women, when you hit your mid-30's or upwards. This was explained to me by a doctor and coincided with my noticing a slight escalation of the appearance of these pigmentation spots once I approached my 40's. Again, I cannot help growing older 😛
It isn't to say that every middle-aged Asian woman will get this condition. Some never do. Some get it earlier in life. This, as explained to me was down to genetics and hormones, and you just never know if you have that pre-disposition to hori's nevus.
Unlike sunspots or freckles that are caused by sun or UV exposure, and can therefore be avoided by staying out of the sun and applying copious amounts of sunscreen, genes and hormones will dictate that I will still have a predisposed tendency to develop this uneven pigmentation. This is also why I say that sunscreen can only do so much to protect your skin against dark spots.
With this knowledge, what I was given to understand therefore is that any treatment I undergo may offer temporary positive effects, but there is every chance that it will return over time, unless regular 'maintenance' is performed.
Other causes of pigmentation or dark spots
Aside from the unavoidable, there are other triggers that can cause these dark spots to form, or in some cases, make them look worse.
Sun and UV rays and heat
It is a proven fact that exposure to the sun and UV rays without any form of protection damages the skin. If it does not manifest itself immediately, it may appear in later life in the form of dark spots. Sunscreen or some form of sun protection is therefore essential for daily use.
The other problem which is hard to avoid where we live near the Equator, is heat. Heat is now known to also cause dark spots to form, or to make it worse. So, cooling your skin down when it gets hot helps reduce the appearance of these dark spots.
Even if there is no sun, UV rays are ever present, and it is the UV-A rays that damage skin and cause it to age, while UV-B cause our skin to darken. Sunscreen therefore does not only prevent dark spots, but also helps slow your skin from aging. Instead of treating skin after all the damage has happened, prevent it with daily sunscreen use.
Stress
If stress does not kill you, it'll just make you look worse than you really do 😛 Stress will put the lines on your face and make your skin look dull and in some cases, if you have dark spots, make it look worse.
I believe it is a combination of many factors, primarily the dulling of your skin tone, that makes this happen. A dull skin tone reflects less light, gives of less "glow" and therefore makes any imperfections look worse.
Dehydrated skin
When my skin is dehydrated, the first thing I notice is a duller skintone, and my dark spots look darker. When my skin is well hydrated, and therefore more plumped, they look lighter.
My dark spots are therefore a good indicator of my skin's hydration levels LOL! Not recommended as a check, but do note that if you have dark spots and it looks worse than you think it should, try upping the hydration in your skincare routine and see if it helps.
Poor sleep quality or bad nights
This does not only reflect itself in dull, tired skin, it also messes with any dark spots you may already have. When I don't sleep well, it shows on my skin.
In many of the instances above, we can avoid the cause, and therefore alleviate the problem, without undergoing expensive treatments. But what are the treatments out there?
Treating dark spots or hyperpigmentation – What I know
Please note that I am not medically trained and therefore can only share what I know based on what I have been told by doctors. I recommend doing your own research but perhaps I can offer a jump off point.
From what I understand, treatments vary depending on the cause of your dark spots. If it is something on the surface, then that is easily treated. If lasers aren't an option, then topical products (medical grade) can help lighten the dark spots, exfoliate the skin and allow new, clear skin to regenerate. This could be in the form of skin peels, RF or medical facials, hydroquinone etc
For many people, if you catch it when it first forms, it's naturally easier, quicker and more inexpensive to treat. This is especially so if it is a surface pigmentation spot.
However, if your problem is at the dermis level i.e. in layman speak "Deep inside your skin", then topical creams or medication will not work. It does not penetrate deeply enough.
I realised this quite a few years ago, when I used to use whitening, or what is now often called brightening, skincare products. They brightened my skin, but never really got rid of my dark spots. I'd even been prescribed hydroquinone by a doctor (it's a poison and should only be used under doctor's advise and supervision), and it honestly did nothing for me at all. Since then, for many years, I no longer use any whitening or brightening skincare product ranges and I have explained why too.
So, seeing as my 'problem' is 'deep inside my skin' and using topical skincare products don't help, what can I do?
The answer: Laser treatments.
Do note also that if your dark spots are at surface level, lasers are also very effective and you only likely need one or two treatments to get rid of the problem for good.
I however, did not have that luxury.
Laser Skin Treatments – My thoughts
Last year, I was in a bit of a rough place, and my thoughts turned to trying laser skin treatments. Could it give me that much coveted clear, glowing skin?
I went and consulted a couple of clinics. I even received a few offers for them to "try to get rid of the problem". The exchange of course, was for me to talk about it. Good deal wot?
However, I was realistic.
You see, I spoke to a few doctors and their recommendation was Q-Switched laser. I also spoke to a clinic that used the newer pico laser. These lasers are apparently quite successful at removing at least 70% of the hori's nevus pigmentation. Basically, it would not be discernible on the skin on visual inspection, so I'd basically have clear skin.
There was a snag.
Because my problem lies at the dermis layer of the skin, the laser must penetrate deep to break up the pigmentation clusters. In not so many words, it had to be zapped to the point of bleeding. Once the skin heals, the new skin would be clear. There would be down-time, possible swelling, redness and maybe peeling. I wouldn't know if I might have a negative reaction to such strong treatment.
This was not your "Let's pop in for a quick laser zap at lunch" treatment. I was required to be dedicated and to understand and accept that I would have down time for my skin to heal. And this was something I had to do every week or so. I'd also have to use some prescription skincare alongside, and stay out of the sun.
If I accepted that, I could have practically brand new skin in 10 sessions. If I wanted something more gentle, without too much downtime, perhaps 20 sessions. It was about a 6 month project. If I was realistic I'd expect about 70% lightening of spots. If I was even more realistic, there was every chance I'd get them again.
Needless to say, I was quite stunned.
It was my first time talking about this to trained professionals, and I have to admit that it shocked me. Both the treatment and how long I'd need.
The next question was of course the cost.
Can you afford laser treatment?
If your problem is at surface level, you could be done in 1-2 sessions and it might set you back anything from RM600-RM1000 depending on the type of laser treatment you undergo.
If that had been my quotation, I might have said "To hell with it, why not? Let's do it!"
But mine was about 20 times that. I was looking at approximately RM20,000 worth of laser treatments. Enough for a downpayment for a house, or a car. Enough for a luxury holiday around the world. This was aside from the cost of the clinic-formulated skincare that they recommend you use alongside.
I'll be honest. The offer of sponsorship was on the table for the laser treatments, and I only had to accept and by now, I'd probably be sporting brand new, clear skin.
But I didn't take it up, and I decided then and there that I couldn't do it.
First, I did not want for anyone to think that you need to spend that kind on money on your skin. I have nothing against anyone who does, and in fact, I'd say it's more power to you! 🙂 But it wasn't something I wanted to do. If I couldn't bring myself to write a cheque for that course of treatment, could I tell someone else to do it if it meant I'd get it "free of charge"? I couldn't and really, it's not because I stand on moral high ground, it's simply because I just think it is an insane amount of money to spend at one go, for vanity sake.
Second, I couldn't, because I realised that I could find at least 10 other things that I'd rather spend the money on. I love skincare and I love taking care of my skin, but I am very realistic.
I don't come from money, and I am not by any means, rich. I have worked hard to be where I am. I am comfortable, I can splurge on some frivolities, and I get by comfortably. I am pretty much your regular middle-class woman on the street, and that woman can find any number of things she'd rather spend RM20,000 on.
Third, I'd have to maintain this new skin with regular laser treatments every few months. This could cost anything from RM600-1200. Could I spare this every few months? Perhaps I could.
Could I find something else to spend this money on instead? Oh yes I could! I am working towards being debt-free so I'd much rather pay the money towards my housing loan/mortgage, or towards a plane ticket for a holiday, or towards a short holiday instead.
Realistically, the cost of the laser treatment and the cost of maintenance put me off.
Now, recently, I met someone who told me that this cost I was quoted was far too high, and that they could get it done for about half the total cost I was quoted. Aside from removing the dark spots, I'd also benefit from more even toned, clearer, more flawless, poreless skin.
Did that sway me? Did I pause for a moment to think about it?
Yes I did. Who wouldn't? 😛
And that's why I decided to sit here and write this piece. Because I won't take it up, and I've put to rest all thoughts of undergoing laser treatments for my skin.
Can you live with it?
This is the reality. If you aren't going to undergo treatments to remove your skin problem or alleviate it, then can you live with it?
When I sat down and thought long and hard about it, my answer was "Yes, I can". I have lived with it for 20 years. I can continue to live with it.
The thing is, it isn't disfiguring, nor does it impair me physically. It isn't a medical condition that needs treating urgently. What it comes down to, at the end of the day, and to put it bluntly, is vanity.
Am I vain enough to spend RM10,000 or RM20,000 at one go, to achieve clearer skin? I'd still need to invest in skincare thereafter so that cost is a given as I already will spend on skincare. It isn't as if I can undergo laser and then forget about using proper skincare thereafter.
And my answer, as I have explained above, is "No, I'm not".
That is not to say however, that I discourage anyone from undergoing laser treatments. I have absolutely nothing against it, and if the situation was different and the cost lower, I would likely have undergone the treatment. Being a hardcore blogger, I'd have blogged about it too.
As it stands however, my position is that I won't be undergoing laser treatment for my pigmentation problem at this time. If I strike the lottery, talk to me again then. LOL! 😀
Prevention from getting worse
From personal experience, I've found that there are ways that I can prevent, or maybe alleviate the problem.
The first is by using sunscreen. Be sure to use enough, and to use it daily. In my case, at least I am assured that I will not develop new sun spots on top of my existing pigmentation spots, and of course, it helps to prevent my skin from being damaged and aging prematurely.
The second is using Vitamin C serums. Ever since I discovered how beneficial vitamin C serums are for my skin, I am never without. I use them practically every morning, and from anecdotal experience, it helps my skin look more even toned, clearer and brighter. It also makes my skin feel stronger and more supple.
The third is to start including other active ingredients like retinol or glycolic or lactic acid. It helps exfoliate my skin and to strengthen it. Over time, I have noticed that while my pigmentation spots are still there, I can slow the appearance of new spots. Alongside, I of course, slow down my skin's aging process so it's really a win-win for all! 🙂
Naturally, I try to keep my skin hydrated, to get better quality sleep, to eat more balanced meals, and to reduce stress. If I can't get rid of the problem, I can stop it from getting worse 🙂
These are of course, as you note, topical applications. We have established that my form of pigmentation lies deep within the skin and topical treatments won't help lighten it. So yes, I will have to live with it. But I can also have something else – healthier skin.
What about other forms of medical-grade treatment for firmer skin, fewer lines etc? Well, this isn't about that. This is purely about treatments for my pigmentation spots. I will never say no at this point in time, if it is superficial. I balk at anything invasive (including injectables) but I otherwise keep an open mind for other forms of treatment.
My skincare focus – healthy skin
This is where I am now.
I know some people may wonder why I talk so much about skincare or display such an interest, but I don't have clear, flawless skin. This is why. I just cannot help the skin I have! LOL! 😀
Does it make me less credible? I don't know, you'll have to decide for yourself. If it bothers you then that's fine. I never claim to be an authority on skincare and I'm a work-in-progress, not perfect. So feel free to click away.
But my focus now is on healthy skin. I may have pigmentation spots, but overall, I've been told that my skin is otherwise healthy. I try to keep it hydrated, and I'm happy when it feels smooth and supple. I'm happy when my skin does not look sallow and dull. I am happy when I look in the mirror and see relatively clear, bright skin. I am happy when I don't really experience breakouts anymore. (This last I think is also to do with lifestyle and perhaps hormones).
Ultimately, how you treat your skin is really your decision, and yours alone. Don't let society or peer pressure force you into doing something just to fulfill society's perception of what should be normal or beautiful.
Don't let the clear skin of bloggers, beauty gurus or influencers, that you see on Instagram or Youtube force you to believe that clear, even toned, poreless skin is normal. This newest trend of "glass skin" can be frustrating for many to achieve. It isn't only done with skincare products, I can assure you of that.
Remember that there are many factors are play, chief among them, genetics. Do not discount also lighting, angles and photo-editing. Many people don't tell you about the treatments they undergo so do be careful with what you see online.
If you are in a place that allows you to splurge on laser treatments to achieve this result, please go right ahead, but please consult a doctor and have it done at a proper clinic.
But if you aren't, remember that clear skin isn't and shouldn't be your only ultimate goal. What you should and could aim for is healthy skin.
For everything else, there is always makeup 😉
Have you successfully undergone laser skin treatments? Have you thought about it? I'd love to hear your stories
I know this was a long piece, so thank you so much for reading till here! I hope I didn't step on any toes, because that's not my intention. I'm just trying to explain why I chose the route I chose, and not the most conventional route. I'm not saying it's the right way. The only right way is your way 🙂
Paris B