This post is brought to you by Nespresso Malaysia. All views and opinions are my own
Chinese New Year, or also commonly referred to as the Lunar New Year is a festival celebrated by Asian communities the world over. As may be expected, it is one steeped in cultural tradition.
To herald a new spring, most of us perform all sorts of activities such as wearing bright colours, eating dishes that represent prosperity and abundance, and staying up late into the night to catch up with family and friends.
But aside from these cultural norms, families may have their own little traditions as well! Let me share some of mine with you 🙂
Homemade Bak Kwa – Chinese Pork Jerky
This is a fairly recent tradition that I started doing about 3 years ago, after being inspired by a friend who learned to make her own bak kwa while living abroad.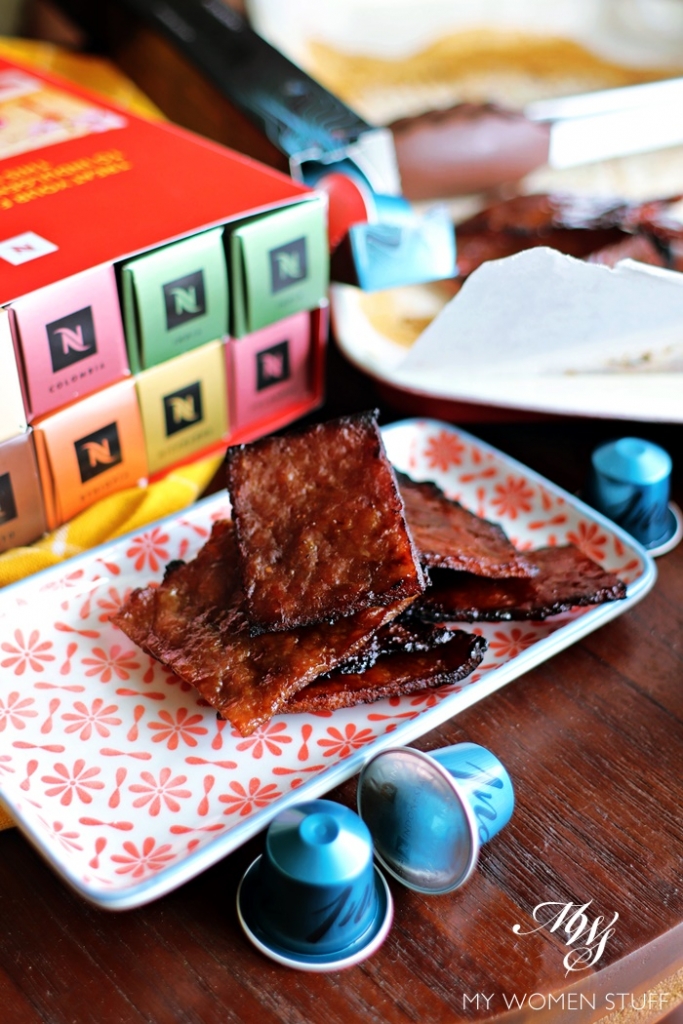 In any home you visit, there will almost certainly be a container filled with strips or squares of this fragrant, dried meat. It is all at once sweet, salty and savoury, with a moreish flavour keeps you coming back for more!
The reason I make my own bak kwa instead of buying it is to have a healthier version of this snack. It's not very hard to prepare (there's plenty of simple recipes online) and it makes for a nice gift for others too, once you wrap it up in wax paper.
Since then, it has become a tradition for me to prepare this snack for the family, and we are content knowing that our loved ones are enjoying a traditional favourite, but with a modern, healthier, home-made twist 🙂
A new red lipstick
I may or may not have 1001 red lipsticks, but just before every Chinese New Year, I find myself hunting down yet another one to add to my collection.
I suppose it's a combination of having something new and a touch of festive red. This year, my pick is the Cle de Peau Beaute Legend lipstick—I cannot get over how beautiful the reds are!
Red is the colour of happiness, abundance and prosperity, and with the new year upon us, what more can we wish for? 😀
Preparing fruit hampers to bring home
While mandarin oranges are traditionally gifted during the Chinese New Year (because the word 'kam' sounds like 'gold', it represents the gifting of prosperity to family and friends ) I find that eating too much of it does not bode well for my health.
They settle heavily on my tummy, and in the dry heat that always accompanies this time of year, they can lead to sore throats and coughs. Almost everyone knows not to overindulge in the mandarin oranges—but we always do 😛
So, aside from some mandarin oranges for cultural significance, I also prepare other fruits alongside for variety.
Dragon fruits and persimmons usually sit well with the family, as they are juicy and sweet. We aren't big consumers of apples in the family, but I know of many people who gift apples as well, as the word apple in mandarin ('ping') sounds like 'peace and harmony'.
One-touch coffee convenience
With friends and family from across the country descending on our humble home, one-touch coffee convenience is paramount! I'll be bringing home my Nespresso machine for Chinese New Year, just so we don't have to spend time in the kitchen brewing drinks. Just pop in a capsule and press a button to serve delicious coffee instantly!
All you have to do is purchase the exclusive Nespresso 10-sleeve Chinese New Year assortment pack (RM264) and get RM188 off espresso machines or RM288 off selected milk machines. For example, the Essenza Mini or Inissia that usually retails at RM599 can be yours for only RM411
With your new Nespresso machine, you can also impress your guests with a couple of Lunar New Year recipes below:
If you missed the last few deals, and are thinking of unveiling your love for family and friends by preparing special drinks to enjoy, while you chat the night away, now's the time 😉
RELATED READING: I've been a Nespresso lover for over 6 years now. Why do I love it so much? READ HERE
Do you have a special CNY tradition to share?
Do share, because I'd love to know what yours are! 😀
Paris B