I had my heart set on not trying the Chanel Sublimage Les Grains de Vanille when it was released about 2 months ago. I am not a big fan of using physical scrubs or exfoliators as I find them a little too harsh for my skin.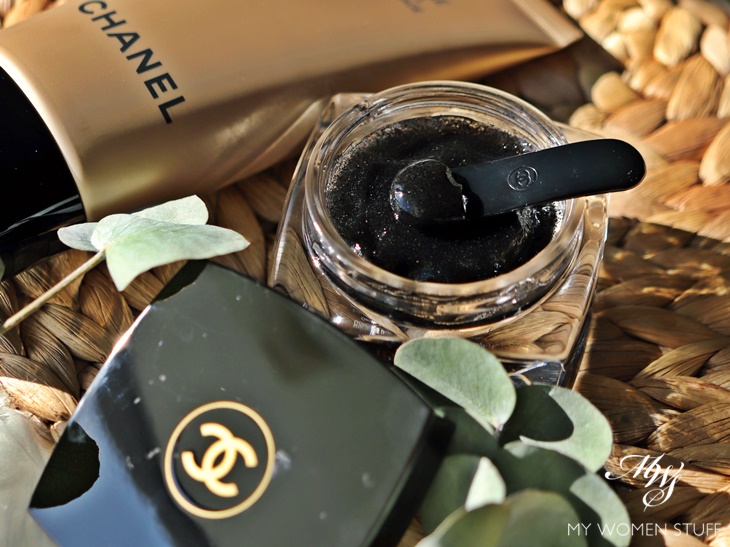 But I confess that curiousity got the better of me.
I had to know if I was going to be slathering caviar on my skin, or if I was taking sandpaper to it. Would I love how my skin feels, or am I going to shake my head in despair at a poorly made choice?
I had to know how a jar of lovely black jammy goodness would fare on my skin.
I just had to know! 😛
Chanel Sublimage Les Grains de Vanille
About 2 months ago, Chanel released a Sublimage Cleansing Collection under their top-tier Sublimage range of skincare. This range, you may recall, is a range that uses extracts from the vanilla planifolia plant and its water.
One of the new releases was the Sublimage Les Grains de Vanille – a facial scrub.
Housed in a luxurious, glass jar, the Sublimage Les Grains de Vanille suspends vanilla seeds and jojoba beads in a refreshing clear gel formula. The scrub looks almost like a jar of luxurious caviar!
Its purpose is to exfoliate dead skin cells on the surface of your skin, to reveal cleaner, more radiant skin. It promises to refresh, renew and help skin regain its luminosity.
Is the Chanel Sublimage Les Grains de Vanille harsh on skin?
Happily, it isn't harsh at all. The black grains suspended in the clear gel are a combination of vanilla planifolia seeds and jojoba beads. They are quite small and do not feel rough.
If your memory of a facial exfoliating scrub is something with walnut or apricot shells in it, then you can rest assured that this is nothing like that.
When rubbed against my skin, it feels a little like when I take a face towel to it. It feels a little rough, but not harsh – there is a difference.
Even when I tried rubbing it harder or longer on my skin, it did not feel like I was scraping off the top layer of my skin. The bits in the gel feel almost spherical under my fingers, and they seem to 'roll' around on my skin, rather than 'rub' or 'scrape' over it, if you get my meaning.
This is quite easily one of the most gentle exfoliating scrubs I've experienced in a long long time!
Is it drying?
My other concern, when using exfoliating scrubs is whether it is drying. Quite often, physical scrubs like these are suspended in a cream type, foaming cleanser. The combination usually leaves my skin feeling parched, dehydrated and stretched thin.
Happily, the Chanel Sublimage Les Grains de Vanille does not.
The clear gel that holds the grains is tacky enough that you can apply it easily to the skin, yet it is light enough, that you can spread it easily over your skin. It feels lightweight and even moisturizing.
It does not foam up, but rinses off very easily. It almost feels like the gel serves just as a medium for the grains, and it is gentle, hydrating and comfortable.
Again, I was very impressed!
My skin actually feels lovely and smoother, and not tight or stripped as it usually does with exfoliating scrubs.
How to use the Chanel Sublimage Les Grains de Vanille
There are 2 ways that I use it.
Method 1 – Chanel Sublimage Les Grains de Vanille on its own for a refreshing, clarifying cleanse
Cleanse your skin and pat dry.
Using the included spatula, scoop about a pea-sized dollop of Sublimage Les Grains de Vanille. Apply to skin
Using your finger tips, gently rub in circular motions all over your face.
Rinse off and pat dry. Continue with the rest of your skincare
Method 2 – One step purifying, exfoliating cleanse with Chanel Sublimage Les Grains de Vanille and a cleanser
Squeeze some of your favourite facial cleanser into the palm of your hand.
Using the included spatula, scoop about a pea-sized dollop of Sublimage Les Grains de Vanille and mix with the cleanser.
Apply to skin and rub gently with finger tips in a circular motion.
Rinse off, pat dry and resume with skincare.
I like using Method 2 when I feel like I want a slightly more intensive cleanse. I have mixed it with other Sublimage cleansers, but also with my own cream cleansers, and it works just as well 😉
The grains give the cleanser a little boost, and you cleanse and exfoliate your skin at the same time, without being harsh, and without drying out your skin. It's nice 🙂
I will note that it is fragranced, but the ubiquitous scent associated with the Chanel Sublimage skincare is much tempered in this scrub. It is fairly light, and easily tolerated even by me, which is saying a lot LOL! 😛
It is also a little pricey, but if you want to try something different and budget permits, and if physical exfoliating scrubs are your thing, treat your skin to the Chanel Sublimage Les Grains de Vanille. It actually does feel pretty good! 🙂
IN A NUTSHELL

The Chanel Sublimage Les Grains de Vanille is an exfoliating scrub of vanilla planifolia seeds and jojoba beads suspended in a clear, hydrating gel cleanser. It isn't harsh on skin, and is very gentle, even if you rub a little harder than expected. The gel cleanser isn't stripping to skin, and rinses off easily without drying skin out. You can use it on its own, or mix it with your usual cleanser for a quick pick-me-up to the skin. I'd use this once a week or thereabouts – not a daily treat. That's too much exfoliation!

PROS:
Scrub feels gentle on skin
Not drying or stripping to skin
Skin feels smoother and clearer
Easily rinsed off
Can be used on its own or mixed with other cleansers

CONS:
Pricey
Bulky glass packaging can be dangerous in the bathroom

WHO WILL LIKE THIS: Anyone who wants a gentle, non-drying facial scrub

PRICE: RM310 | £105 | US$140 for 50g

WHERE TO BUY: Chanel beauty boutiques and counters, Selfridges, Nordstrom
If you're interested, here's is the ingredients list for the Chanel Sublimage Les Grains de Vanille scrub.
Ingredients: Aqua (Water), Jojoba Esters, Glycerin, Pentylene Glycol, Vanilla Planifolia Seed, Diglycerin, Methylpropanediol, Vanilla Planifolia Fruit Water, Harungana Madagascariensis Extract, Sodium Carbomer, Chlorphenesin, Caprylyl Glycol, Xanthan Gum, Polyglycerin-3, Sodium Citrate, Parfum (Fragrance), Phenylpropanol, Phytic Acid, Phenoxyethanol, Sodium Benzoate, Ci 77499 (Iron Oxides)
Does the Chanel Sublimage Les Grains de Vanille scrub intrigue you?
I'm actually glad I gave it a go despite my earlier misgivings. It turned out to be far more impressive than I originally thought! 🙂
Paris B
Disclosure: Featured service was a media trial by the brand for consideration. Our commitment is to honesty and fairness. For review guidelines please read the disclaimer.