Do you remember the old Dior Addict lipsticks? I adored them. Adored! I had nothing bad to say about them, and would wax lyrical at how wonderful they were, at every opportunity. Everyone I knew loved them!
Then, they were reformulated, and I went from euphoria to the other extreme – absolute disappointment. I hated the then-new Dior Addict lipsticks, and I wasn't quite afraid to say so. Happily, many people agreed, expressing their disappointment with the new formula that did not live up to the exacting standards of the original Dior Addict lipstick formula.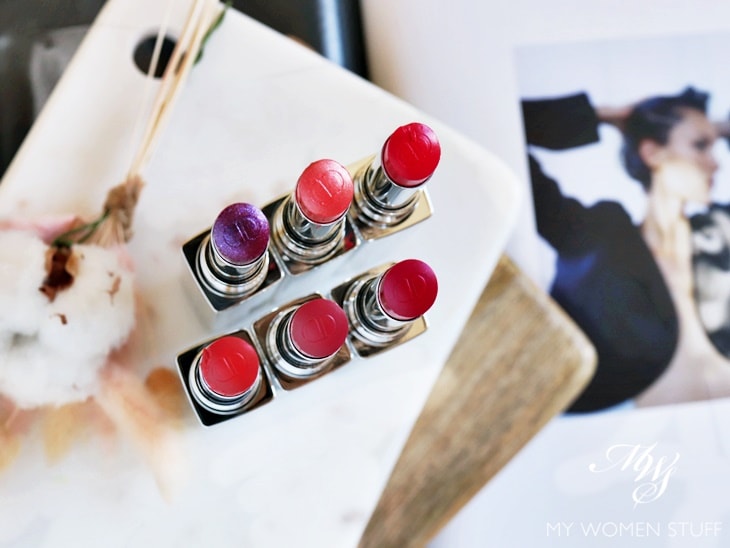 So, when I was faced with the latest reformulation of the Dior Addict lipstick range, I approached it with a little trepidation.
Will the Dior Addict Stellar Shine lipstick bring me back into the Dior fold? Might it make me fall in love all over again with their lipsticks? It was time to find out! 🙂
Dior Addict Stellar Shine Lipstick – Vibrant Colour Hydrating Care Lip Shine
Dior launched their Dior Addict Stellar Shine lipstick to great acclaim not too long ago. The range comprises 24 lipsticks, in various shades and hues of pink. Now, I rather beg to differ on this point, as some of the shades are decidedly NOT pink, but let's just go with Dior's description for now 😛
There are also 3 effects available within the line – glazed (shine), mirror (metallic shine) and sparkle (glitter shine). I personally no longer wear metallic and glitter finishes on my lips, so I was most interested to see how the glazed (or, like donuts, regular) version would fare.
In keeping with the basic tenet of what makes a Dior Addict lipstick, the Dior Addict Stellar Shine continues with the tradition of making a lipstick with balm-like texture and shine. This was by itself an improvement on the previous formula, which had shimmer in everything!
They promised a formula that is hydrating on lips, vibrant in colour and slicking lips with a beautiful shine. So let's see how each of these claims pan out 😀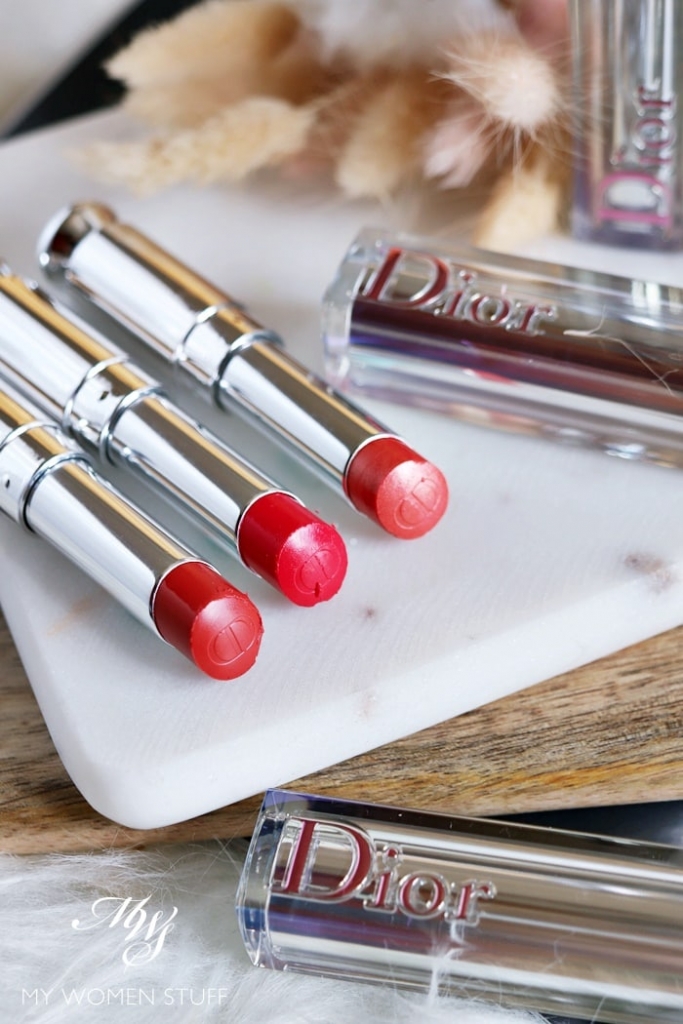 Hydrating care for lips – Check!
One of my complaints about the version of the Dior Addict lipsticks before this one, was that is failed in the most basic way – it was not hydrating. Dior Addict lipsticks usually have a balmy texture, and usually moisturizes lips well.
In the past, if my lips felt chapped, I only needed to slick on some Dior Addict lipstick, and it would keep it moisturized, and keep flaky skin away.
The Dior Addict Stellar Shine seems to have brought back this property that I love. The texture is less like a balm, and is more slippery and emollient than I remember. It almost feels like an oil on the lips.
However, for me, it feels comfortable, which is most important. My lips take well to it, and remain hydrated without feeling dry.
I will note however, that the Mirror and Sparkle textures do not feel as moisturizing. Is it my imagination? Or does the formula have to be drier to hold the glitter and shimmer in place? I'm not sure. But I wasn't sold on them. The regular Glazed version (which forms the bulk of the line) is comfortable.
Vibrant Colour – Sort of Check
Dior Addict Stellar Shine boasts vibrant colour which I'd agree with, about 50%. The colour is vibrant, but primarily when viewed in the tube.
As you will see in the pictures here, the colours of the lipstick are beautiful.
The colours are bright and vibrant, and you just want to pick them up and slick them on. They call out to you that way.
But when swatched, the colours are semi-sheer in texture. While I am not surprised, as this has always been how Dior Addict lipsticks are, I do feel that touting vibrant colour in a lipstick, when the colour isn't as vibrant as promised once swatched, is a tad misleading.
These are the swatches of the lipstick colours I have, that Dior kindly sent me.
When you compare them to the photos of the colours in the lipstick bullet, it might come across as a bit of a disappointment. I'm familiar with this texture, and I like it. But if your preference is for lip colours that are opaque in one swipe, this is not it 🙂
A brief description of the colours are as follows:-
536 Lucky (red coral – glazed) – Lucky is one of the original lip colours in the Dior Addict range. It is described as a red-coral shade, but I'd prefer to call it a red-pink instead. It is one of the very few pink shades that I can and will voluntarily wear.
647 Diorstar (coral – mirror) – In tube, Diorstar looks like a peach lipstick. It has a mirror finish, which means lots of shimmer. When swatched however, it is rather sheer, as you can see. Personally, I don't like this on me, but I imagine I can use it over a deeper lipstick or a matte lipstick to add a touch of shine.
649 Diorosphere (dark peach – glazed) – In tube, this looks rather similar to Diorstar, except that it does not have shimmer in it. But when swatched, it is noticeably deeper and darker than Diorstar.
667 Pink Meteor (rosewood – glazed) – In tube, Pink Meteor looks like a rather deep rose. When swatched, it does go on a lot more sheer than it looks in the tube. It is however, a very wearable colour that you can easily wear daily.
891 Diorcelestial (purple – sparkle) – A grape purple, with lots and lots of glitter in the tube! This one is very metallic, and pretty, if you are able to pull it off. I have stopped wearing very deep coloured lipsticks like purples and plums, and I find them a little aging. I don't need to look older, trust me 😛 But if you like shades like this, with lots of glitter, this is it for you! It is very smooth, so you don't feel the glitter at all.
976 Be Dior (fuchsia – glazed) – Fuchsia but not as you know it! I have owned a Be Dior before this, and it is one of my favourite colours. It is a pink-based red that with a blue tone so it goes with my complexion, and brightens up the face.
You do have to build up a few layers to get a brighter colour and a touch more opacity. You will also likely never achieve the opacity of colour that you see in the ads.
I do also notice that the opacity of colour is stronger in the glazed textures than in the mirror and sparkle textures. For this reason, the mirror and sparkle textures make good lipstick toppers – you can wear them over any lipstick to add a touch of sheer colour and shine.
I recommend therefore that you check your expectations at the door, and appreciate that the Dior Addict Stellar Shine lipsticks have a semi-sheer texture, with beautiful colours and a lovely hydrating shine.
It is also worth noting that very very few lipsticks that promise a balmy texture and hydrating care for lips will be fully opaque. The formula will not allow for it!
Shiny happy lips – Check!
Ah, have I said yet how happy I am to see the return of shiny glossy lips? I never quite got on the matte lip trend, so to see shiny lips in pictures again makes me so happy! 😀
The Dior Addict Stellar Shine does deliver just that – a stellar shine!
The glazed texture delivers just enough shine to make lips look plump and juicy, which I absolutely love. The mirror and sparkle texture are a bit too shiny for me, but I imagine there are people who enjoy using those too. Besides, as I've noted, you can use them as lipstick toppers, as the colour is a little more sheer.
To give you an idea of how these colours look when I wear them, here is the full face shot.
Diorstar has a mirror texture, and you can see the quite obviously blidning shine on my lips. The others are all glazed. Diorosphere (which I misspelled in all the photos 😛 ) is a dark peach, and a colour I rarely wear, but actually sort of works for me. Pink Meteor is very sheer when swatched on my arm, but looks better when worn on lips. My favourite is Lucky, so that's taken up residence in my bag 😀
I believe sometimes, sheer lip colours like these will shift a little when you apply them on your lips, as they blend with your natural lip colour. So, if you have more pigmented lips, as I do, the colour can look a little different. If your lips are more pale, then you may get a colour that is more true to that when swatched on your hand.
Diorcelestial is a sparkle texture, and again, you can see the shine from a mile away LOL! 😀 It is not a bad colour but just not something I wear much of these days. Be Dior is a colour I've worn before, and although it's supposed to be a fuchsia, it is a very wearable deep fuchsia, that makes wearing colours like these a breeze for me.
By way of foundation and skin tone reference, I wear a 10 in Dior foundations, or whatever the lightest shade is in most brands. The colours will therefore look different, and potentially brighter, on me than they may on someone with a deeper skin tone – but it will be no less pretty! 😀
Has Dior redeemed the Dior Addict in my eyes? Do I love Dior Addict Stellar Shine as I did the original?
Hmm… It isn't quite back to its original texture as far as I can tell. It is less balmy (I prefer a more balmy texture), but it is infinitely better than the version prior to this. It is more moisturizing now, and keeps lips comfortable.
Do I love it and will I continue to use it?
Yes I will. I will recommend the regular glazed version, because they feel closest to the original, and the colours have more opacity. The shine is not too blinding, and there is no sparkle or glitter to make it overly festive for daily wear.
You can easily build up the colours to be more opaque (to a limit) but you cannot reasonably expect 8 hours wear from this. I don't know how Dior tested them, but there is no way a formula like this can last you 8 hours without touching up.
I will also tell you to heed a note of warning, that due to the emollient texture, it will finish quite quickly. The CD logo is etched into the top of the lipstick, but it will disappear with your first swipe. That's how emollient it is. It practically melts on your lips.
I love that, but in this age of matte, long-lasting lipstick textures, I don't know how many will.
IN A NUTSHELL

The Dior Addict Stellar Shine lipsticks are balm-textured lipsticks that are quite soft, so they almost melt on your lips. They are hydrating and keep lips shiny and moisturised throughout your wear. Colours are also bright and flattering to most. There are 3 textures available – glazed, mirror and sparkle. I find that the glazed texture is best, as it is the most comfortable and most flattering. The other two will be for the more adventurous, or to use as lipstick toppers. I do feel like Dior has finally redeemed themselves in my eyes, after the last debacle that was their previous version of the Dior Addict lipstick. I'd happily tell anyone to check out this version now. Just be sure to check your expectations at the door – expect semi-sheer colour, nice glossy shine, and perhaps, 2-3 hours lasting power. Colours are beautiful!

PROS:
Semi-sheer colour is easily built up
Glossy shiny lips
Hydrating and moisturizing formula
Flattering colours

CONS:
Pricey
Finishes quickly due to the soft texture
Semi-sheer lip colour may not appeal to everyone

WHO WILL LIKE THIS: Anyone who enjoyed using the original Dior Addict lipsticks, Anyone who appreciates a balm textured lipstick with semi-sheer colour, and lots of glossy shine

PRICE: RM138 | US$37

WHERE TO BUY: Dior beauty boutiques and counters
A note about the packaging. For some reason, Dior does not seem to have worked on one very important aspect of their packaging – numbering the lipstick tube. If you have a few of these Dior Addict lipsticks and have them open at the same time, you'd not be able to match them back to their cover (and the name) because there is no way to identify the lipstick, based on the tube alone.
I noted this in my previous review, and I note the same thing here. They have never learnt, or they just don't expect people to buy more than one Dior Addict lipstick? Either way, it disappoints me.
By contrast, with Chanel Rouge Allure lipstick, the lip colour number is etched on the side of the lipstick case, so you can find the correct cover, and name should you lose the sticker in future. Little things, Dior. It's the little things….
Have you tried the Dior Addict Stellar Shine lipsticks?
Are you a fan of the original Dior Addict lipsticks? If you have lamented their loss, take heart that you can now buy into the new range, and relive those happy memories, and put to bed all the nightmares of Dior Addict past LOL! 😀
Paris B
Disclosure: Featured service was a media trial by the brand for consideration. Our commitment is to honesty and fairness. For review guidelines please read the disclaimer.