About 4 years ago, the Dior Addict lipsticks were reformulated, alongside the Chanel Rouge Cocos. In fact, their ads had me taking a second look. I even pit them in a head-to-head battle to see which was better. My loyalties and conclusion then, was that the Dior Addict lipstick reigned supreme.
Truly, the formula of the Dior Addict is what had me falling in love with Dior lipsticks and makeup in general. Here's what they used to look like, when I first started buying them. It had a translucent dark blue cover and a gold tube, a moisturising formula and a nice wash of colour – not too sheer, not too intense.
Since I am such a huge fan of the Dior Addict lipsticks, and since every version they've come up with so far have wowed me, I wasn't planning to be too critical about this new 2015 version fronted by Jennifer Lawrence. I mean, they're essentially preaching to the converted, yes?
However, when I started playing with these, I confess to a slight sinking feeling in the pit of my stomach. My HG lipsticks seem to have taken a hit in terms of formula, and what this tells you, as far as I'm concerned, is that I feel that the quality of the new Dior Addict lipsticks are not up to par with what they used to be.
There, I've said it. I've read more than a few reviews that have said that these new Dior lipsticks are as good as the previous formula. I'd humbly disagree.
I feel that the new version is now far too sheer, far too sparkly and not moisturising enough. I'd like to call this the Peter Phillips disease. He helmed Chanel and released the new Chanel Rouge Coco back then. I didn't like it – it was too drying even if I seemed to be the only one saying so. When he left, Chanel reformulated their Rouge Coco lipsticks and it's now SO. MUCH. BETTER!
When I heard he'd switched sides to join Dior, my heart sank. And now that he's had a hand in the Dior Addict lipstick reformulation, my biggest fears are realised. Unlike many who may love the product, or the man behind it, I'm not one of them. Let's just say Peter and I don't see eye to eye in terms of lipstick texture 😛 And with this preface in mind, let me walk you quickly through the new Dior Addict lipsticks and show you some swatches of the 4 principal colours in the core collection.
I have to say however, that the new packaging for the Dior Addict lipsticks are lovely. The pearly finish of the case is retained, and given a shinier appearance. The packaging is slimmed down and simplified, and the lipstick now slips into the cover and stays put with a magnet.
The upgraded packaging is most certainly noteworthy. However, the name of the lipstick is only found on a little sticker at the base of the cover. So, if you have a couple of these, and you don't take care which cover you use, you will in all possibility mis-name them if anyone asks what you're using.
As for the lipstick bullet itself, it retains the flat, round surface that makes it easy to apply. Due to the formula and the more casual vibe of the the colours and textures, this isn't a lipstick that requires precision in application.
As part of the reformulation, the centre, or core, of the lipstick sports the CD logo in a slightly contrasting colour. We had seen this in Dior's Summer 2015 collection (that I opted out of since tie-dye isn't my thing) and if I'm to be honest, I don't like it. Happily, once you start using the lipstick, the surface flattens out and the CD logo is less noticeable.
What this "core" is, according to Dior, is an ultra-moisturising core that gives lips a shine, rather like that of a top coat. It runs all the way through so it's always there. The lipstick is infused with oils that help moisturise the lips. I don't know how it is then, that I feel this new formula to be more drying than before. It didn't make sense to me.
For some reason, I felt that this new Dior Addict lipsticks don't apply as smoothly on the lips, nor do they aid in moisturization, the way the previous formula did. It used to be that when my lips felt dry, a slick of the Dior Addict lipstick was what kept the flakies at bay, while adding colour and some shine.
However, when I was using these recently, with slightly dry lips, it only accentuated the dryness and lines. I also realised that they didn't slick on very smoothly.
Dior Addict Lipstick – Tribale, Be Dior, Smile, Wonderful swatched 2 times down my arm
In terms of colour, I found these quite lacking. In tube, they look fairly pigmented. On skin, they are very very sheer. Even Be Dior, which is the deepest shade here, is a mere wash of transparent colour. I felt a little cheated.
Tribale 451 – This is a lovely coral in tube, with noticeable shimmer/glitter particles in the tube, but none when swatched. The colour is a very transparent, light coral.
Be Dior 976 – A lovely berry red in the tube with little to no noticeable shimmer or glitter, it swatches on skin a transparent berry red. Good if you want to ease into wearing red lipstick but not so good if you were expecting a deeper tone.
Smile 553 – A pale nude pink with no noticeable shimmer, that applies a light sheer pink
Wonderful 561 – A pink with noticeable shimmer that swatches a pale, transparent pink with noticeable glitter
On lips, as you will see below, the texture and colours weren't as flattering as I was hoping they'd be. For the record, for Smile, Wonderful and Tribale, I applied at least 3 layers to get the colour to show up. Be Dior was applied 2 layers. A shade like Tribale would have previously gone on a slightly deeper coral. Now, it's a bare wash of colour.
My least favourite is Wonderful, which gives a frosty appearance to my lips that I absolutely dislike. It made the lipstick look cheap and this isn't cheap, folks. It's DIOR for goodness sake! I expect more from Dior than frosty pinkness.
So it appears to me that Dior has now gone and infused glitter into their lipstick, which bugs me. Glitter has a bad way of making lipstick look frosty, and honestly, it isn't flattering. I'd personally pick the ones that are glitter-free. For some reason, the texture of those are better as well. If you're wondering, yes, if I mash my lips together, I feel the fine glitter particles in Wonderful, and that bugs me more than you'll realise.
Here's how it looks in a full face shot, just for you to have an idea on the shades.
Between Smile and Wonderful, I'd pick Smile because it is more flattering without that awkward frosty shine. Tribale is a colour I'd have preferred if it was deeper, a little more like how it looks in the tube. Be Dior is alright, as sheer red lipstick goes, but there's something about the texture that doesn't sit well with me. As I've noted, I feel it to be more drying than before, which is unusual.
Dior says that the "ultra moisturising core" will give your lips a shine akin to that of a top coat (like that of nails) but if I'm to be honest, I don't find these to be any more shiny or glossy than the previous version. I suspect a lot of the shine comes not from this "core" but from the glitter/shimmer and that to me isn't true to what Dior Addict lipsticks are or were like.
Dior Addict lipsticks used to be the most moisturising lipsticks I'd ever worn, which allows me to use them even like, or in place of a lip balm. But with this new formula, I'm not enamoured with it. I feel that what was a winning formula has been messed with, and I'm not happy about that 🙁
It is also noteworthy that with this new Dior Addict range of lipstick, the old Addict and Addict Extreme have been discontinued. Some colours have been carried over to the new formula, but a friend has told me that she found the colour and texture to be dissimilar even though the product has the same name. I'm sad. I was a huge huge fan of the Dior Addict and Addict Extreme lipsticks and I sang their praises from the time I started blogging till… well, now.
I'm afraid I'm not in love with this new Addict formula, nor do I think it to be similar, or even better than the previous formula. Perhaps it's because I have been using them a while, or perhaps I have a basis for comparison. Perhaps, if I wasn't so hung up on how wonderful they were, I'd be more forgiving. But the fact is I am. Sorry folks, gotta live with my whinging 😉
IN A NUTSHELL

Dior reformulated and relaunched the Addict Lipstick collection with a new formula and packaging. The new packaging is sleek and attractive and modern. I like it, and it no longer clicks in place, it's held in place by a magnet. The formula is supposed to be more moisturising, with a core that coats lips with a shiny top coat, and moisture. The CD logo goes all the way through and in some shades, come in a contrasting colour. Personally, I'm not a fan of the new version. I feel the texture to be a little dry and drying, the colours to be too sheer compared to what they were before, and they are too glittery. While the sheerness of texture means most colours are wearable, it also means that you should just forsake the light shades because they'll all look more or less the same. I'm not a fan, sorry Dior.

PROS: Sleek packaging is attractive, Sheer texture makes it easy to wear bold or deeper shades

CONS: Too sheer and too glittery, Not moisturising, Dry texture tugs at my lips

WHO WILL LIKE THIS: Anyone who hasn't used the old Dior Addict ranges, Anyone who wants a sheer wash of colour and shine in a lipstick, Anyone who wants to try wearing bold shades but don't want colours that are too intense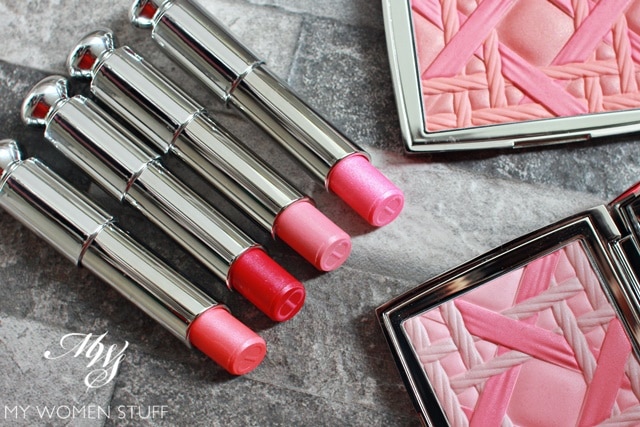 Am I too hard on these? Yes, I think I am. But can you blame me, a long time user and fan of the Addict lipsticks? 😛 I think if you're new to the Addict line, then you may not be as critical and may even like this new formula and texture. It's just that I have a basis for comparison, and I'm going to stop apologising right here. I didn't like these. Period 😛
Have you tried these new Dior Addict lipsticks? Do you like them?
If you did, by all means say so. I realise that I'm probably the only person so far who isn't truly enamoured 😛 So what I'll be doing is going and buying up some of the colours I missed in the older formula. I'm sure they'll be still available online and at least I'll be able to get some good use out of what used to be my holy grail lipstick. Boo hoo 😛
Paris B
Dior Addict Lipstick (reformulated 2015) comes in 44 shades Price: RM108 | US$35 | £26.50 Availability: Dior beauty boutiques and counters, Sephora