Coo-ee! Hiya! 😀
Hope you're all keeping well during my enforced break and discovering, or in my case, rediscovering some beauty goodies. One of the things I rediscovered was just how much I like the Chanel Rouge Allure Velvet lipsticks. It's quite something for me, because in general, I haven't had a lot of luck with Chanel lipsticks (I find them a bit drying for me) and matte lipsticks in general (too drying and makes my lips look too lined).
But for some reason, these work for me.
I find it quite fascinating, because I wouldn't personally pick a matte lipstick at any time of day. My choices always gravitate towards those that offer shine and a touch of gloss. The texture of the Rouge Allure Velvet lipsticks are, like their names imply, like velvet. The lipstick in tube has a satiny velvety look, with a touch of shine to it. What that means also, is that when applied, I don't find it to be fully matte. Like velvet, there is a general matte finish, but with a bit of a sheen that I find flattering. Chanel calls it a "luminous matte" and while it sounds rather oxymoronic, I tend to agree.
I have 2 colours at present, a coral-peach shade called La Ravissante 32 (The Beautiful) which is unfortunately discontinued, and a lovely bright pink which has been described as a hot pink (although I disagree) called L'Exuberante 37 (The Exuberant) which thankfully, isn't.
Chanel Rouge Allure Velvet Top: La Ravissante 32 (discontinued) Bottom: L'Exuberante 37
I started out my Rouge Allure Velvet experience with La Ravissante and I didn't quite know what to expect. Most matte lipsticks dry my lips out and a peachy matte lip shade tends to look quite ageing. I was however, quite impressed at the fact that I did not find this drying at all, and it applies smoothly and opaque.
You do need fairly flake free lips so it looks smooth and flattering, and if you feel the need to wear lip balm underneath, realise that it will give the lipstick a bit more shine than it should. I don't wear lipbalm so I wear this on its own and it's fine.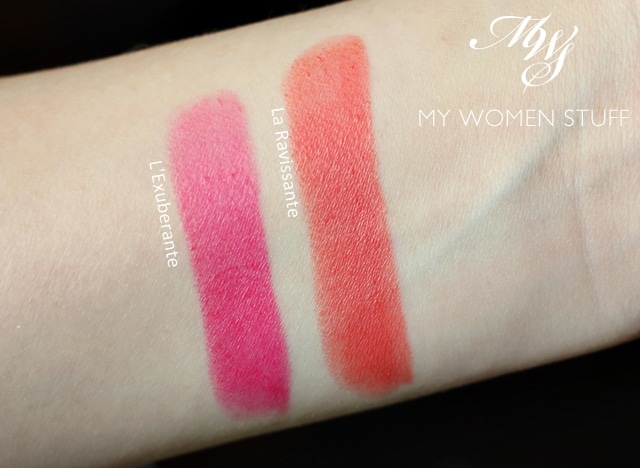 These lipsticks swatch opaque in one swipe which is impressive. I do however find that when new, and when you haven't used them for a while, they seem to harden, so it feels harder and the colour pay off is poor until you warm it up a little, then it applies very smoothly.
The plus point however, is that I find that it doesn't transfer very easily so you don't walk around leaving much of a mark on coffee cups as you would a glossy lipstick, and it feels very comfortable on.
The packaging is quite typical of Chanel – sleek and chic. You depress the gold bit at the end for the lipstick bullet to pop up and when you return it back into the case, you depress it again so it stays closed. Very sleek and impressive.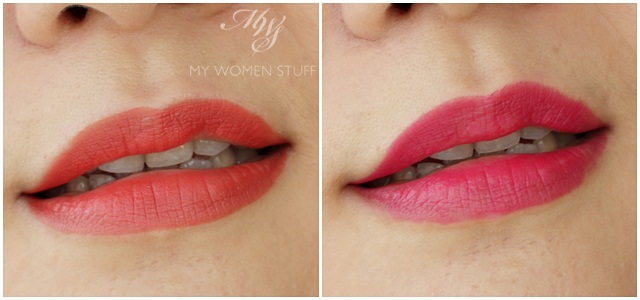 Chanel Rouge Allure Velvet Lipstick Left: La Ravissante 32 Right: L'Exuberante 37
Swatches on lips were done with one swipe straight from the bullet.
La Ravissante 32 (discontinued) is a warm peach-coral that on me, shows up more peach with little pink. It isn't a colour I'd normally wear but then we should move out of our comfort zones shouldn't we? It goes well when I have on warmer eyeshadow colours and a warm peach or coral blush.
L'Exuberante 37 is described by many as a hot pink but which I'd just call a pink. It's very pretty and there is enough of a blue base so teeth aren't made to look yellow, yet is warm enough so it doesn't wash me out. I wasn't sure about this, but it turned out to be a very flattering and face brightening colour on.
In a nutshell

The Chanel Rouge Allure Velvet lipsticks are described as a "luminous matte" which is quite apt, as it is a matte lipstick with a touch of a satin shine so it does not look flat as most matte lipsticks are wont to look. I do not find it drying for a matte lipstick, and it lasts at least 4 hours for me without settling too much on my lips. You do however, need to have flake free lips to wear these so they look at their best. I don't generally wear a lot of matte lipstick, but if I had to pick just one, this formula would be it. It doesn't age you and doesn't dry my lips and the colours are flattering. That's all we ultimately want in a lipstick.

Pros: Not drying, Matte texture is not flat and unflattering, Does not settle into my lips, Flattering range of shades

Cons: Feels hard if not regularly used but once warmed up a little applies smoothly and evenly

Who will like this: Anyone who hasn't been able to find a good matte lipstick
I'm still working on finding the right light so here's the best I could do for now in terms of a quick FOTD to show just how the lip shades look in an overall look.
La Ravissante works with a warmer overall face and green shadow straddles that balance between warm and cool, so it keeps the look warm enough. I do however, find that this colour makes me look more matured so I pull it out when I want to carry some clout at work and throw my weight around 😉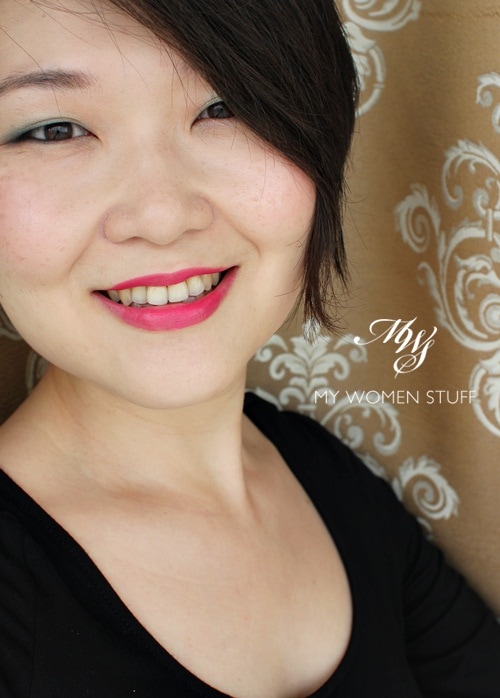 But I think L'Exuberante looks far better on me don't you agree? It brightens my complexion and gives off a more youthful vibe that belies the more matured matte texture. In fact, I think the velvet texture of the lipstick works very well with this shade, as it doesn't make it look too rah-rah young, but grounds the colour more than a glossy lipstick in the same shade would. I love it! 😀
Have you tried the Chanel Rouge Allure Velvet lipsticks? Are you a fan of matte lipstick textures?
I can't say I love matte lipstick because they do tend to feel quite dry and look flat don't they? Yet, some colours, like bright pink for example, lend themselves well to a matte texture so I'm really happy I discovered and rediscovered these Chanel ones. Best matte lipsticks I've used! 😀
Paris B
Chanel Rouge Allure Velvet Lipstick Price: RM95 (unsure if there' s been a recent price hike) Availability: Chanel counters