Last week, this elaborately beribboned box and hot pink envelope landed on my desk.
Ooh err… what is it?! Much more intriguing was the sticker behind the envelope that said "Open the box before the envelope". Alamak! Suspense…. (for foreign readers, "Alamak!" is a Malaysian exclamation of surprise, horror, shock, happiness, everything in between :P)
In the end, I did open up the box, and nestled inside was a pair of sunglasses and a note from err… Kate Moss with an invitation to the launch of the new Dior Addict lipsticks! 😉
Being my first time at a big press launch of a major luxury brand, I wasn't sure what to expect. The invitation card called for a dress code, but it was a work day so I couldn't quite do the rock or glam look. But they sent a car to pick me up, which should really have made me twig. We were being feted with a superstar experience!
And truly, it was! 😀 I've also got a few sneak peeks of the new Dior Addict lipsticks for your viewing pleasure 😉
The "car" was a super comfortable Alphard (luxury van :P) , and even had an envelope with my name on it on the seat, and a ribbon which was my entry pass. Perrier sparkling water and a chauffeur and assistant with cool towel completed the look. Felt absolutely like a meeellion bucks anyway when I was dropped off at the front door of the JW Marriott Kuala Lumpur … to the brilliant popping flashbulbs of papparazzi. Oh… so THAT'S what the sunnies were for! 😀 No pics of the papparazzi – was too busy running and hiding from the popping flashbulbs 😉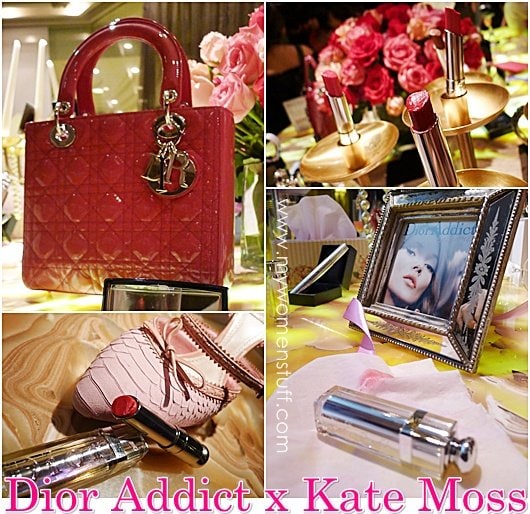 This was the official media launch of the new Dior Addict lipsticks, and the face of Kate Moss as the new Dior Addict lipstick model. Made to feel like Kate Moss we were! 😀 It was hosted by Denise Keller who is hands down the best event emcee I've experienced so far. She was beautiful, spoke very well, was funny and so alive! Thumbs up to Dior for picking her!
Incidentally, there's talk that Kate Moss actually drew some flack when she publicly applied a Dior lipstick while she was still fronting Rimmel. This happened a while ago, and fueled rumours that she was going to be the new face of Dior. Well she is and the images are quite something 🙂
Visiting Dior makeup maestros – Ivan Chew from Taiwan and Kim from Korea showed us 4 looks featuring the 4 facets of Kate Moss and the new Dior Addict lipstick collection and some makeup tips. It would be way too long to share it all here, so I'll have that come up in a separate post 🙂 In the meantime, here were the looks created – Baby Doll Icon, Rock Icon, Glam Icon and Kate Moss as done for the poster ad.
The Kate Moss look is gorgeous and so easy (or so it looked). What it calls for is neutral eyeshadow, thick black eyeliner winged out dramatically, and the new Dior Addict lipstick in #578 Diorkiss which is a beautiful soft shade of pink.
The new Dior Addict Lipsticks
I have said so many times that the Dior Addict lipsticks are an old time favourite of mine. I have so many from the different formulations they have come up with 🙂 The new formula has as its key ingredient something called "Mirror Jelly". What this is is an ingredient that provides hydrating and softening effects to your skin and a lower level of wax for a light reflecting effect. Some day I'll show you the older ones I have and compare them to the new one 🙂
Technology aside, what you really want to know is how does it feel right?
When I swiped some of the colours on the back of my hand right from the tube, it actually looked quite sheer. I was a little disappointed. I love the Dior Addict lip colours but I had some of the Dior Addict High Shine range, which I found a little too sheer for my liking. These are of the latter category. Sheer but not too sheer lip colours with nice shine that shimmer and sparkle in the light. The texture slips on the skin like a lipbalm. Oy! Its like Dior took the Addict Lip Colour and married it with High Shine (both of which are getting replaced by this new formulation). However, if you use a lip brush or if you layer, the colours do get stronger, and some colours are more pigmented than others. The swatches are therefore not very accurate, swatched straight from a new tube (and while jostling with other journos). Really, there's something for everyone in here 😀
The case has been revamped too. It now looks a bit bulkier and comes in a translucent pearly plastic case. Mr. Kim, the Dior makeup artist from Korea likened it to haute couture fashion – a woman in a long empire cut silver gown. That man has imagination! There will be 42 colors available with more than sufficient shade colours to suit us all.
I predict #578 Diorkiss to be a sell out. Its the colour used on Kate Moss in the promo pictures and it is a bright soft pink with very high shine. I tried it on at the launch and its amazing! Convinced the makeup artist to do the winged eyeliner on me, and you have the Dior x Kate Moss look 😀
As I said, I'm a huge fan of the Dior Addict lipsticks in general, so I'm understandably excited at this new revamp of the line. I'll let you know what I think once I get my hands on them 🙂 Might these lippies be something to interest you? A long time ago, whenever anyone asked me what lipsticks I recommended, I always told them to check out Dior Addict – everyone of them thereafter blamed me for their expanding collection – I plead innocence 😛
Paris B
The new Dior Addict Lipsticks come in 42 shades and will retail at RM90 each at all Dior counters from March 2011.