Earth Day 2019 has come and gone, and along with it, pledges of going green, separating and recycling waste, reducing the use of single-use plastics… often, platitudes.
There was a time when I'd mark these sort of 'days' and make these 'pledges', but no longer. I am honest with myself, and I will do what I can in my own little ways but I am not a green or eco warrior – not yet. Maybe never, because I'm honest and I will admit this to myself and to you. We all do what we can without ramming it down the throats of others.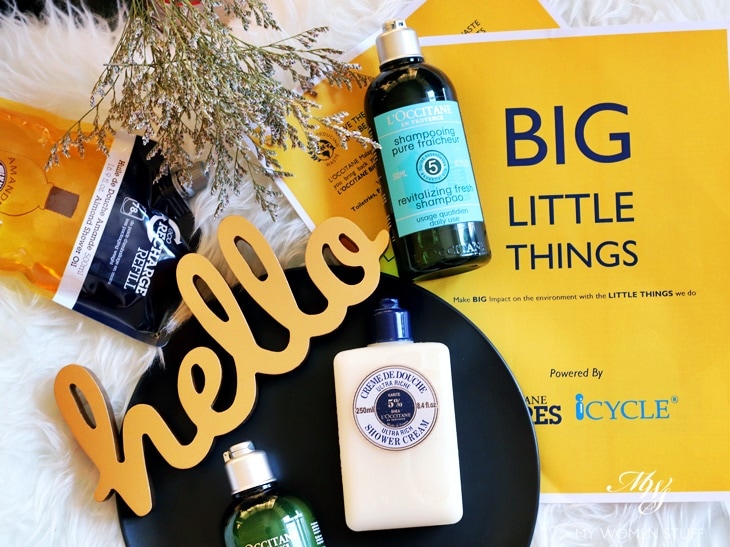 However, I was at the launch of L'Occitane Malaysia's Big Little Things recycling campaign, and I liked what I saw. I liked it enough that I'd tell you about it, because they appear to me to be more focused, more genuine, and more invested in the recycling cause for the reasons I'll share below 🙂
L'Occitane Malaysia Big Little Things Recycling Campaign
The Big Little Things recycling campaign is L'Occitane Malaysia's way of dealing with the plastic problem that now plagues our oceans and marine life. They recognize that their products too come in plastic containers, and that can contribute to the plastic pollution.
You can upcycle your containers. Turn bottles into plant pots, or pen holders etc, but let's be real. How many of us will? I know I won't. I'm not afraid of saying so 😛
The next thing we'd do is to toss it out, into the plastics recycling bin. Then, we'd brush off our hands, pat ourselves on the back for a job well done, and leave it.
We don't really know what happens to these "recyclable goods" don't we? Are they REALLY sent for recycling? Or are they just merged into one load of generic rubbish and dumped in a landfill somewhere?
L'Occitane Malaysia pondered on this too. However, they recently found a recycling partner in the form of iCycle Malaysia, a solution provider of waste separation and recycling.
iCycle Malaysia processes a wide variety of recyclable material including plastics, paper, cardboard, foil, aluminium… things we didn't think could be recycled, they recycle it. And they are now partnering with L'Occitane Malaysia to recycle waste collected by L'Occitane Malaysia.
What can you drop off for recycling?
This is what endeared me to this initiative – you can drop off cosmetics empty products from ANY BRAND, not just L'Occitane brand products. In some cosmetics stores here that have a recycling initiative, they usually only accept empties from their own brand, and you don't know where the items go after that.
The fact that L'Occitane has opened this to accept ANY BRAND makes this, I feel, a more genuine effort. Also, by telling us that they partner with iCycle, we know that the journey of your plastics is traceable.
There are a few conditions that are easily met:
Empty bottles, tin, tubs, containers etc must be in a clean and dry condition. Wash it out at home, let it dry, then take it in.
L'Occitane Malaysia will accept empty container packaging from any brand (plastic, paper, tin, aluminium etc included) for toiletries, face care, hair care, body care, fragrance and home care products.
Products not accepted are – makeup, hair styling products (e.g. mousse, spray) and mouth care products (e.g. toothpaste, toothbrush, mouthwash etc). To be honest I'm not terribly sure why, if the containers are clean and dry, but those are their requirements.
What do you stand to gain?
Aside from making space in your home for new items you mean? Why do we even need an incentive to do this?! 😛
But an incentive is provided, which is clever marketing on the part of L'Occitane as well 😉
For each FULL-SIZED empty container from the accepted categories that you drop off, you will receive a digital stamp. Sign up and track your rewards online here.
For every 6 full-sized empties that you drop off and registered, you will receive a reward of a deluxe travel-sized L'Occitane product. The rewards are cummulative i.e. every 6 items nets you one item, so you will receive all 5 items if you drop off 30 full sized empties.
Do note: You may drop off empty sample sized containers as well. They just will not count towards your rewards. But at least you'll know they'll get recycled properly!
Time to go round collecting empty skincare and toiletry containers from your family and friends 😛 Little things you do, can have a big impact for the environment.
Where are the participating L'Occitane stores?
L'Occitane Malaysia is kicking things off in 15 L'Occitane stores around Malaysia (including Sabah & Sarawak) currently, as follows:
1 Utama
Sunway Pyramid
Suria KLCC
The Gardens Mall
Pavilion Kuala Lumpur
Sogo Kuala Lumpur
Bangsar Village II
101 City Mall Putrajaya
Setia City Mall Shah Alam
Gurney Plaza (Penang)
Queensbay Mall (Penang)
Mahkota Parade (Melaka)
Southkey Megamall (Johor)
The Spring Kuching (Sarawak)
Imago KK Time Square (Sabah)
How long is the L'Occitane Malaysia Big Little Campaign for?
Well, for the long term! It starts now, but will run and continue to run until further notice.
I am reliably informed that the intention is truly to do something about the plastics pollution, so they are committed to this for the long term. So, save your your empties, and bring them back 6 at a go for an instant reward 🙂
I personally think this to be a good initiative. So often, when I clear out my empties, I don't want to be that person who just shows them off and say "Look, I've finished SO MANY products this month! Yay me!" Often, I don't even bother telling anyone about my empties.
But there are times also when I want to toss them out, and am unsure about how to separate them, or if a certain plastic can be recycled. How many of us know how to read the codes that tell us what sort of plastic the container is made out of, and whether it can be recycled? I know I don't.
So, to have L'Occitane Malaysia and iCycle say "Look, give it to us. We can recycle it!" makes me feel better about where I throw my empties. I may or may not bother to sign up for the rewards (I just want somewhere to send my containers LOL!), but it's a good incentive system that I know will appeal to many.
Do you plan to drop off your cosmetics empties soon?
At least now, you know where to drop them off! And get something out of it too 😉
Paris B
Beauty hors d'oeuvres serves up bite-sized nuggets of information about new beauty releases, store openings or events with quick, cursory thoughts on them. It is presented as an appetizer to whet your appetite for something meatier and designed to offer quick information. See other beauty nuggets here. For more meaty posts read the product reviews.