This post is brought to you by Nespresso Malaysia. All opinions and experiments are my own.
A few months ago, I shared with you why you may want a Nespresso machine in your life. I didn't expect to meet so many Nespresso fans!
But if you're still unconvinced, I wanted to share with you today, yet another reason why you need (not want, NEED!) a Nespresso machine in your life – milk coffee brewed in the comfort of your home. Check out the Nespresso Flash Sale details below for some incredible savings.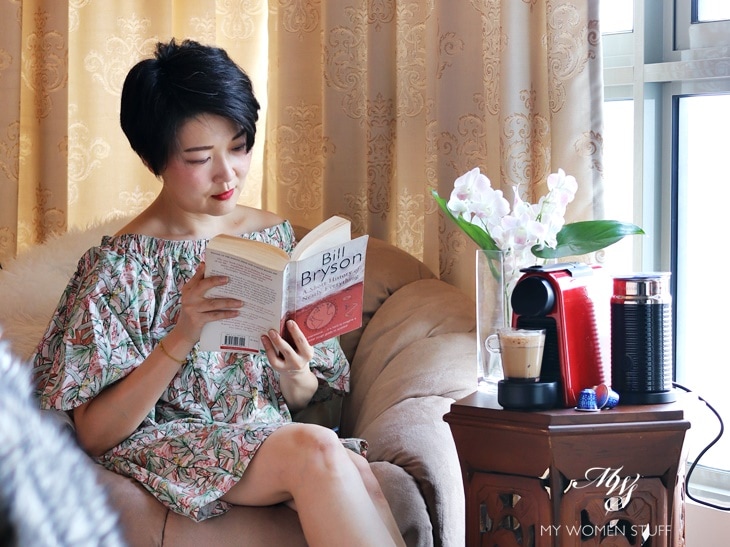 I used to be an avid cappuccino drinker. It was my coffee of choice. However, I've been drinking my coffee black for many years now. The reason is this – lactose intolerance. Milk makes me bloat and feel very uncomfortable, so I learnt to do without.
What this means for me is sadly, no more cappuccino, or latte or macchiato or anything that involves adding milk to my coffee. I'd almost forgotten what milky coffee tastes like! It also means no cheese and creamy sauces either, for which my waistline thanks me LOL!
But I recently made a wonderful lactose-free Hazelnut Mocha Cappuccino right at home, with no attendant bloat, and my world shifted.
Lactose-free Milk and the Nespresso Aeroccino Milk Frother
Lactose-free milk is nothing new. But given where we are, it used to be incredibly expensive. A litre of fresh lactose-free milk imported from Australia retails for about RM25.
I then recently discovered an affordable lactose-free milk option by Farm Fresh, that's locally produced, weighing in at a retail price of just about RM8 a litre, sometimes less. I tried it, and for the first time in years, I found myself enjoying cold cereal and my favourite cappuccino once again! No bloat, no uncomfortable feeling, just pure joy!
I'd like to say the skies opened up, and I could hear angels singing, the day I took a sip of cappuccino made right at home with the Nespresso machine and the accompanying Aeroccino milk frother. It sure felt like it! 🙂
Many people have told me that I could've easily switched to nut or plant based 'milk' but it isn't to my taste. If I were to drink milk, I'd drink milk; the way that I'd pick butter over margarine.
To make cappuccino or latte or macchiato or any milk coffee at home, you need a milk frother. For this purpose, the Aeroccino milk frother works wonderfully frothing milk (hot or cold) to a creamy micro-foam, with just one touch of a button. Use it to prepare light creamy milk for your latte, or froth it up, to enjoy the thick, pillowy milk foam on top of your homemade cappuccino.
Even better, froth up warm fresh milk for your little ones, scatter some cocoa powder on top, and they can enjoy their very own Babyccino without having to pay insane amounts of money at cafes for the same thing 😀
I was so thrilled, I recently demonstrated it to friends at one of our monthly eating gatherings. After a lovely lunch of homemade hotpot, we sat back, sated, sipping home brewed cappuccino with coffee made in the Essenza Mini machine, and milk froth courtesy of the bundled Aeroccino 😀
I have to say, I think they were sold LOL! 😛
I've also learnt that Nespresso will be releasing 3 new capsule coffees specially designed to go with milk, in the Barista Creations collection – Chiaro, Scuro and Corto. I look forward to trying them, as I do all new Nespresso creations, now that I know I can have milk in my coffee again! 🙂
Nespresso Malaysia Flash Sale – Great Value!
For 10 days, from 22 April – 1 May 2019, Nespresso Malaysia is offering some great deals, for those who might be now champing at the bit at the thought of making your own fancy coffees at home.
The sale is available in-store (The Gardens Mall and 1 Utama pop up) and online at www.nespresso.com/my/en here are the savings you can expect with purchase of 100 capules:
Essenza Mini + Aeroccino bundle – RM599 RM399
Inissia + Aeroccino bundle – RM800 RM500
Lattissima One (milk frother built in) – RM1399 RM999
Lattissima Touch (milk frother built in) – RM1599 RM1099
Essenza Mini only – RM599 RM399
Inissa only – RM800 RM599
If you consider that the Aeroccino usually retails here for RM399, I'd say you're getting quite a steal!
The machine you see in my photos here is the Essenza Mini and Aeroccino bundle. The Essenza Mini comes in 2 designs, one with a slightly tapered design as you see here, and the other, a slimmer model with a tad smaller footprint, that you can see in these pictures.
RELATED READING: Need more reasons why I love my Nespresso machines and have used mine for over 5 years? READ HERE
Recipe: Lactose-free Hazelnut Mocha Cappuccino
Instead of just making a regular cappuccino (espresso with frothed milk and milk foam on top) make it fancy!
Pour about 50ml of lactose-free fresh milk into your Aeroccino milk frother, cover, and turn it on.
Put a piece of hazelnut chocolate into your coffee cup
Pop a capsule of your favourite coffee into the Nespresso machine, and make a regular espresso (40ml) over the chocolate. The hot brew will melt the chocolate
When the milk is ready, pour it over the coffee and enjoy!
Do you have a fun milk coffee recipe to share? I'm all ready to experiment!
I still drink my coffee black on most days. It wakes me up like an electric jolt to my system 😀 But some days, I prefer something a little more mellow, with milk in it. So hit me with your favourite milk coffee recipes!
Paris B