I love it when something I pass over, or don't give much attention to, takes over my life and leaves me so in love with it, that I want to tell everyone just how wonderful it is. Such is how I feel about the brand new Chanel Les Beiges Water-Fresh Tint.
The first time I saw it in pictures, I thought it was a liquid bronzer, due to the depth of colour of the product. It wasn't until I was told "It's not a bronzer, it's a foundation!" that I took a second look.
Hello, gorgeous!
I can predict that opinions will be wildly divided on this product. Many will deem it far too sheer and therefore too expensive. Many might struggle to see the point of the product.
I however, love it to bits! And I will tell you why. And before you ask, no, I do not have perfect skin either, as you will see 🙂
What exactly is the Chanel Les Beiges Water-Fresh Tint?
What it is, is a very curious, and innovative product. It is a foundation/base makeup delivery system that I have not come across before.
Pigment that makes up the foundation shade is suspended in a clear, lightweight watery gel base. When you look at the bottle, it doesn't look smooth and creamy, the way most foundations look. It looks like roughly blended flour in water LOL! 😀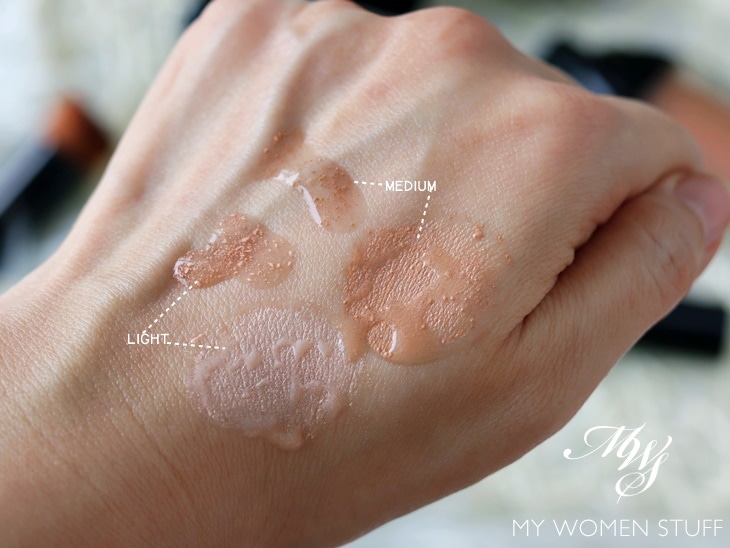 When you pump out the product, it looks like what you see in the upper portion of my hand. A transparent, watery gel with bits of pigment floating in it. The Les Beiges Water Fresh Tint is supposed to be 75% water, and the effect melts right into your skin, providing a hydration boost.
When you mix the product, and pop the encapsulated pigments, you will notice that they blend into a noticeable tint of colour. The water element will sit on top of the blended pigment. It is rather tricky, as the whole mixture is quite fluid, but it's not hard to keep it under control.
I have here the Water Fresh Tint in shades Light and Medium. There are at present, 6 shades available.
Please note: This is a TINT!
I must emphasize the use of the word 'tint'. A 'tint' implies that you do not get full-on colour. You do not get opacity or saturation. A 'tint' is transparent, a hint of colour on skin. A transparent, watercolour wash of colour.
Therefore, please check your expectations at the door, and appreciate this for what it is – a beautifully executed product, that is a high-hydration tint of colour on skin that is very comfortable, and in its own way, flattering.
If it still isn't clear, let me say this here. The Les Beiges Water-Fresh Tint is sheer and light. It does meld beautifully with the skin, and looks very natural, but it is sheer. And I will safely say here, that most people will not like it for this reason.
In fact, if sheer and very light tints of colour don't interest you, I'd suggest you avert your gaze now. You will not enjoy this one bit, and you will find it overpriced and a disappointment.
However, if you shy away from the video makeup aesthetic, think putting on 1 pump of foundation on skin is far too much, and do not strive for your foundation to act as a mask, to cover your skin's imperfections, then read on! 🙂
Does the Water-Fresh Tint offer any coverage at all?
My answer: It depends on what you mean by 'coverage'.
If you look at the swatches above, you will notice how there is some colour in each swatch of the Light and Medium shade. There is SOME coverage – but very light.
I'll show you an example when applied on my skin as below.
This is my usual before-after image (unretouched) I use when talking about foundation or a makeup base. On left, is my bare-skinned face, which means it's just skincare and sunscreen.
On right, I have applied the Les Beiges Water-Fresh Tint with the accompanying brush. I have 2 shades with me, and for this reason, I have applied each on half my face, to show you that it is so sheer that it isn't that crucial to get an exact match to your skin tone.
But in terms of opacity (read: coverage), you may notice how the Les Beiges Water-Fresh Tint draws a light veil over areas with redness, evens out skin tone and even offers a very light covering of the pigmentation spots on my cheeks.
It almost seems to act like a filter. Skin looks natural, untouched by makeup, even-toned and almost healthier.
While I don't strive at this point to get rid of my pigmentation (you can read about it here), I do strive to keep my skin healthy and hydrated, and being comfortable wearing the Chanel Les Beiges Water-Fresh Tint, comfortable in the knowledge that my skin looks fairly smooth, plumped, healthy and radiant, is the greatest reward! 🙂
In terms of the shade, Light is a better match for my skin tone (I usually wear Chanel foundations in shade 10), where it makes it look more even, and a touch brighter, especially around the under-eye area.
Medium is still wearable for me, but does offer a slightly more 'tanned' appearance. To be fair, it isn't as noticeable when I wear Medium all over. I just look like I've had a touch of sun, which may not be a bad thing after all! 🙂
Best way to apply the Les Beiges Water Fresh Tint
There are a few ways I've experimented with the Les Beiges Water Fresh Tint, and I have realised that it works and feels differently, depending on how I apply it.
Apply it with fingers for a lighter, sheerer result
If you want a quick application, I find fingers are quick. I pump out product on the back of my hand (1 full pump), spread it out to pop and mix the encapsulated pigments, then apply it on my skin, as I would skincare.
I absolutely love how the product feels like a delicious burst of cool fresh water on the skin. The water droplets refresh my skin, and it feels like I've spritz my face with a mist. I feel and looked refreshed.
I find that using fingers offers a lighter, sheerer result. The water droplets absorb so quickly into the skin, and leaves it feels plump and hydrated and smooth.
I also find that 1 pump is quite enough for me to work all over my skin, for a very light coverage, but natural, radiant result. I love how it looks this way, because any redness is covered, but the rest of my skin comes through, pores, texture and all.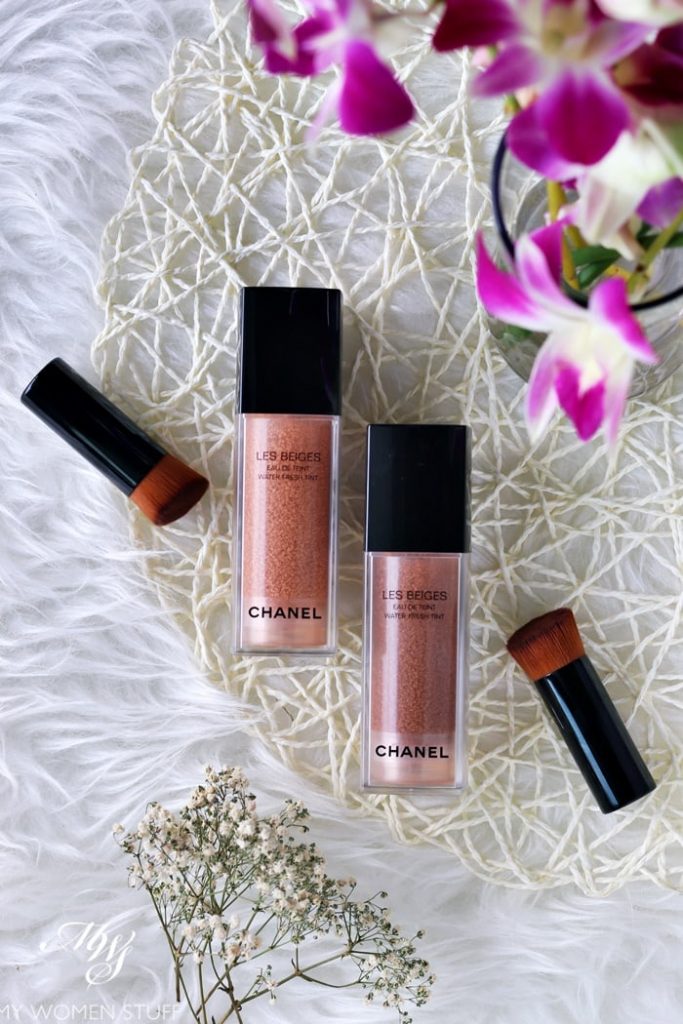 Apply it with a brush for slightly higher coverage
The Les Beiges Water-Fresh Tint comes with a dense synthetic fibre brush that is flat at the top, and cut at an angle. It reminds me a lot of the Shiseido 131 foundation brush (previously also sold as the Shiseido Perfect Foundation Brush)
RELATED READING: See other types of brushes that look similar and that I like to use to apply liquid foundation READ HERE
When I saw the brush, I knew it would offer higher coverage, and I was not disappointed.
The brush included is one of the better brushes I've come across that's included with your makeup. I think it's a stroke of genius as well, because those who complain about the sheerness and lack of saturation of foundation pigments, will appreciate using the accompanying brush.
I pump the product on the back of my hand, then use the brush to mix it up. The brush will soak up the liquid, but don't panic. There is enough on it to apply all over your face (if you aren't going for the full coverage look).
Then, use the brush to apply the product on your skin in a dabbing, stippling motion. Applied this way, you deposit more product on your skin, therefore putting more coverage where you need it.
If you use it in a swiping motion, or circular blending motion, it will move the product around too much, and may result in a lighter, sheerer result. So if coverage is what you're after, dab dab dab! I do find however, that using a brush means I use about 2 pumps of product (one pump for each half) if I want to go for something like what you see above. But if I don't mind as much, then 1-1.5 pumps will suffice.
In the before-after photos I've included above, I had applied the Les Beiges Water Fresh Tint using the brush. I immediately noticed that redness was quickly covered, and skin tone very quickly evened out.
I have read complaints about the brush being too small. I don't find it to be a problem at all. It offers more precision, and it's really quick to use. I must clarify however, that I do not aim for perfection, nor full coverage.
It's too sheer and a waste of money!
I have repeatedly warned, and even Chanel warns, that this is a very sheer, lightweight product. If a sheer base is not your thing, why waste your money on a product that you will likely hate, or if not hate, then dislike?
Why not just buy a product that suits your preference of a fuller coverage? While this product is new, there is absolutely no need to buy it and hoard it and complain about how awfully sheer it is. It is MEANT to be sheer – they call it a tint. Not even a foundation. A tint.
Words have meanings, and a tint means a tint. Manage your expectations accordingly 😛
My foundation of choice is always a light-medium coverage at best. When I do wear full coverage foundation, I use very little, and sheer it out. It's my preference, and that is why I enjoyed using the Water-Fresh Tint so much! 😀
Does the Les Beiges Water Fresh Tint need a setting powder?
I don't set, because I like the fresh feeling of my skin. It doesn't feel sticky, nor does it even feel like you are wearing any foundation, and I love that! For my skin, it doesn't oil up, nor slide off, and if it's possible, keeps my skin looking fresh for hours.
However, if you do want slightly more coverage, then setting powder will help. But it pretty much depends on how comfortable you are.
I have also read about how some people use the Les Beiges Water-Fresh Tint as a base/primer under a fuller coverage foundation. Or maybe even over a foundation for touch-ups. I would personally never do that, because I abhor putting on that much makeup on my skin.
But if you feel that it makes you look better, or be able to wear this product more confidently, then those are options you can try as well.
My personal preference is to wear the Les Beiges Water-Fresh Tint on its own. I love the fresh feel on my skin, and it's a pleasant surprise when I look into the mirror, to see just how naturally imperfect I look, and yet so perfect for my lifestyle 😀
I like the Les Beiges Water Fresh Tint very much!
I will not hesitate to say that I have been pleasantly surprised by how much I enjoy using the Les Beiges Water-Fresh Tint.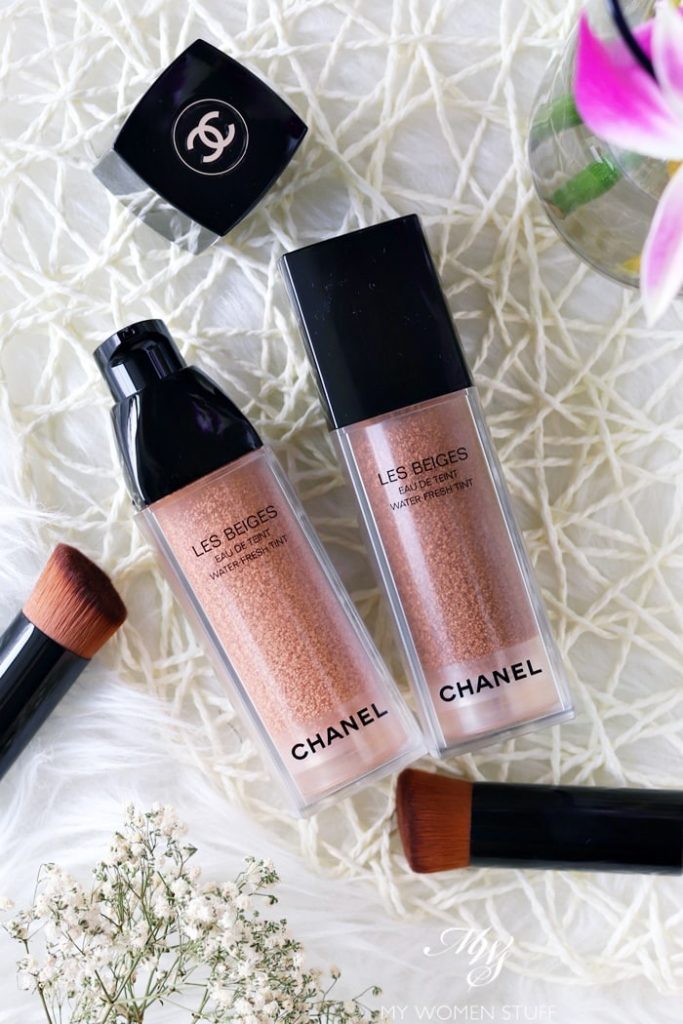 I like how it leaves my skin feeling so hydrated and plumped for hours. It doesn't sink into pores nor does it settle in lines (at least not for me). I do not expect a porcelain smooth effect, and so I am not disappointed.
For me, what this gives me is a very natural skin-like appearance that looks very cohesive. That will depend on your comfort level of what "natural skin-like appearance" means. In my case, it means my skin, flaws and all, just looking a touch better, a little more radiant, with a hint of a natural glow.
It does not give you a smoothened visage, so do expect texture, scars, enlarged pores etc to come through. Ultimately, whether you will enjoy using this will depend on your expectations, and your comfort level with your skin and its imperfections.
Using the Les Beiges Water-Fresh Tint is quite a test of your self-acceptance of how you look. I think I can appreciate this because I'm now very comfortable in my skin, happy with the level of skin health and texture, and I'm not afraid of my imperfections. But those who still struggle with this acceptance will not be able to fully appreciate the Water-Fresh Tint.
I know there will be people who will say that this is best for those with good skin, or when your skin is behaving itself. I'd agree – if perfection matters to you.
I'd say instead, that the Les Beiges Water-Fresh Tint is the one to pick for when you have been a skincare junkie, working hard to care for and improve your skin, and are at a stage where you are happy with how it looks, and want to reward yourself for your hard work. Water-Fresh Tint allows all that hard work to come through, without masking any of the natural skin. I love that!
So, if what you want is just to very lightly even out skin tone, while leaving your skin feeling fresh and comfortable, and looking natural and radiant, then you may enjoy this. I simply use concealer where I need it, and I'm very happy with the effects! 😀
When I've put on the rest of my makeup, you can barely tell that I applied different shades as my base LOL 😀 I applied some concealer around my cheeks, blush, brows and lipstick. Nothing else for the face.
This Chanel Les Beiges Water-Fresh Tint is truly a foundation for those who do not like wearing foundation LOL! 😀 I realize it is a bit contrary, but not everyone enjoys how a liquid foundation feels on their skin. This allows you to enjoy that very light hint of coverage, like a watercolour wash of colour, while feeling like you have nothing on.
I love the very natural effect it gives my skin and in person, it is imperceptible. You just look like you walked out bare-skinned. Just better 😀
It feels so comfortable, as if I'm not wearing any base makeup at all, and my skin doesn't feel parched, but hydrated. For me (dry skin and living in the hot, humid Tropics), it wears long enough through the day, and because it's so sheer, I can't even tell when or if it's worn off. That's a good thing LOL! 😀
I personally love this product to death, and I love how innovative it is, and how lovely it feels and looks. But I will also be the first to say that the Les Beiges Water-Fresh Tint is NOT for everyone.
Opinions will be very polarizing, and I look forward to reading just how much hate it will receive, and how many people will give it just a 1 star rating LOL! But I hope it'll be around for a while, because I can forsee myself using this to the very last drop, and loving every minute of it!
It's already got pride of place on my dresser, instead of being hidden away in my foundation drawer. That's saying something! 😀
IN A NUTSHELL

The Chanel Les Beiges Water-Fresh Tint is a foundation/base makeup product, that offers a very very light tint of colour on the skin. Pigment is encapsulated and suspended in a 75% water base, that is very refreshing and hydrating to the skin. I personally love this product, as I enjoy using light, sheer bases that just even out skin tone. I leave coverage to concealer where I need it. The texture is liquid, and leaves skin feeling plumped, hydrated and not sticky at all. You don't even feel like you're wearing anything on your face! The coverage and saturation is very low, but enough to even out skin tone and leave it looking natural and radiant and healthy. Applying with the accompanying brush helps build coverage. But you can use fingers to be quicker, although it may be a lighter coverage. Not for everyone, but firmly entrenched in my foundation drawer, and a product I've been using almost daily since I got it, and will use up to the very last drop!

PROS:
Feels comfortable on skin
Evens out skin tone with a tint of colour
Hydrating
Accompanying brush is very sturdy and practical
Not sticky or greasy
Does not settle into lines and pores if you don't use too much
Looks very natural, like you have no makeup on


CONS:
Pricey
Sheer coverage will not appeal to many
Will run out quickly


WHO WILL LIKE THIS: Anyone who wants something very lightweight to just give skin a hint of colour and coverage, Anyone who prefers very sheer, light base colour

PRICE: RM264 | US$65 | £48 | S$106 for 30ml

WHERE TO BUY: Chanel beauty boutiques and counters, Nordstrom, Saks Fifth Avenue
For those interested, here is the ingredient list for the Chanel Les Beiges Water Fresh Tint.
Ingredients: Aqua (Water). Hydrogenated Polydecene. Glycerin. Methyl Gluceth-20. Peg-75. Pentylene Glycol. Octyldodecanol. Citrus Aurantium Amara (Bitter Orange) Flower Extract. Phenoxyethanol. Butylene Glycol. Polyhydroxystearic Acid. Sodium Carbomer. Disteardimonium Hectorite. Tamarindus Indica Seed Gum. Aluminium Hydroxide. Propylene Carbonate. Amodimethicone. Disodium EDTA. Sodium Lauroyl Glutamate. Alcaligenes Polysaccharides. Parfum. Lysine. Magnesium Chloride. Ethylhexylglycerine. BHT. [+/- (May contain)CI 77007 (Ultramarines). Cl 77492, Cl77499 (Iron Oxides). Cl 77891 (Titanium Dioxide). Mica]
Are you intrigued by the Chanel Les Beiges Water-Fresh Tint?
Sometimes, I think people over-complicate things. If a product calls itself a tint, don't expect coverage. If you hate sheer textures, don't buy it then hate on it. Chanel makes nice fuller coverage foundations too – try those instead! Leave this one to the connoisseurs LOL! 😉
Paris B