I think by now you'd realise that I'm a bit of a Lucia Pica fan-girl. Lucia Pica has been the Creative Director of Chanel beauty since 2016 when she kicked off the Le Rouge collection for Fall 2016.
Since then, I anticipate each beauty collection released from Chanel, knowing each time, that I will face a little surprise. Often pleasant. Thus far, I have yet to be disappointed.
For Spring-Summer 2019 Vision d'Asie: L'Art du Detail, Lucia Pica drew inspiration from light, colour and texture in Japan. Eyes are kept bright in the Les 9 Ombres eye palette (I don't have it, and haven't yet had the chance to see it but it's similar in layout to this one from last year)
Lip are bright and lush in matte velvet textures. But it was one new item in the collection that had me going "What on earth is that? How do I use it? Will I even use it?!"
Before I delve into that one, confusing item, let me quickly run through the lip colours available to us in the Chanel Spring-Summer 2019 Vision d'Asie: L'Art du Detail collection.
Chanel Rouge Allure Velvet – No. 71 Nuance and No. 73 Imperial
I am a big fan of the Chanel Rouge Allure Velvet, which I have reviewed in detail here, and will not dwell too much on it. This was and remains one of the few matte lipsticks I can comfortably wear and happily recommend.
The texture is lightweight, colour is pigmented, it sits comfortably on my lips, do not settle in my lines, do not dry my lips out, and do not look too matte. Instead, as the name implies, it leaves lips with a velvety finish that is flattering yet modern.
There are 3 shades, of which 2 are featured here.
No. 71 Nuance – This is a peach-beige based nude lipstick that in all honesty, I'd run screaming away from. I do not generally wear nude shades like this one. However, I swatched it for purposes of this post, and I must say that the colour grew on me. I do need to wear it with a more defined eye, or maybe brighter cheeks. But it did had enough colour to prevent me from looking ill, so it was a surprise hit.
No. 73 Imperial – This one's something more like what I'd usually wear. Imperial is a blue-based red that looks brighter on lips than it does in the tube. I'd say it's a red that is easy for most to wear, as it isn't too bright, and the velvet texture mutes it a little. It isn't vampy, but sophisticated. Very nice!
Chanel Rouge Allure Liquid Powder – 962 Electric Blossom & 964 Bittersweet
The Rouge Allure Liquid Powder was launched last year to pretty much mixed reviews. I'd say that on average, it scores about a 3/5 because there are those who enjoy using it, and those who do not.
I happen to be one of those who rather enjoyed them, which is a surprise for me. I don't usually go for these sorts of textures nor applicators.
The Rouge Allure Liquid Powder lip colours are gel-based lip colours that come in a squeeze tube, and have a sponge applicator. The product squeezes out opaque, but goes on semi-opaque and matte. I'd even go so far as to say sheer.
Personally, I find it most comfortable when worn as a sheer hint of colour on lips. I find it less drying this way, and it will fade more evenly. However, as much as I do enjoy using them, I also think that I'd own or wear one at most. My preference lies with normal lipstick bullets, or if a liquid lipstick, with a doe-foot applicator like the Rouge Allure Ink.
There are 2 new shades in this collection:
962 Electric Blossom – A bright, almost neon orange when swatched on my hand. But on lips and sheered out, it was a bright coral that was quite pleasant. It does remind me of 954 Radical, just brighter.
964 Bittersweet – This one's a deeper plum that similarly, looks deeper on the back of my hand than it did on my lips. I do find that this one applies more patchily, and because of the deeper colour, also fades more unevenly. For this formula, I prefer the lighter shades.
I have some swatches on my hand further down, but here is how they look when I wear them.
I like how Nuance, the neutral lip colour, looks quite natural on me. I've been wearing lighter lip colours recently, instead of the usual brighter reds, and it has been quite refreshing!
But I wanted to tell you about the one item in the collection that had me scratching my head a little.
Chanel Baume Essential Multi-use Glow Stick – Transparent and Sculpting
These Baume Essential Multi-Use Glow Sticks are about the size of the Les Beiges Healthy Glow Cheek colours, which I love! But here's where it gets a little odd – there is no colour to these sticks.
What they are, is a balm in stick form, that Chanel says you can use on your face, eyelids, lips, anywhere you want a subtle glow and shine. It isn't a lip balm, but it feels like one. Like a lip balm, it does not dry down, and feels tacky on the skin.
The texture is very emollient, and there is discernible shine when you apply it to skin. But I'm afraid this is the one product that I couldn't understand when I first saw it, and still cannot understand now.
There are 2 versions – Transparent, which is, as the name implies, transparent; and Sculpting – which has fine shimmer and imparts more shine.
I will say this. If you like playing and experimenting with makeup and you like a high shine look on the highlights of your face, then you might find this an interesting product. If you are a makeup artist, I think you will find lots of uses for this product especially for editorial looks.
For the lay person or makeup enthusiast, who can just about manage to put on equal amounts of eyeliner, I do think that this is a little too advanced for us. I personally cannot think of an occasion when I would use these at all.
It does not dry down, so it looks tacky and makes skin look greasy. If you have oily skin at all, you come with an in-built glow stick, so avoid this 😛 If you have dry skin and the air is dry where you live, and you spend a lot of time indoors under candlelight, then perhaps you might appreciate this.
The rest of us may get the same use out of a stick of lipbalm or vaseline.
For once, Lucia Pica has me stumped LOL!
These are the swatches on my hand for the products I have featured here. You may notice that the Baume Essential Multi-Use Glow Stick shows up as a wet shine on my hand.
I think this is the wet shine that Chanel is going for. Something different. Something backstage worthy. Unless this is a look you go for, ultimately, it is not user-friendly and more importantly, leaves you looking like a grease-ball in our heat and weather.
I can achieve this sweaty shine all by myself, thanks Chanel! 😛
Chanel Retractable Highlighter Brush
I do have one thing from this collection that I'm happy about – the new Retractable Highlighter Brush.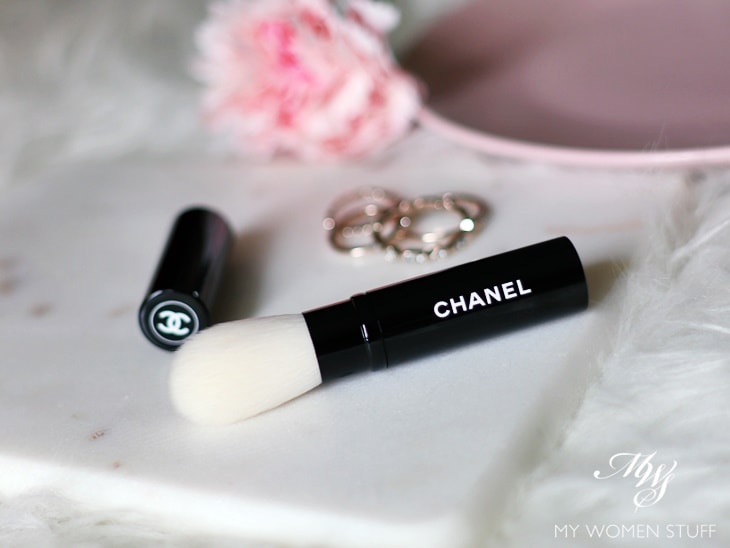 Chanel intends for this brush to be used with their Multi-Use Glow Sticks. Swirl the brush over the sticks, and brush over your skin, for a less intense glow (I still don't like the sticks though!). To be honest, I don't like using it for this purpose, because it will gunk up the brush head.
I prefer using this little brush for applying regular powder highlighter and blush! 😀 You can even use it to blend out foundation or with cream blush or highlighter.
This is a dinky little brush that is scarcely larger than a tube of lipstick. The construction is sturdy, and I believe the hair is white goat hair (it feels like natural goat hair). The hairs are quite long, and the brush head is quite flexible, so you have enough flex to blend out highlighter and blush, but also enough density to pick up colour.
Because it is fairly small, it allows for precise placement of product, which is handy when working with highlighters. But if you use this for blending or applying powder, it can easily get into the crevices of your facial contours too.
The body slides up to protect the brush so it makes it easy to cover without damaging the bristles, and it is so small, you can take it everywhere you go for quick touch-ups. I find it works very well with most products and for quick blending.
So if there's one good thing that came out of the Multi-Use Glow Sticks, it is this dinky little brush! Such a handy little tool 😀
Did anything in this Chanel collection stand out to you? How would you use those Glow Sticks?
I do think the colours are pretty and I'm happy that we have left behind the pastel Spring colours of yore. I never looked forward to Spring makeup because it was always pale and insipid. But as I always say, Lucia Pica has been good for Chanel – I just can't figure out when or why I'd want to use those Glow Sticks 😛
Paris B