If there's one thing I try to refrain from saying is "This is a must-have!" Truthfully, very few things are, especially when it's something from the luxury designer houses. Ok, perhaps a Chanel Classic Flap is a must have in a bag collection. If you don't have to rob a bank to get it LOL!
But I digress.
That said, I am going to go out on a limb today, to tell you that there is one, just ONE item, from the Chanel Neapolis Spring-Summer 2018 makeup collection that I think is a must-have. I say this loosely of course. If you are in the market for something nice, that is really good quality, you could do worse.
The only problem is that it's a limited edition product, and because I received these only very recently, I don't know if they are still available in store or at counters. But if you do decide to hop along and take a look, then look at these.
Where makeup collections released for Spring tend to be rather insipid, pink, pastel things, I love how Chanel has taken the bold approach to bring colour into the still dreary days of winter. For us here in the tropics, it's always sunny so this is a collection that is right up our alley! Inspired by creative director Lucia Pica's hometown, Naples, Chanel Neapolis is a burst of colour, combining interesting textures and lifting the spirits.
So, what is this one item that I hope you are able to get your hands on? 😉
Chanel Poudre à Lèvres Lip Balm & Powder Duo – RM146 | US$37 (Limited Edition)
If you were thinking I'd suggest the exclusive creation of the Poudre à Lèvres, which is, I'd admit, very interesting, I'm sorry to disappoint, but no, this is not it.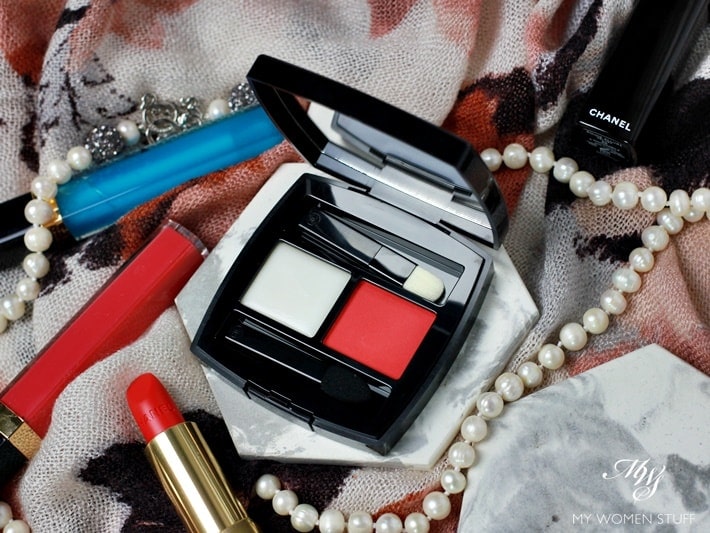 Chanel Poudre à Lèvres Lip Balm & Colour Duo – Rosso Pompeiano 410
But this one is an interesting product, that harkens back to the days of DIY lip colour. On one side is a clear balm, and on the other, is a powder product, much like a blush or eyeshadow. To use, you layer the powder over the balm, to the intensity you prefer. Dab just a little bit, for a just-bitten flush of colour on the lips. Or layer it on, for full on, intense colour.
I found this interesting, both in concept and in use. The balm felt comfortable for me, and the powder did not dry my lips. That said, I chose to not put it full on.
The problem with this product is really, in its practicality, or perhaps, impracticality. This does not lend itself to a very precise application, with a defined lip line. It is perfect for a smudgy just-kissed look, but not so perfect for a more formal appearance. It is fun, but it is easily duped, or rather, something you can experiment with yourself with lip balm and a powder blush. I like the gimmick, but it's hard for me to tell you to buy it, unless you like the gimmick too 🙂
Chanel Rouge Allure Velvet – L'Indomabile 66 – RM142 | US$37
My favourite matte lipsticks thus far are the Chanel Rouge Allure Velvet range, because they are light and semi-matte but are not drying. I discovered them back in 2014, and I'm always happy when they grow their colour selection. L'Indomabile 66 is the shade you see in these photos.
It is a fairly warm red, which looks almost vermillion in the tube, but when I swatch it, looks less orange. That sits well with me, for I can't wear orange hues on my lips (and you thought I could wear anything! ha! 😛 ) That said, the colour itself isn't terribly unique. But it is an addition to the permanent range, so if it is a shade that you think you might like – wear a bold lip! It's empowering! – then check this colour out!
Chanel Rouge Coco Gloss – Aphrodite and Poppea – RM135 | US$30
While I'm not much of a fan of lip gloss, and I used to HATE the Chanel Glossimer back in the day (Goodness, Glossimer + long hair is a DISASTER!) so I stayed clear of their gloss. Then, last year, Chanel reformulated the Rouge Coco Gloss, and I loved it. I never got round to telling you about them, but I will 🙂
There are 4 new shades in the Chanel Neapolis collection, but I particularly liked the 2 I received – Aphrodite and Poppea. Aphrodite is the blue one, and I know what you're thinking. A BLUE GLOSS! Can you tell us about it?! And I will. Patience grasshopper!
Aphrodite is permanent, and the blue actually swatches quite clear. But layered over a deep lip colour, it changes the tone of the colour. I want to show you a bunch of these colour-changing glosses, so I'll reserve it for another day. Do check back, if you're interested, or keep an eye on Instagram where I'll usually post some pictures too 🙂
Poppea is a rose-pink, and deep enough a colour that you can wear it on its own. It does have a traditional, slightly goopy gloss feel on the lips, but it is comfortable (speaking as a firm lipgloss hater!) and I like that their colour lasts a decent amount of time. Of course, now I have short hair, I don't have a problem of my hair sticking to my face anymore! Yay! 😀
So, before I move on, here are the swatches of the lip colours I've told you about above, so you know what I'm talking about 😀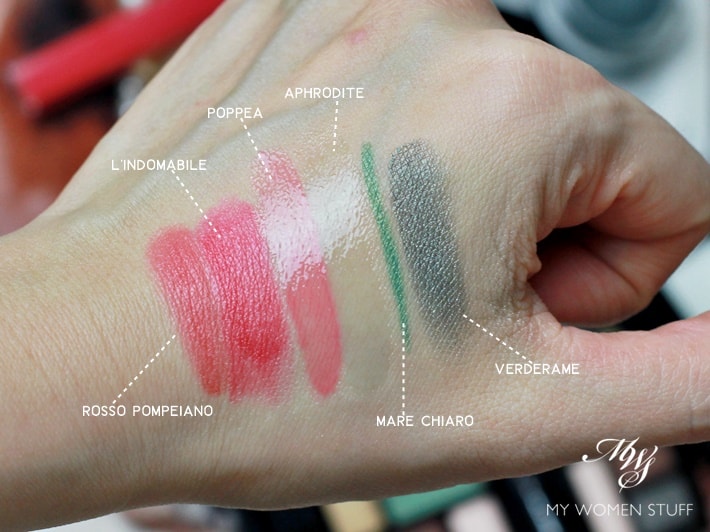 I layered Rosso Pompeiano over the balm in this picture, and it is a fairly thin layer, so the shine of the balm comes through. I don't use the applicators, because I find it a bit messy. So I just use my fingers. One finger to apply the balm, and then I use a clean finger to pick up colour, and DAB on my lips. I don't double dip. If I need more colour, I use a clean finger so I don't contaminate the powder. As I said, a little finicky and gimmicky.
Rouge Allure Velvet L'Indomabile, while looking like a warm red in the tube, goes on my skin with a slightly cooler tone. Just the sort of colour I'd wear! And you can see how Aphrodite is practically clea on the skin.
Chanel Ombre Premiere – Verderame – RM140 | US$36
Ok, so I haven't yet told you which is the "must-have". Is it the Ombre Premiere in Vederame? Actually, this is a strong contender 😀 But it's permanent, so do check it out in your own time.
In the pot, Verderame is a deep grey based green. It has a lovely satin texture, and swatches beautifully. The Ombre Premiere range has some of the best cream shadows I've come across lately. Unlike most traditional cream shadows, they have a slightly mousse-like texture. It is also a little tacky, so it adheres better to the skin. Their colours too are very wearable and look lovely on their own, or as a base.
Verderame is no exception. I'd wear this on its own, because it's beautifully versatile that way. One swipe, blended out, with black eyeliner (Chanel Signature liquid eyeliner), and you are good to go! Definitely worth taking a look.
Chanel Stylo Yeux Waterproof eyeliner – Mare Chiaro – RM100 | US$38 – Limited Edition
These are my personal favourite eyeliners (next to the Marc Jacobs Highliner) and I've bought up a few shades in my time. Mare Chiaro is a limited edition shade, and is a fairly bright green. I think it's fun. Perhaps smudged along the lash line. But I'd have to play with it a little more.
GET TO IT ALREADY PB, WHICH IS THE MUST HAVE ITEM?!
Chill, mate, I'm getting there… 😛
Chanel Les 9 Ombres Eyeshadow Palette Affresco – RM370 | US$70 – Limited Edition
This my friends, is the one item from the Chanel Neapolis that had me recoiling in horror the first time I saw it in press images, and yet, after I touched it and played around with it, is the one item that I think is absolutely worth the money.
At first glance, the Chanel Les Ombres 9 Eyeshadow palette is a mess. That was my first thought. What a mess. Those bright colours popping out at you, that weird stonehenge design, and ugh, Chanel's pressed shadows. From experience, Chanel's pressed shadow palettes have left me wanting in terms of quality, texture and pigment. Their permanent palettes fare much better in terms of quality.
So, I had little hopes when I first took a brush to these colours. And then I realised how bloody wrong I was!
There is an order in the chaos. The colours are grouped in loose combinations that take the guess-work out of pairing colours. There are 3 groups of colour comprising a light shade, a base shade, and a crease/shadow shade. There are different textures – matte, shimmer and satin.
The 3 basic groupings are – the neutral matte trio on left – 2 matte shades of brown and a deep grey-green, with a satin pink for highlight; the colourful trio in the middle – 3 satin-shimmer shades of emerald green, cerulean blue and yellow; and the more neutral trio on the right – 3 satin shimmer shades of brown, grey and pink.
What stunned me, is the quality. Each shadow swatches quite literally, like butter, and colour is picked up easily whether with fingers or a brush. The texture is firm but soft enough, and each colour blends like a dream on skin. Smooth, pigmented and easy to use. The palette above is actually already swatched, but you can barely tell right? That's because a brush picks up colour very easily, and there is very little fall out. I haven't been so impressed by an eyeshadow palette for a long long time!
These swatches were done with my fingers. One pass. The colours are lovely, the matte shades are not chalky and go on skin beautifully, and it is a very handy palette that allows you to mix and match shades to your fancy. If you are stumped, just go with their recommended trios. If you're feeling adventurous, then play away! 😀
The bright shades are bright, but they are workable as little pops of colour. Out of 9 shades, 6 are neutral ones. You could quite easily blend green and one of the browns to tone it down, or use one of the greys, and then smudge a subtle line with the blue (try one of these work-friendly ways to work with blue shadow). The yellow blends out quite easily and can easily work with the browns, or as a highlight. You absolutely do not have to wear them on their own! 😀
If you want something fun, yet practical, and you are comfortable with the price, then this palette is the one item from Chanel Neapolis that I think is worth getting. The quality, for a pressed eyeshadow palette from Chanel, is STUNNING.
IN A NUTSHELL

The Chanel Neapolis Spring/Summer 2018 makeup collection is a lovely and bright collection, which lifts the spirits. While there are some good items in the range, some are permanent, like Verderame Ombre Premiere cream shadow, which you can check out in your own time. The one item that truly stunned me with its quality is the Les Ombres 9 Affresco eyeshadow palette. If there is one item to get, this would be it.

PROS: Most products feel to be of good quality, The Les Ombres 9 eyeshadow palette is particularly high quality

CONS: Pricey, Some are limited edition

WHO WILL LIKE THIS: Anyone who wants a good quality eyeshadow palette with an interesting combination of colours for work and fun

PRICE: As detailed above

WHERE TO BUY: Chanel counters and boutiques, Chanel website, Neiman Marcus, Selfridges
I did a little fun look with the brighter shades in the Les Ombres 9 Affresco palette, because I haven't played with colours for a while 🙂
I used the 3 middle shades – Emerald green all over the lid, Blue to line and depth and yellow to highlight. I'd forgotten how much I like wearing green on the eyes! If you want something deeper, apply Verderame on lid first, then layer the green over. The base adds depth.
Lips are the Poudre à Lèvres in Rosso Pompeiano. Balm side first, then the powder colour patted over. You can see how the edges are a little raw, so it suits a more casual look. I reckon if you use a brush or sponge and apply it more evenly, you can get a more defined edge.
And a quick one showing just the Ombre Premiere Verderame patted on lids and lined with a black ink liner.
I love this one for just a plain one-colour lid colour. Super easy!
What to consider in the Chanel Neapolis Spring-Summer 2018 makeup collection?
Just as an overview, these are the few items in the Chanel Neapolis collection that I think are worth taking a look at.
These are the more interesting ones, to me.
Does anything from the Chanel Neapolis collection catch your fancy? Are you feeling the Les Ombres 9 eyeshadow palette?
Truthfully, I wasn't feeling that palette at all, thinking "That's so not Chanel!" and you know, it is so not Chanel, but in a very good way 😀
Paris B