I love it when friends introduce me to their favourite products that I might never think of trying. Better still when said friend is a skincare junkie who knows her stuff, and who shares my preferences for textures. So, when I found the Innisfree My Makeup Cleanser – Melting Balm in my birthday gift pack, I was very intrigued.
Innisfree, as most of you are aware, is an affordable range of skincare from Korea under the very big Amore-Pacific umbrella, that also houses popular brands like Laneige and Sulwhasoo.
The primary reason I was gifted this, and why I was so intrigued that I immediately included it into my evening skincare routine is this – it's a cleansing balm. And boy do I love cleansing balms! 😀
What is the Innisfree My Makeup Cleanser – Melting Balm
In a nutshell, it is a cleansing balm for removing makeup. This sits as your first cleanse in the evening, like all other cleansing balms.
What makes this easier to use than most cleansing balms, is that it easily emulsifies with water. So, you don't really need to use a face cloth with it (although if you read on, you will find that I recommend using one).
The texture, when squeezed out of the tube, is a rather thick paste, with a balmy texture. This quite quickly melts on contact with the heat of your skin, to a softer, more oily texture.
The Innisfree Melting Balm therefore is a little like a hybrid product. It is a cleansing balm, that melts on contact with skin to a thick, oil texture. It then emulsifies with warm water and rinses off.
For this reason, I would believe that it will sit well with people on both sides of the fence, whether those who prefer oil cleansers, or those who prefer balm cleansers. I have a little handy guide to help you decide which might work better for you 🙂
How do you use the Innisfree Melting Balm?
Well, pretty much as you would any other cleansing balm!
Make sure you have DRY hands and dry face, because it emulsifies on contact with water. Then, massage it all over (I avoid my eyes because I don't like rubbing the skin around it too much – I remove my eye makeup separately).
It will feel balmy and oily. Then, put a little warm water on your face (warm water helps it emulsify better I find), and gently massage to emulsify. Repeat a few times, until you feel the texture becoming thinner, then rinse.
This is the proper way to use cleansing oils and cleansing balms, to ensure that there is little residue left behind. If you find that products like this break you out, you might just not be using it properly!
I find that very few brands or sales assistants teach this. I always observe when testing out cleansing oils or balms in store, and I'm never taught to slowly emulsify. It's always "Just rinse it off after that" and no, that's not the proper way! I was taught so by a Japanese brand many many years ago, and I follow the same technique for all products that emulsify.
Do I like the Innisfree Melting Balm?
Well, yes for the most part, but also no.
For a portable cleansing balm that is packaged well within the in-flight requirements (It's just 80ml) this is a perfect product to take on your travels.
It works well for a basic first cleanse, if you do not wear a lot of makeup. If you use just very light base e.g. a cushion foundation, and light makeup, it will remove it quite well.
But if you are wearing a full face of makeup, then it doesn't hit the spot. After a double cleanse, I tested with wiping some Lotion P50 over my skin, and it picked up makeup residue.
After massaging the product into your skin, emulsify it a little with warm water just to melt it. Then, use a wet face cloth, and remove the product. This way, you end up with cleaner skin, and cleaner skin is better skin!
I also note that there is some residue left behind on the skin. Your skin will not feel stripped after you wash this off. You will still feel a little something, like an oil, but not.
I'm comfortable with that. But if you aren't, a foaming face wash as a second cleanse removes it. If you use a face cloth, you will not experience this, just soft, smooth, clean skin.
So, I do like the Innisfree Melting Balm. It is affordable, easy to use, not drying nor stripping to skin, and does a decent job as a first cleanse. A face cloth helps it remove better, and leaves your skin feeling cleaner. But that's entirely up to you 🙂
IN A NUTSHELL

The Innisfree My Makeup Cleanser – Melting Balm is a balm type cleanser in a handy, portable tube. The texture is rather thick as balms are wont to be, but melt on your skin to a thicker oil texture. It massages easily into the skin and there is a slight fragrance but nothing unpleasant. It also emulsifies easily and leaves skin feeling comfortable and clean. If used for makeup removal, I do recommend using a face cloth to remove, as I don't find the product to work as effectively on its own with just fingers. All in all, it's a decent, affordable product that works and that is really what skincare is about!

PROS:

Affordable

Comfortable and not drying or stripping to skin

Portable size

Easy to emulsify with warm water

CONS:

Does not remove heavy makeup well

Will leave a residue on skin that some people may not be comfortable with

WHO WILL LIKE THIS: Anyone already familiar with using a balm type cleanser, Anyone who wants to try a balm type cleanser

PRICE: RM58 for 80ml

WHERE TO BUY: Innifree stores and online at various online stores that will ship globally
If you're interested, this is the ingredient list for the Innisfree Melting Balm.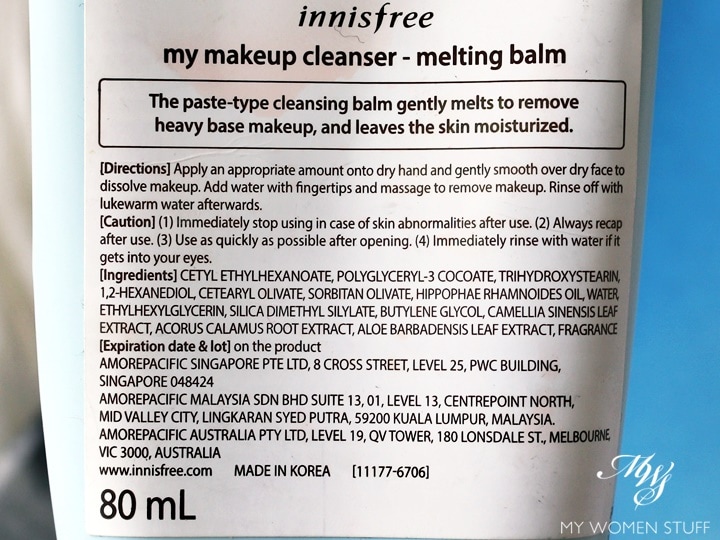 Have you tried this Innisfree Melting Balm?
Innisfree actually makes quite decent, what I like to call, basic skincare. Nothing to forward, but enough and affordable for most to formulate a proper skincare routine, before moving on. Aside from the basics like this, I don't think I could stick with their skincare for any length of time because it just isn't enough 🙂
Paris B