I have a couple of short trips lined up in coming weeks, which I'm a) looking forward to and b) quite dreading LOL! All trips leave me with this conflicted feeling these days.
On the one hand, I look forward to a break and to being somewhere else for a bit. On the other hand, it means being in close quarters with people for most of the day (even if it's family), uncertain meal times, and ugh! having to pack! And my poor plants! Will they all be dead when I get home?!
Yes, I do realise that last bit was a bit aunty, but the worry is real! I have some chillies coming along and some vege and herbs just sprouting so I hope they don't die while I'm away.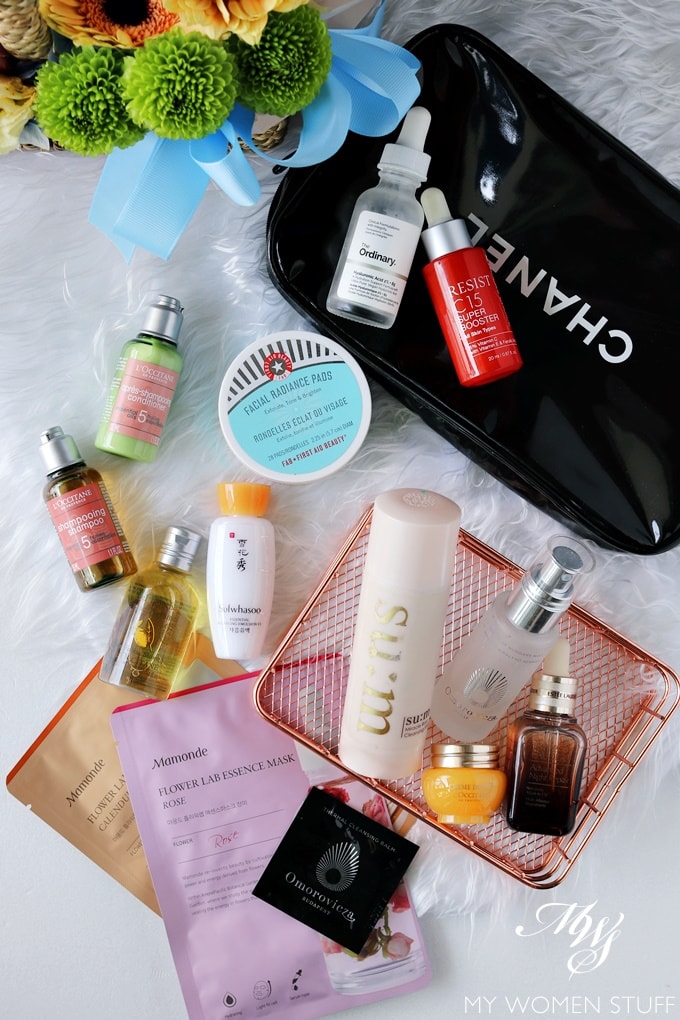 But that aside, one of the things I have to pack stumps me the most and that is skincare. Makeup is easy. I usually toss some random pieces into a little pouch and I'm done because I know the odds of me wearing much makeup while away is very low. But skincare! Do I go with my full arsenal or do I pare it down to a minimum? Do I pack a mask? Will I use it? Help!
I'm curious to know if you feel the same way. Do you keep to your regular skincare routine when you travel or do you change it, because you're travelling?
Time was that I'd only use skincare samples when I travel. This was the time that all the GWP and sample bottles and sachets came into play. I'd try out a new cleanser or cream or serum. I reveled in the use and toss concept of using up sachet samples, and I'd sometimes find a new favourite in the process.
Products aside, routine wise, it would be all over the place! I tended to strip my skincare routine down to something simple while away, simply because I felt lazy. Sometimes, I'm just too tired when I get back to the apartment or hotel room, and I choose to simplify my routine. Rarely do I go the whole hog from start to finish, as I would when at home and with full access to my complete skincare wardrobe.
But I don't do that anymore.
These days, when I do travel (less than I did before) I maintain my routine, but may change one or two things to suit the environment I'm in. There is a difference between "routine" and "products". One can remain constant, the other can change.
My travel skincare routine remains the same
When I travel, my skincare routine remains more or less the same with a few tweaks:
Single cleanser in the morning and double cleanse at night – More important to double cleanse because I tend to be out and about a little more and your skin will get dirtier compared to normal days
An acid toner – I find this helps keep my skin remain spot-free better when I travel and avoids the peril of clogged pores that may come with trying a new product while on holiday. I am aware of the dangers of using acid toners too much, but when I travel, I usually skip my acid serums and retinol so an acid toner is OK I feel. Acid wipes come in useful at this time as they are more portable.
Facial mist and hydrating serums – Very important for me when I'm away because hotel rooms tend to be very dry and drying, or the weather where I am may be drier than I'm used to, or perhaps I spent too much time in the sun by the beach where the sea air turns you into a dried husk! Also very helpful for my moisture sandwich method that is keeping my skin sane and well behaved
Facial Oils – These help skin remain more supple through the night in particular, in a cold, dry hotel room, or if you have the heater on
Moisturiser – A moisturiser to seal everything in. Doesn't have to be especially thick because I have sandwiched and cushioned everything well.
Sunscreen – It's a given, don't even ask! Full sized all the way
A sheet mask – I'm not the biggest fan of sheet masks (I've compared them to fast food for your skin!) but when you travel, it is convenient. Pop one in the fridge if you're travelling somewhere warm, so you have a cool treat for your skin when you get back. Sheet masks add back hydration to your skin and helps your skin re-balance itself. It also gives you a nice 15 minutes to yourself and I think that's more helpful!
To be honest, I think I am more hardworking with my skincare routine when I'm away, as compared to when I'm at home! When I'm at home, I have a tendency to cheat a little with my evening routine. I often have my Alpha-H Liquid Gold days which are so useful when you're lazy 😛 Or I have my sleeping mask nights with Sulwhasoo. But when I'm away, I always feel like I have to over-compensate LOL 😀
But what I've realised is that by maintaining my routine, my skin won't go nuts while I'm on holiday. There's nothing worse than having to deal with holiday breakouts and thus far, I've found that sticking to a known routine has kept me worry free on that front 🙂 *touchwood*
Note: I do realize sunscreen is missing from my pictures. Oops!
Do I travel with my full-sized arsenal of skincare products?
No I do not. If I have a sample or travel sized item of one I'm currently using, I'll bring that. Otherwise, I might bring a sample of a product in that particular category. I do realize that travelling with a brand new skincare product can be detrimental to the skin, but I've more or less worked out how my skin will like or dislike a product, so I'm good. But don't try this at home if you have sensitive or reactive skin!
Sometimes, if the full-sized product is compact, I might bring it (Sunscreen always goes full size because I don't trust samples). I will bring a full sized Vitamin C serum for example, or even the Estee Lauder Advanced Night Repair Mask in Oil because the packaging is so compact. Also with oils, it's easier to travel with the full sized item as it's less messy. But with cleansers, I like being able to toss them out as I go, so sachets are fine by me, although my solid stick cleanser from SUM:37 serves me well. Creams tend to come in bigger, bulkier tubs so I skip that too and go for a sample pot or sachet. I go for sheet masks because they are use-and-go and are easy to pack.
Ditto body washes and shampoos. Yep, I always travel with my own and rarely use what is provided by hotels unless it's a brand I recognise 😛 I'm a snob. What can I say!
Do you change your skincare routine when you travel?
To be honest, I don't recommend that you do nor do I recommend downsizing or simplifying your routine. You can however, downsize or simplify your products. This, speaking from experience. But please share if you do or don't. It's always interesting to know what other people are doing 😀
Paris B