What if I told you that I've found a product that is not only better than my favourite little brown bottle by Estee Lauder, but that it can actually last you longer therefore delivering better value? Intrigued? You should be!
It is the Estee Lauder Advanced Night Repair Recovery Mask-in-Oil, and as the name implies, comes within the same family. Like its older sibling, it comes in a little brown bottle. What distinguishes it is the slightly more transparent colour of the bottle.
Regulars will know that I'm a big fan of the Estee Lauder Advanced Night Repair serum. It has helped my skin over the years, and even now, I have a little bottle of it on my dresser. I dip into it every now and then, primarily because my choices are wider now than before, but it remains a skincare stalwart.
For me then to be blown away by the Estee Lauder Advanced Night Repair Recovery Mask-in-Oil, should not come as a surprise. For one, it's part of the ANR family, and that automatically endears me to the product (only the cleanser received a bit of critique from me thus far and that's not due to its performance). But more interestingly, the idea of a mask and oil intrigued me.
What really is the Estee Lauder Advanced Night Repair Recovery Mask-in-Oil?
It does sound rather complex doesn't it? Well, it isn't really.
What it really is, is a facial oil. And you know how I feel about facial oils! (I love them, in case you didn't realise it 😛 ) The "mask" part of the name comes really from the directions. According to Estee Lauder, you use this oil over your ANR serum, almost like a mask, to seal in the goodness of the serum, and boost its efficacy.
The Estee Lauder Advanced Night Repair Recovery Mask-in-Oil is a clear oil as you can see, and has the same scent of the serum, but a lot lighter. This might be due to the fact that there is no added fragrance in its ingredients, which is a bonus.
The texture of the oil will appeal to most people who are leery of using facial oils. It is somewhere between an oily-oil, and a dry-oil. It therefore feels like an oil, with a similar sort of slip, but feels much lighter, without remaining too oily on the skin. I am personally happy with a thick oil, but I do realise that I'm in the minority.
The directions call for you to apply it over the ANR serum as the last step of your routine. Now, I'd tend to disagree if you have drier skin as I do.
If you have combination-oily skin, then you may be able to get away with it. You can use this oil in place of a moisturiser. But for those with drier skin types, or those who just don't use enough product, I recommend putting a layer of cream over. This really seals in the product better, and you'd see better results too.
RELATED READING: Not sure how to use a facial oil? Just use the 3M's and you'll be in good hands READ HERE
Is it better than the ANR Serum?
The reason I say that I find this Estee Lauder Advanced Night Repair Recovery Mask-in-Oil better than the serum is tri-fold:-
It delivers a similar result – My skin looks rested the next day, and looks brighter and calmer and better. I get similar results from using the ANR serum, which meant that I felt comfortable substituting the serum for the Mask-in-Oil.
It is more comfortable on more matured or drier skin – The ANR serum is absolutely wonderful, but it has a water-base that I find a little light. I was putting a facial oil over anyway, to cushion moisture and nourish my skin better. Because the Estee Lauder Advanced Night Repair Recovery Mask-in-Oil is an oil, my skin feels more comfortable in one go, while enjoying similar benefits of the serum
It is more cost effective – With the ANR serum, I'd use about a whole pump each time. Believe you me, that means I run out quickly if I use it regularly. With the Estee Lauder Advanced Night Repair Recovery Mask-in-Oil I use about 3-4 drops in a normal routine (you can use anything from 2-5 drops depending on your comfort level) and up to 5-6 drops if I leave it on as a mask (see how I use a facial oil as a mask). Although the Mask-in-Oil only comes in 30ml size, I find that it stretches further than the serum, rendering it more cost-effective in the long run.
To be honest with you, I was not blown away from its first use. I got this some time last year, and was quite ambivalent about it. What changed my mind was when I took it with me on my holiday to Japan earlier this year. For 10 days, this formed the core of my nightly routine, and that's when I noticed the results.
I did not experience any breakouts due to travel stress or irregular meals. In fact, my skin almost looked better as the days wore on, and looked calmer. I had no problems with dehydration even though I wasn't drinking as much water as I should. When I returned, I slipped it back into my regular night routine, and I saw the benefits continue.
Could I receive similar results from other facial oils?
Perhaps yes. I always receive excellent results from the Pai BioRegenerate Rosehip Oil, but the texture and scent isn't as pleasant. I also find that I experience more plumped up skin tone with this oil as opposed to others.
RELATED READING: What other facial oils have I tried and liked (or dislike)? READ HERE
Do I use it with ANR Serum?
No I don't. To me, that's overkill, no matter what Estee Lauder might say. For me, it's good enough on its own. But if you'd like an extra punch to your serum, then yes, by all means use this to seal in and boost the goodness of the serum. I just feel it to be unnecessary. That said, you can use it over any serum 🙂
How does it compare to the Advanced Night Repair Intensive Recovery Ampoules?
This is an interesting question, because Estee Lauder actually released their Advanced Night Repair Intensive Recovery Ampoules first. I liked them, and I thought they were great at calming down the skin, and were a lovely overnight treatment, but they were expensive.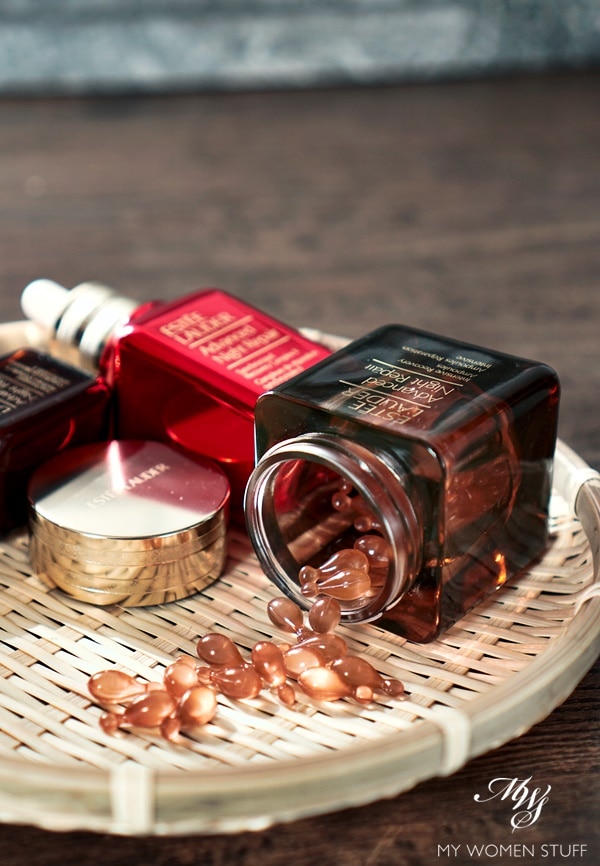 To be perfectly honest however, I found there to be little difference between the Ampoules and this Estee Lauder Advanced Night Repair Recovery Mask-in-Oil save for the packaging. The Ampoules are supposed to be more concentrated, and therefore deliver a more intensive result. But if you look at the ingredient lists, they're practically identical!
However, I find that you'd feel it much too wasteful to use the Ampoules too often due to their high cost, that you may not use them as regularly as you should. So, you won't receive as good a benefit as you should.
RELATED READING: The Estee Lauder Advanced Night Repair Intensive Recovery Ampoules READ THE REVIEW
The Mask-in-Oil is more affordable, and you'd find yourself using it more regularly, and therefore derive greater benefit from it. It isn't rocket science 😛 It almost feels as if Estee Lauder realized this, and released the Mask-in-Oil after the success of their Ampoules.
The best and most effective skincare product is the one you'd use most often and be able to afford. And in this instance, it would be the Estee Lauder Advanced Night Repair Recovery Mask-in-Oil.
IN A NUTSHELL

I think the Estee Lauder Advanced Night Repair Recovery Mask-in-Oil is a great addition to the Advanced Night Repair series of products. It is a lightweight, clear oil, that you can use over the ANR serum (or really, any serum) or use it as you would a facial oil. It absorbs easily into the skin without a heavy oily feeling, and is very comfortable. The ANR serum scent is there but light. I found that regular use boosted my skin's clarity and radiance, as well as keeping it moisturised – everything that I get from the ANR serum. I find it a little more cost-effective in the long run, as you'd use less product to get the same result. It is by no means cheap, but I think it's very effective, a pleasure to use, and I love it!

HOW TO USE: Cleanse -> Acid Tone (if using) -> Mist/Lotion/Essence -> Serum (if using) -> Mist/Lotion/Essence -> Estee Lauder Advanced Night Repair Recovery Mask-in-Oil -> Moisturiser (if it feels comfortable to)

Why do I mist so often? Read about the Moisture Sandwich.

PROS: Lightweight oil texture does not leave a greasy residue, Not too scented with no added fragrance, Skin looks rested and more radiant and clearer the next day and with regular use, More cost-effective than using the serum, Skin feels and looks more moisturised, Portable size and plastic bottle is easier to travel with, Can be used as a mask

CONS: Pricey at the outset

WHO WILL LIKE THIS: Anyone who already enjoys using the ANR Serum, Anyone who wants a lightweight facial oil that delivers a little more than just moisture to skin

PRICE: RM358 | US$76 | £57 for 30ml

WHERE TO BUY: Estee Lauder boutiques and counters, EL online (MY and USA), Lookfantastic, Nordstrom, Harrods
For those of you interested, this is the ingredient list for the Estee Lauder Advanced Night Repair Recovery Mask-in-Oil
This is a blended facial oil, which is a formula I personally prefer as opposed to straight oils e.g. Argan oil, rosehip oil etc For this reason, you don't see me feature many straight oils – I just find my skin takes better to a blended oil.
I don't think there's much in this ingredient list that is a pressing concern. In fact, most of the plant and seed oils are known antioxidants and fatty acids that do lots of good for the skin.
Can you get something cheaper elsewhere? Why not. I don't personally know of any with a similar list of ingredients but there's nothing stopping you finding it 🙂 I'm just happy I found this!
Have you tried this ANR Mask-in-Oil?
I love it, and I think it's great. I even think it better than the ANR serum and for a long-time fan of that product, that's saying something! 😀
Paris B