I've got a quick skincare tip for you today, which is one that forms the central part of my lazy day skincare routine. Oh yes, I get those, and as diligent as I am with my skincare, there are days when I just want to vege out. You know those days? When even spritzing on a facial mist seems like too much effort.
Yet, you don't feel right not putting on your evening face – the layers of lotions and potions. Some days I power through the malaise. Other days, I cheat 😉
Well, I'll share with you what I do in this instance. You only need 2 ingredients (faster than baking a cake!).
Just 2 skincare products for an intensive lazy night routine
What you need is just 2 things which, I'm sure you already own, or if you don't, then perhaps it might be something you want to consider owning:-
A facial mist – a floral water spray will do, or a spray essence thingy if that grabs your fancy
A facial oil
I do this after cleansing (as lazy as I am, that's not something I'll skimp on, because I wash my face in the shower anyway, so it comes naturally).
A treatment mask with facial oils for lazy skincare days

Mist your skin liberally with your facial mist – get it wet, ideally. It helps the oils absorb better into the skin, and is helpful if you don't like the feeling of oil on your skin. I prefer floral water mists as opposed to an aerosol can mist as I don't want such a fine spray. I prefer wetter skin with this technique.
Take 4-5 drops of your favourite facial oil – Be generous but don't overdo it. I usually use 2-3 drops depending on the texture of the oil for regular application. So, I up it by another 2-3 drops. If you regularly use 1-2 drops, then 3-4 drops might feel sufficient for you
Warm up the oil between your palms, apply and massage into damp skin – Really work it in. It will feel oilier because you are using more product. But working it into wet/damp skin means you will notice it feeling less oily as it blends with the water, and it will absorb into the skin. You will have a layer of oil on your skin that will slowly be absorbed in a few hours. But it won't drip (if it does, you've used too much or not massaged it enough) and unless you are the squeamish sort, it isn't uncomfortable.
Go to sleep and wake up with hydrated, glowing skin!
I use any of my facial oils with what I call my "oil mask technique", with the exception of a treatment oil like the Sunday Riley Luna oil or its ilk.
Types of facial oils suitable for the oil-mask technique
My favourite oils for this oil mask technique are the La Mer Renewal Oil (this is lighter in texture so I use about 6-7 drops), Pai Bioregenerate Rosehip Oil, Skin Creamery Facial Hydrating Oil, and the REN Rose O12 Moisture Defence Oil. Basically, I prefer the heavier, thicker oils for this purpose.
I rarely use lighter oils for this oil mask technique; lighter oils like the Caudalie Premier Cru The Elixir Oil, Caudalie Overnight Recovery Oil and The Body Shop Oils of Life Intensely Revitalizing Facial Oil. I I find that because the texture is lighter, it absorbs a little too quickly for me, and doesn't deliver the moisture I need. These oils work better for me as a "serum" under a moisturiser, instead of used on its own.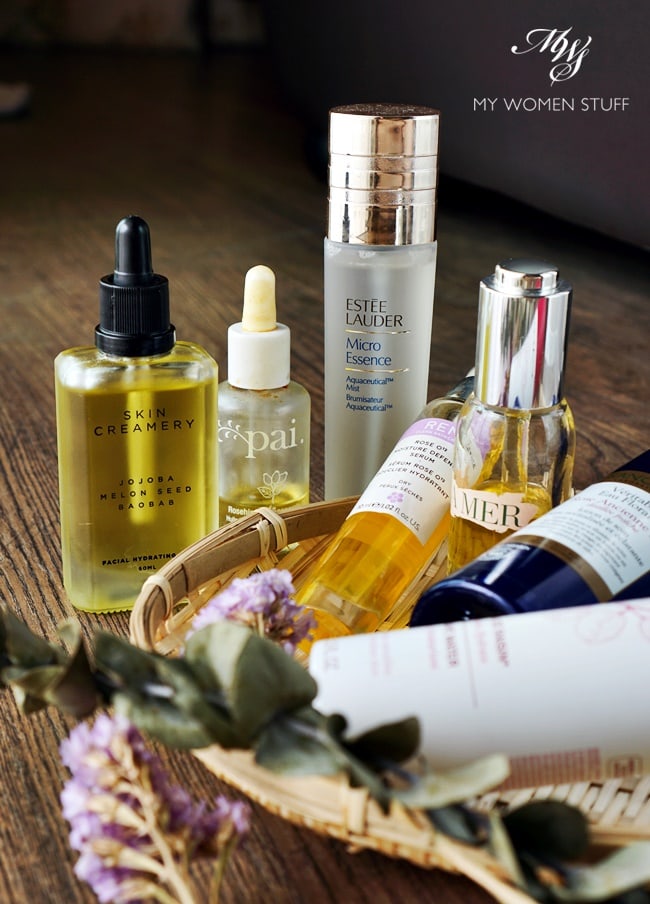 That said, use whichever oil makes you comfortable. I discovered this technique while using the Pai Rosehip oil and I love the results I get with it. Whenever my skin feels tired or I've had a late night, I do this oil mask technique with the Pai Rosehip Oil and I wake up with skin that belies how I feel. I could feel like last night's dog's dinner, but my skin tells people I've just had 8 hours of uninterrupted sleep. It's almost magical! I also do this with the May Lindstrom Blue Cocoon, to soothe irritated skin.
RELATED READING: Why is the Pai Rosehip oil a staple in my skincare wardrobe? READ HERE
Is it a thing? I don't know. I haven't come across it, but it works a treat for me, and perhaps, if you too get bitten by the occasional lazy bug, you might appreciate this trick too.
It gives my skin the hydration and moisture it needs, and it treats, in one simple step. Oh and it doesn't mess up my pillow cases – the trick is to apply enough to have a thicker layer, massage it into damp skin, but not have it drip. If you sleep on your face, then I have nothing to say except don't? 😛 Sleeping on your back is proven to be better for your skin – so flip 😛
Basically, just think of it as a sleeping mask – but better. WAAAAY better! 😀
Have you tried doing something similar with your facial oils? Do you use facial oils?
This is also a good way to use up your facial oils before it goes bad as oils do. I realised I've been using many different facial oils for quite a while now. Perhaps I should do a round up of the ones I like? 🙂 Is this trick new to you or have you been doing it already?
Paris B