I'm a little jaded with new makeup launches, but there's one I'm quite looking forward to, and that's the return of Clarins makeup to Malaysia. They may not be the most exciting makeup brand, but they make good makeup, sometimes with pretty powders, and that to me, is better than a bunch of mediocre and overhyped products being churned out every 2 weeks.
While we have a ways to go yet (I think it's expected on our shores in July or September – I can't recall which. But we'll see it eventually) Clarins has dropped 2 limited edition makeup products that you can check out right now. It's being released for Mother's Day that's coming up very soon so if you're thinking of getting something for Mom (or for yourself – really, who's counting?!) you can consider these.
They are the Clarins Skin Illusion Blush and the Clarins Daily Energizer Lovely Lip Balm, both of which are limited edition and available while stocks last at counters and on the website, for those of you who prefer shopping online (like me!) 🙂
Their release in line with Mother's Day is apt, considering the love and kisses design, and it is also quite user-friendly for those who struggle with wearing makeup. Let me run them both down for you and you'd be glad to know that they both slip in comfortably under RM100! 🙂
Clarins Daily Energizer Lovely Lip Balm / Joli Baume Eclat du Jour – RM79 | £16 | US$20
This is a lip balm. Naturally therefore, I was less interested, because I don't wear lip balm and am not a big advocate of it. But for the sake of experimenting, I tested it, and that's when I got a nice surprise.
While this is a lip balm that goes on clear, it also adjusts to the pH of your lips (apparently) to impart some colour! That was what surprised me. I get quite a lovely tint of natural colour on my lips. It isn't bright nor bold, and really, it is just a hint on my lips. But it is enough to make you look a little more polished.
The balm is also very comfortable, imparting a natural shine to the lips, while moisturising and keeping lips feeling very comfortable without being slick or sticky. But there is something I don't like about it, rather unfortuntely, and that is the very strong peach scent.
If you like sweetly scented or fruit-scented products, then you won't mind this and might even like it. I however don't. So, as much as I enjoyed the product, my experience was spoilt by the peachy scent that will not go away 🙁
The lip balm also comes in an adorably packaged cardboard case, in keeping with the fun vibe of the product. As a product, I think it's not only effective, it's fun. But only if you like the scent of peaches that close to your nose 😛 I love eating peaches, but don't really relish smelling of one.
Clarins Skin Illusion Blush – RM85 | £16 | US$21.50
The Clarins Skin Illusion Blush comes in 3 shades – 01 Luminous Pink, 02 Luminous Coral and 03 Golden Havana. The product I have featured here is 01 Luminous Pink, which is a shade I particularly liked using.
One of the first things you should pick up when the Clarins makeup line relaunches here, is their blushes. I own quite a few from waaaay back, and they are such underrated beauties. They may not be the most exciting products to look at, but they impart the most beautiful glow on the skin, and don't demand your arm, leg and kidneys like some brands do (to be fair, I don't know the new prices so they may now demand one kidney. I'm not sure 😛 )
The Skin Illusion Blush is cute. The design isn't new, but it has quite an adorable packaging. Basically, what you get is a sponge puff applicator and the powder blush is embedded into the cover. When you screw the packaging together, the puff picks up the product from the blush, and saturates it for the next time you want to use it. It's not new, nor unique, but it has proven to be quite handy.
The sponge is rather dense, so there is a nice bounce when you pat it on your skin. It is also a good size, not being too big nor too small. What this basically is, is good for women on the go, who may want a little touch up. This is something you'd throw into your daily makeup pouch for quick touch-ups after lunch or before dinner, or perhaps after your session at the gym. The mirror in the top of the cover, although small, is quite useful in this regard.
In terms of colour, I found 01 Luminous Pink to be a rather warm pink. For a moment, I thought that it was a coral, because it has a warmth running through it. It isn't very pigmented when you swatch with your fingers, which I can tell you, is a good thing when you have to deal with packaging like this.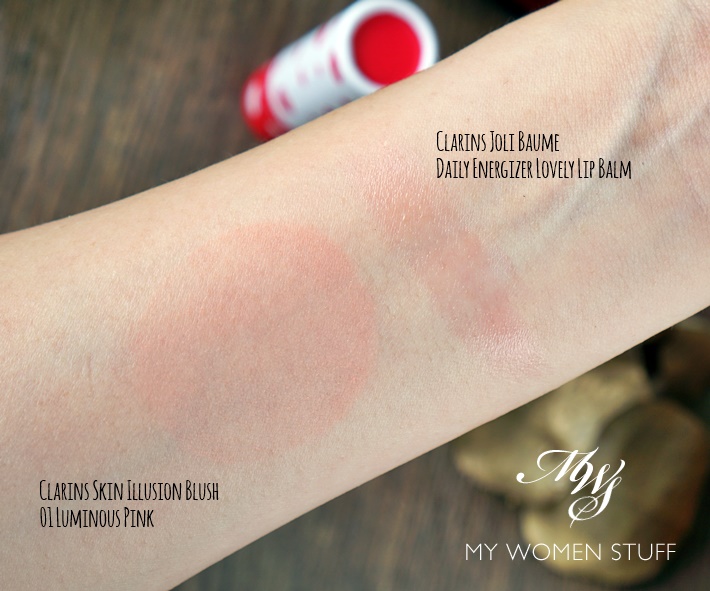 In this swatch, I dabbed the sponge on my arm about 2-3 times to get the colour to show up. As you can see, the shade is a rather warm pink with peach undertones. The Daily Energizer Lovely Lip Balm swatches clear, but has adjusted a little to my skin, taking on a slight peach tone as well.
To use the Clarins Skin Illusion Blush, you unscrew the sponge, and gently dab it on your cheeks. Because the colour isn't very strong, it allows you to gently dab to layer and get the intensity you want. However, I will warn you that the colour seems to intensify after a little while on my skin, so don't be overzealous.
You will however, need to soften the edges, or you will get a line as you will see below. So, use a brush to gently blend out the edges of the "stamp" if you have one, or if not, do what I did and use your fingers. Just lightly blend out the edges, and it'll be perfect.
If you see the photo below, the colour looks a little harsh, before blending out, and that is what you risk when you just use the sponge puff stamp directly on your skin. But just blend out the edges and you'll be good. You may also notice what I mean when I say the colour develops on me – it looks deeper and brighter than it did the first time I applied it.
You can also use a brush to pick up colour from the pan in the cover, but really, that defeats the purpose of portability and convenience doesn't it? Perhaps Clarins could have designed this with a brush, but then I'd probably have complained that it was scratchy LOL! The sponge puff is soft, at least.
I found that I did not have to pick up additional colour for both cheeks. The blush is, as I've noted, not intensely pigmented, but pigmented enough to show up on my skin, and the puff picks up just the right amount of colour without fall out. If you have deeper skintone than mine, then you may find that you need more product, or perhaps a deeper colour.
I did not notice any sparkles in the product which is mostly matte on me, and while I've seen references to this Skin Illusion Blush as a highlighter colour, I'd beg to differ, because of how the colour develops on my skin. I like using it on its own, and it is fairly long lasting over a good base. No complaints at all, except that the design and packaging isn't something I'd normally go for. But for something to carry around with you, and if you're not as big on cream blushes like I am, then this is pretty much perfect for its purpose. It'll also be good for busy Moms – Just dab on cheeks, tap a little to blend the edges, and you're good to go, with a lovely glowing visage 😀
IN A NUTSHELL

The Clarins Skin Illusion Blush and Daily Energizing Lovely Lip Balm are both limited edition items available while stocks last. The lip balm is clear but adjusts to your skin pH to impart a tint of colour. It isn't exactly a tinted lip balm, but there is a hint of colour. On me, it is a light peach that just keeps from washing me out. There is however, a strong peachy scent that doesn't sit well with me, so it'll be best for those who don't mind fruit scented lip products. I do however, like the Skin Illusion Blush, despite the gimmicky packaging. The sponge stamp is soft with a nice bounce, and picks up colour well from the pan, and transfers it to your skin easily. You do need to blend out the edges, and I found that the colour deepens a little on my skin, so less is more. The colour Luminous Pink is more of a warm pink with slightly peachy undertones, that is flattering, and refreshing. I think it's cute and portable and something I'd use if I were on the go or travelling, or in a gym bag. It's perfect that way.

PROS: Affordable, Cute packaging, Flattering colours that will suit most skin tones except the very deep skin tones, Lip balm is very moisturising without feeling oily or greasy or sticky, Lip balm imparts a nice shine and a tint of colour, Blush is long lasting

CONS: Lip balm has a strong peach scent that I don't like, Limited Edition products

WHO WILL LIKE THESE: Anyone who likes tinted lip balm, Anyone who prefers natural tints of lip colour while needing moisture for lips, Anyone who wants a portable powder blush

PRICE: Daily Energizing Lovely Lip Balm – RM79 | £16 | US$20; Skin Illusion Blush – RM85 | £16 | US$21.50

WHERE TO BUY: Clarins counters and website (MY) website (US), Sephora stores, Nordstrom, Saks Fifth Avenue
C'est moi with the Clarins Skin Illusion Blush in 01 Luminous Pink on cheeks and the Daily Energizing Lovely Lip Balm on lips. I like the rather natural look (once I toned down the blush somewhat) and it was surprisingly long lasting, except the lip balm of course – it's not meant to last.
If you're interested in what else I have on, from memory, the base is Bobbi Brown Skin Nourishing Glow foundation (AMAZING STUFF and only available in Asia Pacific, lucky us!) with Nars Radiant Creamy Concealer (onto my 3rd tube!), topped with Hourglass Ambient Lighting Powder (hit pan! Ok, I'm done with the superlatives LOL). On brows I'm testing the Bobbi Brown Long Wear Brow Gel, On eyes is Make Up For Ever eyeshadow and lined with Pixi eyeliner in black (my new fave!) but you can't really see it anyway here so there's no point my telling you about it LOL! 😀
Do these Clarins makeup pieces catch your eye? Have you used Clarins makeup before?
I like that they're priced below RM100 each. For the blush, I'd say it's good value. For the lip balm, it might be considered a little pricey especially if you're uncertain about scent. So I'd say get the blush. It's cute, it's easy to use, the colour is wearable and it's portable and handy 🙂 Have you used any Clarins makeup?
Paris B