These days I'm a little obsessed about skincare, and that's rather dangerous because a lot of what I'm obsessed with isn't available locally. That's fine, with the invention of the internet, except that a lot of what I'm obsessed with tends to cost a pretty penny as well. Now, that's the true nub of the problem.
I'd been eyeing the May Lindstrom brand up and down for quite a while, but was too afraid to take the plunge for a very long time due to the high pricetag. However, some time last year, I saw that one of the iconic products – May Lindstrom Blue Cocoon – was included in one of the Cult Beauty boxes, and that's when I decided to take a chance on it. If it didn't work for me, at least I didn't pay full price for it, since there were other items in the box I could enjoy.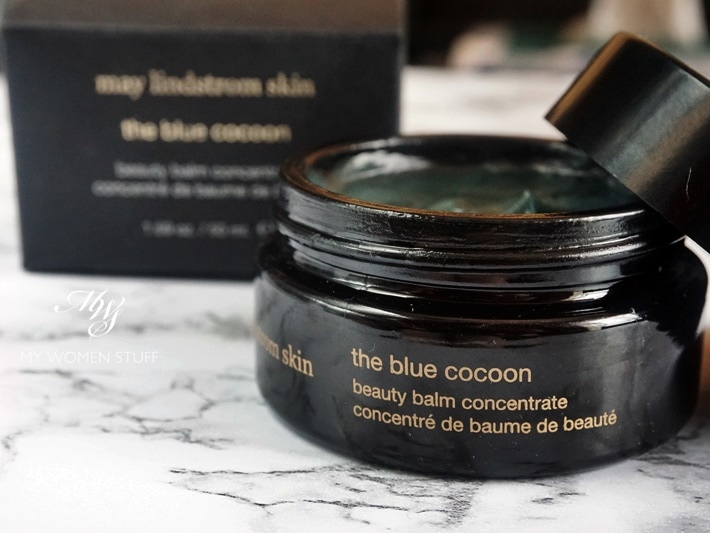 Well, it's only taken me till NOW to give it a go and to tell you about it! To be honest, I only remembered I had it, when my skin was going a little nuts not long ago, and thought a simple skincare routine with just this would help. At the time, because I hadn't identified the problem, it wasn't a lot of help, and I mentioned on Instagram that I was disappointed. When I solved the issue with my skin, Blue Cocoon helped my skin recover and I was SOLD! I lapped it up, all £126/US$160 (RM680 approx) of it. OUCH!
May Lindstrom Blue Cocoon is called a beauty balm concentrate and it's a product that takes some getting used to. First off, it comes in a fairly small 50ml jar that numbs your mind when you start thinking of how much it costs. But I will be one of those who tries to justify it by saying that you only use and need very little product each time. So, a jar will last you ages. I've been at this for weeks and barely skimmed the surface of the product.
What you get in a heavy, black glass jar is a tub of blue balm. The balm is made from various oils and blue tansy (that gives it the blue hue) so it is in a semi-solid state in the jar. Blue Tansy is a flower that is supposed to have natural antihistamine and anti-inflammatory properties, so it helps calm and repair skin that is irritated or damaged. I've noticed that the shade of blue differs from picture to picture.
Mine is a deep shade of turquoise, that makes me think of the deepest parts of the sea. I've seen pictures that show it to be a brighter blue of the Mediterranean ocean, or to be more blue than green. Apparently, as May Lindstrom products are made in small batches and as these use natural ingredients, the colour will differ from batch to batch – the efficacy shouldn't.
Texture-wise, it's interesting. In the pot, as you see above, it is in a semi-solid state. Because it is warm here in Malaysia, it never truly solidifies. If you live in a temperate country where you will soon edge into Autumn and Winter and the weather starts to cool, you may experience a more solid product.
In an air-conditioned room overnight, Blue Cocoon will take on a more solid appearance and feel. My room doesn't get very hot, but on very hot days, it almost becomes a lotion. This is one of the perils of using this product because I won't advise travelling with it unless you are carrying a small sample in a jar. It would be a waste of product and money to have it spill.
Upon contact with your skin's warmth, the Blue Cocoon balm will immediately start to melt. I didn't do a lot of research before hand, so I found it fascinating.
From tub, you can see how it is semi-solid, and about 1 minute later, without doing anything, it has already start to melt on my hand. In another minute, it will be completely liquid.
This is actually a good thing. You see, Blue Cocoon is a mixture of facial oils blended into a balm. It can't penetrate your skin in a solid form, so you need it to be an oil in order for it to work effectively.
What I do is take out a tiny bit of balm (what I showed in the picture is a little more than what you really need. You only need an amount that's just about the size of a petit pois i.e. a tiny bit) and place it in my palm. Then, I melt it between my palms, where it turns into a thick oil, and massage it over mist-dampened skin.
I do have to stress that you should mist your skin liberally before applying Blue Cocoon for best effect. This is primarily because product absorbs better on damp skin, but also because oils will dilute and absorb more easily into the skin. If you think I'm talking through my hat, I'm not. I reached out to the people at May Lindstrom for the best way to use Blue Cocoon, and this is what they advised me too! I was doing it right all along. Nyah! 😛
I personally find that the balm-oil absorbs easily into my skin when you massage it in, although it will leave a little residue. If you are used to using facial oils, you won't be fussed by it. If you aren't, it might bug you. I also use it on its own i.e. after cleansing, toning, facial mist, I apply Blue Cocoon and end my routine.
What I find after a few months of using Blue Cocoon is that almost immediately, my skin the next morning feels absolutely lovely and soft and smooth. If I have skin irritation e.g. a touch of sun or an angry spot I've picked at, or some dry spots, or even if I've irritated my skin a little more than I should with an exfoliator, Blue Cocoon helps calm the skin and smooth it out. It is especially good for those with dry skin or skin with flaky bits. As May Lindstrom says, it's like an SOS treatment for your skin and I'm so in love with it! I am in fact, loathe to go back to a complicated routine, because not only is it working so well on its own, my skin seems perfectly fine.
When I got home from long-distance travel recently, Blue Cocoon was what I turned to help my skin recover from the travel stress. Almost immediately, I could see the difference. I also like how easy it is to use, because you can use the balm all over your face, including your eyes and lips! For someone as lazy as I am to use eye cream, this was a God sent product!
I wish you could smell this, because I'd read about how comforting and relaxing Blue Cocoon smells but I wasn't quite prepared for it. To me, it smells like…. warm chocolate. I kid you not! 😀 I am not a chocolate lover, but for some reason, Blue Cocoon's scent makes me think of thick, dark, warm chocolate laid over a warm base of lavender. I find the scent very soothing and calming and comforting.
Due to the texture, I only use this in the evening. Initially, I was using this every night for a few weeks, just to get my skin back to its optimum condition after my last irritation. Now, as much as I want to reach for it nightly, I don't because I do want to try other products, and I do have a routine to keep to. But every few days, I yearn for some simplicity in my routine, and my eyes and hands seek out the little black tub that I keep on my dresser.
When I pick up the heavy glass jar, unscrew the cap and breathe in the luxurious, comforting scent of lavender-chocolate, my senses quiet and I can feel my skin feel almost joyful, in anticipation of the pampering to come. I love my Blue Cocoon nights for the beautiful sensorial experience as much as my skin loves this beautiful balm.
IN A NUTSHELL

May Lindstrom Blue Cocoon balm is a cult product that costs many pretty pennies. It is a balm that turns into oil on contact with skin and works best warmed up between palms and then applied to well-dampened skin (use a face mist). You only need very little product each time and you can massage it all over your skin including your eyes and lips. I find that it makes my skin feel lovely and soft the next morning, as well as calms any skin irritations, helps it heal and is soothing to the senses. The scent makes me think of warm chocolate, and I find it soothing and calming. I use Blue Cocoon on its own, after a facial mist, and it has worked very well for me. Is it worth the hefty price tag? That's something on you can answer. For me, I say yes because my skin loves its Blue Cocoon treat.

PROS: Lovely comforting scent, Only very little is needed each time, Skin is calmed and soothed almost immediately, Skin feels soft and smooth the next morning, Skin is hydrated and does not feel tight or uncomfortable even when I don't apply moisturiser over, Irritated skin is soothed and calmed and dry flakes addressed and reduced

CONS: Will liquiefy in hot weather, Does not travel well, Very expensive

WHO WILL LIKE THIS: Anyone who enjoys using facial oils or balms, Anyone who has very dry or flaky or irritated skin that needs calming,

PRICE: £128 | US$160 for 50ml

AVAILABILITY: Cult Beauty, Net-A-Porter, Barneys New York, May Lindstrom
For those wondering about the ingredients, here is the ingredient list for Blue Cocoon
Are there alternatives? I don't know. I personally have not come across a similar product in any place on the price scale. I have recently tried a product that seems to perform a similar function on my skin, but doesn't give me the same enveloping comfort that Blue Cocoon gives. I'll tell you about that another day 😉
If you're in Malaysia and are worried about international shipping for this product: I personally buy a lot of products from Cult Beauty, and I have for a while. The free shipping package comes by regular airmail, which naturally takes a little while, and I don't have issues *touchwood* But if you want a truly more secure and dependable shopping experience, I will recommend Net-A-Porter where your packages come in very quickly by DHL, all customs duties paid and processed and with no surprises. Usually, it's a 3-day delivery, but prices can be a bit higher, shipping costs more, and customs costs are built in. Pick whichever service you like, but caveat emptor 🙂
Have you tried this iconic Blue Cocoon balm? Is it something you have been wanting to try?
I've been curious about other May Lindstrom products for a while, and now that I've tried this balm, I'm kind of keen to explore others. But they are incredibly expensive, which makes it hard to just dive in head first. I'll tiptoe around until I find another deal. Do you have other May Lindstrom products to recommend me? 🙂
Paris B