It's no secret by now that I'm a big fan of the famed Estee Lauder 'little brown bottle' that holds the elixir that is the Advanced Night Repair serum. I'd been using it off and on since I started earning my own keep and always have something good to say about it.
In 2016, Estee Lauder introduced the Advanced Night Repair Intensive Recovery Ampoules. I received a bottle back then, tested it out for a while, but couldn't put my finger on what I thought of it, well, till now!
Ampoules are a small sealed vial or capsule, containing a one time dose of intensive serum or product. While Korean skincare has been credited in recent times for its popularity, they aren't new in the world of skin care. Brands like Elemis and Elizabeth Arden have had, for years, products packaged in a similar fashion, and some salon brands have salon exclusive intensive products that come in glass vials. I guess they just weren't as sexy as Korean skincare made them out to be.
Because I already use the Advanced Night Repair serum and other serums and products, how would this ANR Intensive Recovery Ampoules ("ANR Ampoules") fit in my skincare routine?
It was a challenge, that much I'd admit.
The directions call for you to apply the ANR Ampoules after using the serum, and then using a moisturiser. It is supposed to be powerful recovery concentrate, that calms and repairs stressed skin. Used together with the ANR serum, it's supposed to speed up the repair of skin and to strengthen the skin barrier more quickly, leaving you with calmer, smoother, better skin.
The product comes in one time use capsules, or ampoules. Each bottle contains 60 capsules, that look like soft-gel vitamin capsules.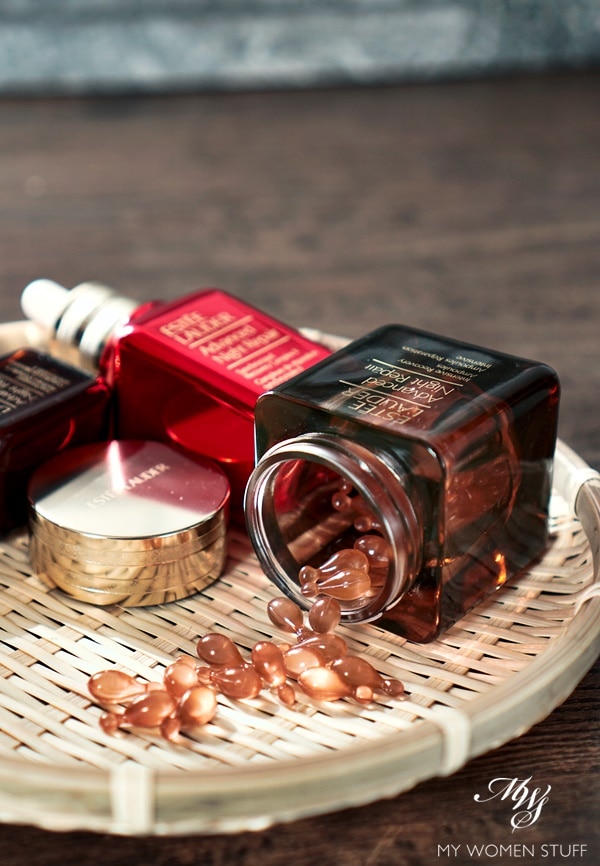 To use, you twist off the bulb at the top, squeeze the product into the palm of your hand, and apply to your skin. At least, that's the theory.
In practice, I found it hard to twist off the little bulb at the end, because the product isn't very big, and I was afraid of squirting the precious elixir within all over. Instead, what I do, is use my nail to prick a hole in the neck of the ampoule, which then allows me to squeeze out the product without fear of it squirting everywhere. In the alternative, a tiny snip of nail scissors should do the trick.
The product itself has a rather oily texture to it. If you are used to using facial oil, it's like a very light oil. If you aren't familiar with, or used to using facial oil, you may not like the texture. It's very light, but distinctly oily. I'm going to stick my neck out and say that it's more suited for someone with dry skin, who would appreciate it better.
The product doesn't seem like very much at first, but because it has a light oil texture, it's easy to apply all over your face, and even down to your neck and décolletage.
How to use:-

Cleanse -> Acid Tone -> Mist/Hydrating Toner -> ANR Serum -> ANR Ampoules -> Moisturiser
I did notice the skin-calming effects that it claims to help you with. For this reason, I like having this with me when I travel, and after I return. As much as I enjoy travelling, I do notice the stress on my skin due to changes in climate, routine and diet, and this helps ensure that your skin looks better. When I return, I use this as a treatment.
Outside of this however, I personally do not notice much more benefits using these ANR Ampoules, that I don't already get from the ANR serum. In fact, when I first tried it, without subjecting me or my skin to any stresses, I didn't notice anything at all. My skin didn't look brighter or calmer. I was disappointed, because I love the ANR serum, and I badly wanted to love these ampoules too!
But when I wasn't feeling too good, and after I had a short trip, that's when I noticed that my skin looked better than I felt. In cold, dry air-conditioned hotel rooms, the ANR Ampoules helped my skin feel more comfortable and you find that you wake up with skin that has a touch of glow, instead of a dull, dry surface. I usually pack 1-2 ampoules into a pill-box for travel. It's a great way to get some intensive treatment on my skin and the capsules are very handy for travel.
You are recommended to use this for 2 weeks straight, to see any results. I went ahead for 1 week without seeing any results, and decided to save the rest. Now, I use them as an occasional treat for my skin, whenever I feel that I could do with a little TLC.
Do you need this? It's kind of subjective. I'm going to stick my neck out and say that you don't. If you use the regular ANR Serum, I'm going to say that you don't need this because I don't see much difference to my skin whether using them together or separately.
If you don't use the ANR serum, then this is one way you can reap the benefits of the Advanced Night Repair serum in a slightly more intense formula, make it stretch, and perhaps, use a separate serum in your routine that has more retinoids or anti-aging benefits. Personally, while I do enjoy the occasional use, it's not a product I plan to repurchase for the reason that I feel it's a bit too pricey. That said, with careful use, you can really stretch the use out of those 60 capsules!
IN A NUTSHELL

The Estee Lauder Advanced Night Repair Intensive Recovery Ampoules are capsules of intensive serum that help calm and repair the skin from stress. I personally find that if my skin isn't particularly stressed (e.g. work or life stress, travel etc) then I don't derive much, if any benefits. But when I'm stressed, it makes my skin look brighter and more glowy and better than I personally feel. It's also very useful for travel, if you pop them into a pill box.

PROS: Convenient one time use capsules, Easy to use, Light oil texture absorbs easily into the skin, Makes skin feel and look better and less dull when you're undergoing a stressful period

CONS: Pricey, The top of the capsule is hard to twist off, I didn't notice any results when not undergoing any stresses

WHO WILL LIKE THIS: Anyone who travels often, Anyone who has stressed skin

WILL I REPURCHASE? Not likely. I'll stick with the serum

PRICE: RM480 | US$110 for a bottle with 60 capsules

WHERE TO BUY: Estee Lauder counters and online at Nordstrom, Selfridges, Sephora, Saks Fifth Avenue
Here is the ingredient list for the Estee Lauder Advanced Night Repair Intensive Recovery Ampoules:
Caprylic/Capric Triglyceride, Squalane, Aleurites Moluccana (Kukui) Seed Oil, Prunus Armeniaca (Apricot) Kernel Oil, Bisabolol, Garcinia Mangostana Peel Extract, Salicornia Herbacea Extract, Magnolia Officinalis Bark Extract, Salvia Hispanica Seed Extract, Anthemis Nobilis (Chamomile) Flower Extract, Rosmarinus Officinalis (Rosemary) Leaf Extract, Coffea Arabica (Coffee) Seed Extract, Helianthus Annuus (Sunflower) Seed Oil, Camelina Satvia Seed Oil, Vaccinum Myrtillus Seed Oil, Tocopheryl Acetate, Cholesterol, Linoleic Acid, Tetrahexyldecyl Ascorbate, BHT
I sat down and worked out that at today's prices, each capsule works out to RM8 or US$1.83 each. That's actually a lot of money to spend on something you use only ONCE! So, it remains a treat for my skin, and you can bet I snapped at my friend for stealing one… or maybe two from me 😛
Did you try the ANR Ampoules? Have you tried any other ampoules from other brands?
I wish they'd sell this in a smaller bottle. Maybe 20 or 30 capsules, because then I'd be more willing to keep some on hand for those stressful times. As it stands, I find it too pricey to justify the occasional use, as I'd prefer to splurge on something I can use more often, and reap better results, as opposed to the occasional treat. Let me know if you've tried it!
Paris B