It was quite amusing to me when the Mamonde Creamy Tint Squeeze Lip was sent out. I came across so many people squealing and going "Ooh! First time ever a squeeze lipstick!" Well, WRONG! Other brands have done it too in the same or slightly different forms, most recently, the Bobbi Brown Art Stick Liquid Lip that looks exactly the same. I own one of them. Just never got round to talking about it.
Pay a little more attention to what's going on around you, and you'll realise that makeup trends are cyclical and what goes around comes around!
But what intrigued me enough to share about these Mamonde Creamy Tint Squeeze Lips is because I have a soft spot for the brand. I know I often say I'm not into Korean brands, but Mamonde has gotten under my skin in a good way. Their skincare is quite decent and my little experience with their small makeup range has been fairly positive too. I still use their Flower Pop blush very often! 😀 And I like that they are very affordable, yet without compromising on packaging or quality. You know me. I'm picky about things like this, but when a brand grabs hold of my attention, I usually tend to look a little more kindly on it 😀
I shared a picture of these Mamonde Creamy Tint Squeeze Lips on Instagram a little while ago, and received many requests for me to share my thoughts on them. So here we are! 🙂
You may see 3 items in the picture, 2 of which are the Creamy Tint Squeeze Lip and 1 is the Creamy Tint Color Balm Light (RM42). I won't be sharing much about that one because the colour doesn't suit me, so I couldn't put it through its paces. What it is, is a crayon type balmy lip colour. Feels comfy and if you ask me, is a fun lip product that isn't too bad at all price considering
The Mamonde Creamy Tint Squeeze Lip is basically a creamy liquid lipstick that comes in a squeeze body packaging. There are 10 shades and we run up against my first gripe – The colour of the tube is NOTHING like the colour of the lipstick. Nothing like it!
I have 2 shades – No. 7 Better than Coral and No. 10 Retro Rose. Looking at the shade of the tube, I was quite pleased. These are lip colours I wear and they looked fairly muted yet strong, just how I like my daily lip colours.
I was expecting that No. 7 Better than Coral would be a muted coral with hints of red, and No. 10 Retro Rose would be a deep, muted rose. If you look at the colour of the tube, I pretty much expected that and they are pretty colours aren't they?
But instead, what I found is that the colour of the lipstick itself is much brighter, and a different shade altogether!
No. 10 Retro Rose in tube looked like a deep rose. In the swatch, it's a fairly bright, warm-toned red with little hint of rose. I was scratching my head for a bit with this one. It's a colour I can comfortably wear, as I'm not averse to bright lipsticks or red lipstick, but to someone else who might be, it would come as a bit of a surprise. No. 10 is supposed to be their bestselling colour and the one that sells out the fastest. To be honest, I don't quite understand why, but that might be because I prefer a more blue-toned red for my complexion. Perhaps the Koreans wear warm-toned reds better?
I expected No. 7 Better than Coral to look like a muted coral with a hint of red. Instead, it squeezed out a fairly bright orange-toned coral that I find hard to reconcile. Again, I can handle the colour, but someone else more conservative in their lipstick choices may be taken aback.
My second gripe is the strong rose scent imbued in these lip colours. I much prefer my lipstick unscented, or if scented, not as strongly. With this one, you can smell the rose the minute you open the cap. Do bear in mind however, that scent is a very personal thing, so if you love scents like that, then you'd be happy with it. I just prefer it not to be as strong.
Third (I'm on a roll aren't I?), the application process can be messy. You can see from the pictures above, that the product squeezes out onto a plastic applicator. This is a hard plastic and not pliable so basically, you have very little control over your lipstick application. For this purpose, the Mamonde Creamy Tint Squeeze Lip will suit a more diffused, less defined sort of lip, than it would a bold one. That I feel is a bit of a pity, because the pigment, intensity and opacity of the colour lends itself well to a bold, defined lip. You'd need a lip brush for that. Or just be very very careful.
Based on my experiment, there are 3 ways you can apply the Mamonde Creamy Tint Squeeze Lip:-
Use your fingers – Squeeze a dot along the middle of your lips and smush them together. Then use your finger to blend it out, for a soft edge and lighter, texture
Direct from the tube – Squeeze some colour along your lower lip and smush your lips together to blend the colour. Then, use the edge of the applicator to smear and transfer the lip colour to the edges for a more defined finish. You won't be able to get it very sharp however.
Use a lip brush – This will give you the most defined and even finish to your lipstick. Squeeze the product onto a lip brush and then apply it to your lips.
Here's how it'll look when I wear the 2 colours that I have. Incidentally, I do realize that it looks fairly similar in both pictures, which I assure you, is quite true in real life as well.
In these pictures, I used method no. 2 above, which is to apply the product on my lips, smush them together and then use the applicator to define. I figured I'd show you this method, because it would be the most practical if you're out and about and don't want to dirty your fingers. I'm also wearing the Mamonde Flower Pop blush here – I really love it! 😀
It sounds like I don't like these very much, doesn't it? 😛
Well, they aren't my favourite, for the reasons I've set out here. But there are some redeeming qualities. The pigment is crazy in these. It really is like they took a creamy lipstick and melted it down to a liquid form. I like that creaminess a lot because it is so opaque. I love that in a lipstick, and this really nails it.
However, the creaminess comes at a price, because it can travel, and more than once, I've found it on my teeth. So, you do have to be a little careful. Also, it does not really dry down to a matte finish, which is something I like very much too. I am not big on matte lipstick (I only like the matte lipsticks from Chanel) so I like that these aren't matte.
But what that means also is that it will eventually disappear once you eat and drink, and it will mark your cups. It isn't as long-lasting as most liquid lipstick. I'm not bothered by that, but if you want something that stays put for hours, this probably isn't it.
I initially found it a bit drying. But then I realised that it wasn't drying in a sense. It did not settle too much into lip lines, nor leave my lips flaky. But it did feel like I had a layer of something on my lips. It certainly was not weightless nor did I forget it was there.
Ultimately, I'm a bit torn. As a creamy liquid lipstick, this is an amazing product. But there are shortcomings that will not make this a lip product I'll reach for very often. But I have to say, the colours are lovely, the price tag is attractive, and ultimately, it'll be your preference for lip products that will seal the deal… or not 🙂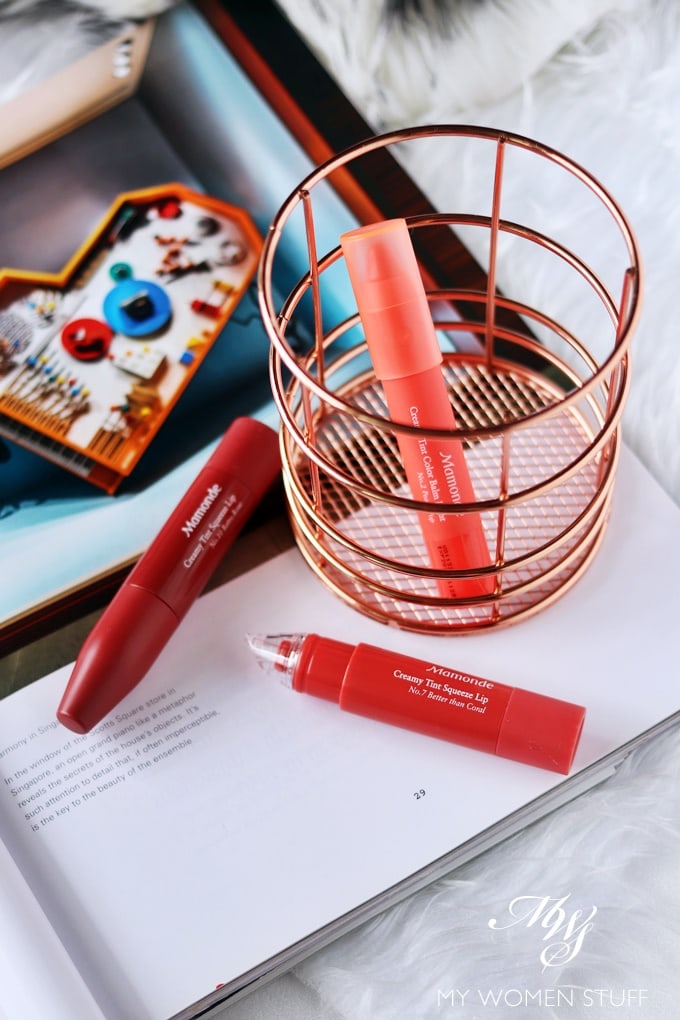 IN A NUTSHELL

The Mamonde Creamy Tint Squeeze Lip is a creamy liquid lipstick in a soft body tube. To dispense, squeeze the body to push the product through the applicator. The texture is lovely, creamy, pigmented and very opaque. However, there is a strong scent of rose and the application can get messy. It isn't very drying, but it does feel heavier on my lips than I like. Also, the colours in tube are quite different from what you see on the tube. It's a fun, affordable lip product, but may not appeal to everyone.

PROS: Affordable, Pigmented and opaque, Creamy texture, Not very drying, Compact packaging

CONS: Can smear and travel, Feels heavy on lips, Application can get messy, Colour does not match what is on the tube

WHO WILL LIKE THIS: Anyone who enjoys wearing creamy liquid lipstick

PRICE: RM50 | US$9.50 – US$15 International prices differ depending on where you buy it
Do these Mamonde Creamy Tint Squeeze Lips grab your attention?
Despite my gripes, I do think they are fun and they don't hurt the pocket very much for a very good dose of lip colour. In my case, I'd just have to get over the scent! LOL! 😀
Paris B