Sometimes, I come across an interesting makeup product that has me very intrigued by it for days on end. Usually, when it involves something as easy to use as a lip colour, I am even more fascinated. After all, lip colour is one of the easiest makeup to apply. Very few people will have trouble slicking on a lipstick, right?
When I came across these very interesting lip colour toppers from Chanel, I was very intrigued.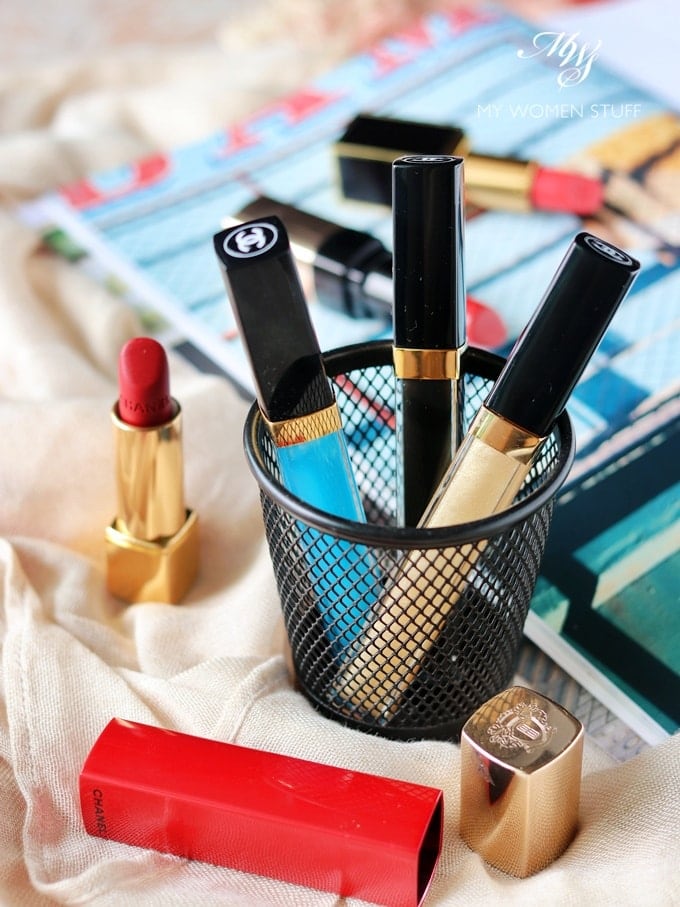 They are all permanent items, so you can check them out at the counter or store at your leisure. I like when brands keep things permanent. It is less stressful for everyone concerned (and our wallets!) LOL 😀
These are all iterations of the Chanel Rouge Coco Gloss, a new formula of the iconic Chanel lip glosses that was introduced some time last year. I think 😛 The new formula is now far less sticky, more jelly like, and have no scent. They are very comfortable to wear and come in many shades.
But I wanted to show you some interesting pieces that will remind you that makeup can be fun and almost magical! 😀
If you like playing around with lip products, then this will be right up your alley. I like it, because it allows you to switch up your lip colour without having to change your lipstick. It can even be used to jazz up a lip colour that looks a bit blah. Or perhaps you bought a lip colour online that looks awful on you. One of these magic glosses may help!
I will be showing you the glosses from the Chanel Rouge Coco Gloss range, but do note that there are other brands that may have a similar product. So these tips really apply based on the colour of the gloss.
Here are the swatches of each of the glosses I will be showing you.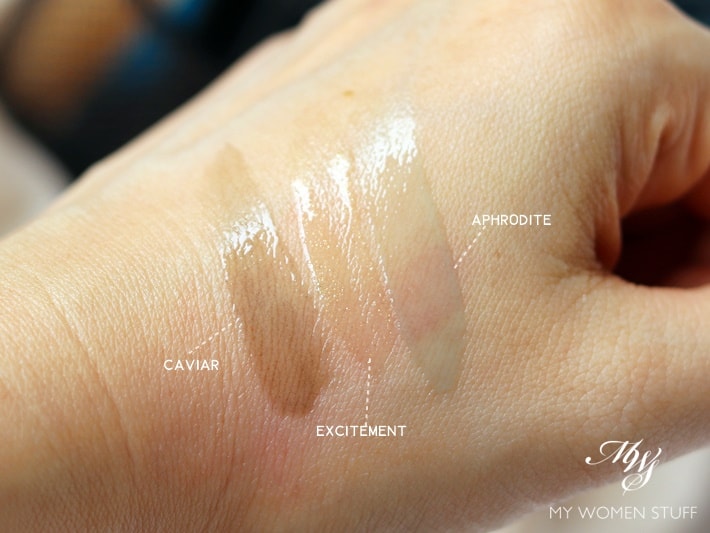 Rouge Coco Gloss Caviar – This is the black gloss which goes on a translucent black
Rouge Coco Gloss Excitation (wrong name in my excitement)– This is the golden gloss which goes on a fairly transparent hint of warmth with golden sparkles
Rouge Coco Gloss Aphrodite – This is the blue gloss which goes on a transparent blue
The trick to these colourful lip glosses is that they aren't really meant to be worn on their own, on bare lips. I mean, you can. But the magic happens when you wear it OVER other lip colours. Let me show you how it works.
Top with a Blue Gloss to cool and brighten lip colours – Chanel Rouge Coco Gloss in Aphrodite
I showed you this one a while ago in this round up. I mentioned then that I found it fascinating, and really it is. A blue gloss over a lip colour will act to cool down a warm-toned lip colour, and can even serve to brighten the colour.
To demonstrate this, I'm going to show how Aphrodite works over a warm coral lip colour.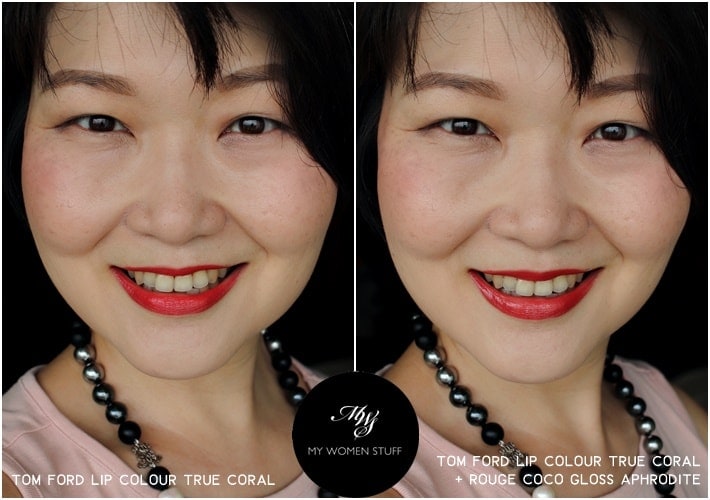 On left, I am wearing Tom Ford Lip Colour in True Coral. Like most coral toned lip colours, the colour is fairly warm.
On right, I have dabbed on the Rouge Coco Gloss in Aphrodite. Not only does it add a shine to the lip colour, notice also that the translucent blue tone has toned down the warmth, and heightened the red tone in the lip colour. It also looks a tad brighter, and the blue tones make my teeth look a little whiter too. That is one of the benefits of a blue toned lip colour.
While I can wear coral lip colours, I do find that with my skin tone, I work better with a cooler-toned lip colour. It is more flattering, and I think you can see in this comparison what I mean.
I like that I can now play around with lip colours that I might otherwise not wear, and make them more wearable for me.
Top with a golden gloss to add warmth and sparkle – Chanel Rouge Coco Gloss in Excitation
This one isn't terribly unique, as gold glosses have been around for a while. The difference with the Chanel Rouge Coco Gloss in Excitation is that I found it very transparent. Yet, there is a hint of warmth that makes a cool-toned lip colour more vibrant, and the little sparkly glitter enhances lips and brings your lips from glam to fun!
* Note: Error in name – should read Rouge Coco Gloss Excitation
On left, I am wearing a matte lip colour. This is the Chanel Rouge Allure Velvet No. 3 which is a matte, rather cool toned lip colour as you can see. It is flattering, but it is hardly fun is it?
A few dabs of the Rouge Coco Gloss in Excitation over, and suddenly, I'm ready for fun LOL 😀 Just look at that beautiful shine! The slight warmth from the gold tone also balances out the colour better, and doesn't it look glamorous?
As the name implies, a gold gloss like this is one way to bring excitement to your makeup. Not all of us like wearing sparkly lip colours all the time, and I know that matte lips are still in. Yet, there will be that odd occasion when you want to really shine. A gold, sparkly lipgloss lets you do that!
Top with a black lip gloss to add depth to lip colour – Chanel Rouge Coco Gloss in Caviar
This one is my favourite of the three! 😀 I haven't really come across a black lip gloss before this. Perhaps it's always been around, so feel free to let me know otherwise. But I was very intrigued by the Chanel Rouge Coco Gloss in Caviar. I mean, hello. Who isn't intrigued by a tube of black gloss right? Would it make you look gothic? You might wonder.
Actually, it doesn't. What I like about the Rouge Coco Gloss in Caviar is that it is translucent. So, unlike a black lipstick which serves the same purpose, the effect is more subtle and, I dare say, more flattering.
On left, I am wearing the Bobbi Brown Luxe Lip in Retro Red. This is a beautiful, rich, bright red. But look what happens when I apply a layer of the Rouge Coco Gloss in Caviar over.
Isn't it interesting how the very same lip colour deepens? It looks incredible! 😀
While you can layer it over any lip colour, it is worth noting that you will notice the shift best when you layer Caviar over a bright lip colour. If you are layering over a pale lip colour, the effect isn't as nice. What the black does is bring depth and mystery to your lip colour. Think of it as the opposite to brightening. I love it! 😀
And that my friends, is really some kind of magic 🙂
TIP on how to keep the applicator clean

These new Chanel Rouge Coco Gloss applicators are really wonderful for using straight on lips. But if you prefer not to with these (understandable as you may not want to contaminate the tube), here's what I do.

Use the applicator to pick up product, and then swipe it on the back of your hand. I find that if you do this 2-3 times, there is more than enough product for you to use. You can then use your fingers to dab it on your lips, or use a lip brush.
Have you tried these glosses before? Have you tried similar gloss toppers to change your lip colour?
I have to say that it is tons of fun. I'm usually quite staid in my lip colour choices, preferring to get a lipstick in a different shade. But now, I've realised that I can use one of these gloss toppers to create different shades from my existing lip colours! I think I've just tripled my lipstick wardrobe LOL! 😀 Have you tried anything similar?
Paris B