Early in 2017, I came across the rumblings of a new IT bag from the luxury designer house of Chanel. It is called the Gabrielle bag and if I'm to be perfectly honest, I'm a little on the fence about it. Still, as they say, don't knock it till you've tried or seen it, so I won't.
But a month or two back, I was told that there would be a new fragrance launch by Chanel this year, named, you guessed it, Gabrielle. Verily, this is the year of Gabrielle "Coco" Chanel, and this brand new perfume is the first from Chanel in 15 years!
Most of us are familiar with the name Coco Chanel, yet often we forget that it wasn't her real name. Her name was Gabrielle, and the House of Chanel has decided that it's time to remind us of this. If you look into the life of Coco Chanel, she was a woman ahead of her time. A bit of a rebel, an entrepreneur, never married, and if the stories are true, popularized sunbathing and tanning. Tsk, lady, you set up generations of women for wrinkly, leather textured skin 😛
She also boasts a rather murky war past, if the stories are to be believed, and that is a little unsettling at this point in time. But I can understand why the company holds on to her history. There are many stories to tell, and one of it, is this new Gabrielle Chanel perfume that is only just made available in stores, and is Chanel's very first new fragrance in 15 years!
Now here's the deal, I never "review" fragrances. I don't believe in it, because as I told you before this, fragrance must always be tested on YOUR skin to see if it works for YOU. All perfumes will react to your body chemistry, and often, what works for one person may not work for another. I learned this the hard way, thinking I'd understood the complexity of perfumes, by reading some websites, only to order a fragrance unsmelled, and hated it. It smelled like pee on me. YUCK!
But no, the Gabrielle Chanel perfume does not smell like pee LOL! 😀 Instead, it smells of flowers, in a soft, romantic way. It is a decidedly floral scent, and I have a bit of a thing against strong floral scents. They don't sit well with me, and give me a headache. But there is a lot about Gabrielle Chanel that reminds me of the floral fragrance that sits well with me, so I found it growing on me.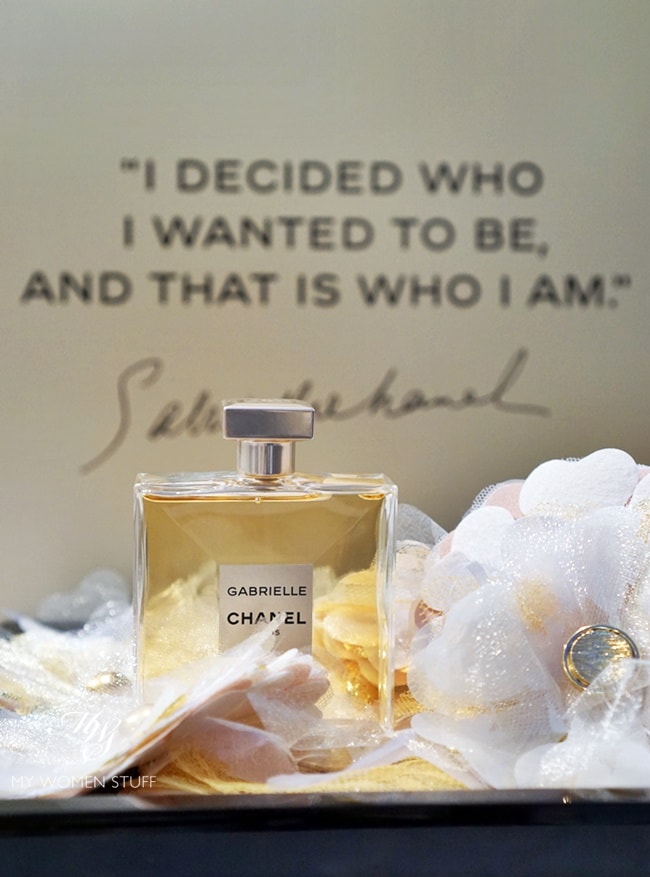 I have been fortunate to be granted an early preview of the Gabrielle Chanel perfume before its launch a few days ago, so I've worn it intermittently over a few weeks. What I found was quite interesting, when you wear your perfume over about a month.
You see, as women, our bodies change over a month, as hormones ebb and flow, and this can mess with your body chemistry. When I first tested this, I didn't like it. I found it too strong, with the main notes of jasmine and tuberose coming through very strongly. I felt suffocated by the musky scent as it settled, and I couldn't wait to scrub it off. I set it aside.
2 weeks later, I picked it up, and now, I'm in love with it. Suddenly, I detect instead, a sparkly fresh top note as I spray it on, and it settles down to something a little less harsh and intense. It smells soft and romantic, with the delicate scent of jasmine and tuberose now tempered by ylang ylang and orange blossom, so it smells delightfully of clean, gentle florals touched with a hint of citrus around the edges. Even the sandalwood and musk base note doesn't come through as strongly to strangle me, but instead grounds the scent just enough to stop it from being cloyingly sweet and girly. It transforms the scent into something a little more sophisticated and womanly. For me, the perfume doesn't change over the day, so it smells the same after a few hours, as it does when I first spray it on. No surprises there for me!
I have a suspicion that in another 2 weeks, when my hormones have settled, I'm going to hate this again LOL! 😀 But that's the magic of fragrance. For the 2 weeks when I feel cranky and bloated like Jabba the Hutt heaving myself around the place, the Gabrielle Chanel perfume makes me feel like I'm a beautiful woman, not a monster who only wants to rot on the couch and stuff her face with crisps. And ladies, you know just how important that is to us women to feel that way! 😛
I do think that the Gabrielle Chanel perfume is a crowd-pleaser scent. Most people will like it. If you love light floral type perfumes, you will like it. It isn't offensive in any way, but notably, it isn't quite an olfactory standout either. As I said above, it reminds me a lot of Dior's J'Adore EdT or EdP, so I do think that if you like a scent like that, then this one will sit well with you.
I do like the packaging, with the very light glass bottle that looks almost borderless and minimalistic, so the golden perfume appears suspended. It is very simple, very elegant, and very emblematic of the house of Chanel, while looking modern. No heavy perfume flacons here, only brightness and light, topped by a golden cap bearing the now iconic logo. The cap reminds me of the ones used in Maison Francis Kurkdjian but without the heft and bulk. I like the simple clean lines which was, apparently, 5 years in the making.
Here's the promotional video with Kristen Stewert – it's only just been released internationally, so enjoy! I always enjoy watching promotional videos for fragrances 😀
Have you managed to sample the new Gabrielle Chanel perfume? Do you like it?
It's only just become available, so this long weekend in Malaysia is a good time to hit the stores and have a spritz or see if you can get a sample. Do let me know how it sits with you. I'd like to know how you like it! 😀
Paris B
Gabrielle Chanel EdP

PRICE: RM450 | US$105 for 50ml and RM650 | US$135 for 100ml

WHERE TO BUY: Chanel beauty counters and beauty boutiques