While I've gotten my skin condition pretty much under control in recent years, there are occasions when I still encounter a rather inexplicable breakout. Quite often, we can attribute it to the skincare or makeup that we're using (or testing, as it were) or even more often, to our hormones.
Breakouts caused by ingredients in skincare or makeup that don't agree with our skin, or which clog our pores, can usually be easily traced and identified. If you pay attention to your skin, that is. I know most of you here do!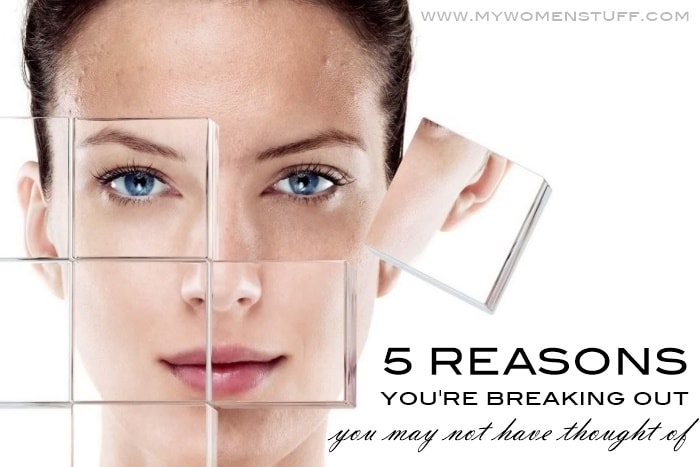 Yet other times, I've come across some pretty bizarre situations myself, when I can't quite put my finger on what's causing my breakout. These aren't acne, which is bacterial, but rather, spots or pimples or zits. Whatever you may call it, it is uncomfortable and makes us uncomfortable about the condition of our skin.
Worse yet, it's when you thought you had everything under control, and your skin looking smooth and glowy with your skincare ministrations, that makes a sudden zit encounter even more traumatic!
Aside from the usual cosmetics ingredients that may clog skin and cause breakouts, I've identified 5 other reasons for you breaking out that you may not have thought of. Incidentally, they have all happened to me, which is how I worked it out, of course! 😀 If you think of others, or if this helps you, share! 😀
Shampoo and Hair care
Shampoo. Who'd have thunk?
One of the earliest posts I wrote here on MWS was about whether ingredients in shampoo and conditioner can cause pimples, spots and breakouts. I was convinced that my breakouts was due to my use of Tresemme hair care (which I stay miles away from these days!) and I dumped my thoughts in a blog post.
Years later, people are still commenting on it, sharing their experiences and having the lightbulb go on, about their inexplicable sudden skin breakouts, and a change to a new shampoo and conditioner. So, if you aren't sure why you're suddenly breaking out, consider if you've recently changed your shampoo or conditioner. But to be safe, adopt my tip of washing you face last in the shower. That way, you make sure you wash off all those nasty chemicals that may have come into contact with your skin 🙂
Not drinking enough water
If you drink enough water, you will have clearer, more naturally glowy skin. Don't, and one of the first things you'll notice is a dull complexion and in some cases, breakouts.
For myself, I notice that if I don't have enough water in a day, I will start experiencing minor breakouts. That odd spot here and there that bugs me to no end, especially when I've just convinced myself that I've gotten my skin under control. Caring for the skin is truly a lifelong affair! You can't just expect to plonk on all that skincare and be done with it.
Sometimes, it's that odd imbalance here and there in diet or lifestyle, that tips the scales. Not so noticeable when you're younger, and your body bounces back more quickly from stresses and imbalances. But when you hit your 30's you'll notice how everything takes longer to return to equilibrium. Now that I'm in my 40's (can't kid myself anymore!) I've noticed this more than ever! Gotta work harder at restoring equilibrium… or at least, not disrupting it more than usual. Drink your 8 glasses minimum, peeps!
Food and what you eat
During this year end season of feasting, and for some of us, all the way to the Chinese New Year, we tend to find ourselves eating more unhealthy foods than normal. Sweets, fatty, or oily foods tend to abound at this time, and you know how people say not to eat too much chocolate or fried foods because it can give you pimples? Well, it can.
For myself however, I found that one food that would give me spots, without fail, was beef. Strange? Yes, I know! I've actually shared my thoughts in this earlier post about this. Basically, if I overindulge in my red meat, I end up with breakouts.
Sometimes, these breakouts could even be attributed to food allergies. For me, I still eat my beef. But I eat in moderation. Fortunately, I have lots of options in terms of food, and I love my fruits and veges so I try to maintain some sort of balance 🙂
Probiotics
Still on the subject of things you eat (notice the trend? Breakouts as as much about what you put in you and you put on your skin!) I've noticed that probiotics played merry hell with my skin.
One experience was more than enough for me, and I wasn't about to repeat the experiment to see if different brands of probiotics or other types of probiotics would be ok for me. Incidentally, while there isn't a lot of information out there on this, I've had so many people comment to share their experience of breakouts when taking probiotics! So, I know for a fact that I'm not alone, and so do they! 😀
Dirty makeup brushes and sponges
This one is something we are well aware of, yet I'm sure we tend to overlook or forget. Wash your makeup brushes regularly. I hesitate to say once a week, because I'm tardy myself, and often can go for weeks without washing my brushes.
It's no surprise therefore that I do notice breakouts happening occasionally, especially around my cheeks, as that's where my foundation brushes go, and I rarely break out on my cheeks. I only have myself to blame of course 😛 Makeup brushes, even if we just use them on ourselves, can harbour bacteria or dirt, and if you keep them in the open, be exposed to dust that can irritate the skin. So, keep them clean. If you want to use a makeup brush, then don't be lazy about washing them. I am lazy, but I don't actually hate it, the way I see people moan about hating to wash their brushes. I actually enjoy it… when I'm not being lazy of course LOL! 😛
So that's 5 reasons for breakouts that I think people may not think about. It's all happened to me at one point or another and each time, a lightbulb goes on. I've shared my experiences in one post or another over the years, so you can tell that this is something I think about often LOL!
Have you experienced any breakouts due to the reasons I've shared? Do you have others I may not have realised?
I think, because we're all different and individuals, the reasons for our skin reacting to certain products, food or situations will be different. But for the most part, you may also realise from here that what you put IN your body is just as important as what goes ON your body. Sometimes, that's what's causing the spots and zits. So once you stop eating/using the offending item, they go away without medication! 🙂 Do share, if there are other strange or unusual causes for breakouts that you may have experienced 🙂
Paris B