As much as I personally lust after the Hermes Birkin – yes I'm one of those who do – I do not currently own one, nor is there one in my forseeable future, due to its prohibitive cost. Thank you for nothing, diving RM. However, my good friend and bag buddy LeGeeque recently got one, and shared some good reasons with me why it may not be the bag of every bag afficionado's dreams, as it were. So I got her to write it down and share it with you. It pays to be well-informed. Who knows when an opportunity will arise, eh? ~ PB
The mere mention of the prized and elusive Hermes Birkin bag conjures up a plethora of responses. If you're a bag aficionado, there's a likelihood that the Birkin is your Holy Grail. If you aren't, you will still likely raise your brows, because most people will have heard of its exclusivity. The Birkin might be the Holy Grail for some, but it might not be yours, necessarily so. So, I'm here to debunk some myths of the Birkin and tell you what you should consider, if you are saving your pennies (or realistically, dollars) for this prized bag.
To put things into a little context, I recently got my greasy little hands on an Hermes Birkin. It's what some Birkin aficionados would term as the poor (wo)man's Birkin. It's the beginner/entry level bag. Size – 35. Leather – Togo (thankfully, which I'll get into in a bit). Gold hardware.
After carrying it consistently for about a month, I think I'm ready to write this piece.
Design
Other than the JPG Birkin (or shoulder Birkin), the regular Birkin bag is purely a handheld tote. If you lead a busy lifestyle and you're constantly on the move, you need to remember that this is the ONLY way to carry your bag. Either by hand or in the crook of your arm. It will not fit over your shoulder. Not even if you're a skinny minx.
You might be juggling your mobile phone, or trying to swipe your commuter card to enter the train station, and (God forbid!) if it rains, you're wrestling with an umbrella; all the while trying to desperately hold on to your bag. It might not be the most practical design for some.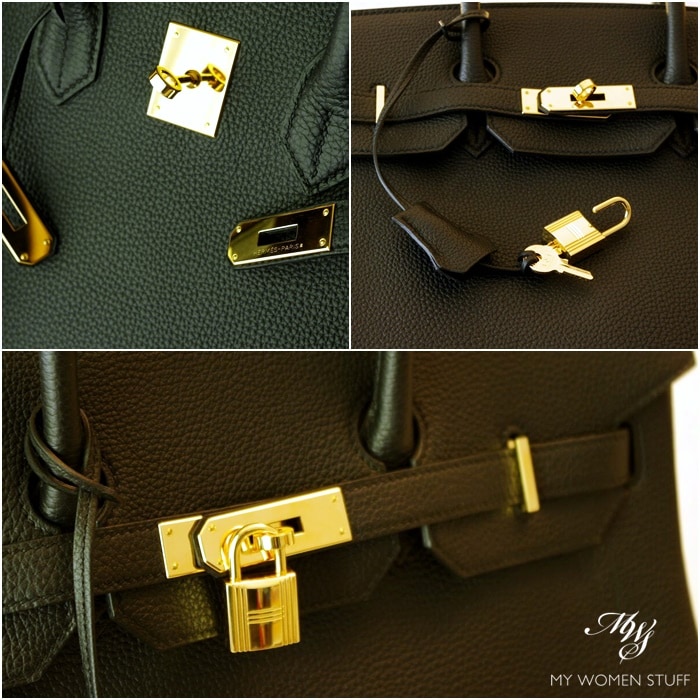 The Birkin is an utmost secure bag if secured properly. By this I mean with the flap tucked over, straps held in place over the turnlock, and a padlock over the turnlock. Not many people do this. I'm lucky I live in a relatively safe country. I tuck the flaps into the bag (as opposed to over) and I merely hook the straps in place leaving the bag more or less opened. I cannot imagine doing this should I travel or live in a country with high crime rates.
By securing the Birkin to deter pickpockets, it adds a level of frustration to access your phone or your purse should you need to do that very quickly as you will need to unlock and unstrap the bag to get inside.
Weight
I'm grateful my bag is in Togo leather (to be honest, Epsom leather is the lightest and for a size 35, it really should come ONLY in that leather, exotics aside, of course). It's comparatively lighter in Togo as opposed to Clemence. When you own a 35, there's this temptation to stuff EVERY DAMN THING INTO THE BAG. And it gets heavy. REALLY heavy.
You start questioning,"Do I really need a separate mirror when I have a powder compact?", "Do I need a 2 lipbalms?" "OMG, that Guerlain Rouge G – why the hell am I carting 3 around?!"
The weight of an empty Birkin 35 in Togo is about 1kg. That does not seem much on face value. But after a day of carting this around, this could be your arm work out for the day!
Price
I've saved the most obvious reason you may not want a Birkin to the last, because we all know the Birkin is expensive. Period. There's no way around it.
But it's not just a matter of plonking down a lot of cash for a piece of leather (that's a very crude and offensive way of looking at a piece that's handmade, but essentially, it is just that). It's also the fact that I (personally) have been going into a super protective mode when it comes to this bag. There's a part of me that's not truly enjoying this to its fullest because I'm so terrified of ruining it. It's silly and it's counterproductive, since it's my piece to commemorate my most recent performance review.
While it may seem like I'm trying to dissuade any one from picking up a Birkin, on the contrary, I'm laying out my experiences from using this bag. As much as I love this bag and have found ways to fit it into my lifestyle, I recognise that not everyone can.
Mothers who are managing prams, shopping bags, and a screaming toddler clinging on to their legs might find the Birkin a hassle, more than a joy. Women who commute, jumping from trains to other modes of transport while juggling multiple things in their hands, might be annoyed by the lack of a hands-free option.
For interests-sake, here's what I fit in my Birkin 35.
Please don't get me wrong. The workmanship of the Birkin (or any Hermes piece) is absolutely exquisite and breathtaking. I've been known to parade the bag around at home dressed in my rattiest 12-year old flannel PJs and holey home slippers. I adore it. But just because I adore it and many women (and men) around the world do, it doesn't mean you have to. There's absolutely nothing wrong in turning down a Birkin for a piece that may work better for you.
Price, weight and design aside, this is a workhorse bag through and through. I did mention I'm overprotective but I'm also overprotective of ALL of my bags. I've used the Birkin consistently for work for a month or so. In fact, for the one month after I obtained it, I used it non-stop. Work. Weekends, for play and non-play.
For a size 35, it's most definitely a workhorse. I'm glad I went with the 35 rather than a 30 because it suits my lifestyle a lot better. I have the option of stuffing it full if I wanted to (as I do on workdays. I stop short of putting my lunch in there but my apples for the day go in there) or I have the option of putting in only small pieces to hold the essentials for a quick run to the shops. Don't get me wrong. This is an extremely sturdy and well-made bag. It's meant to be used and used lovingly.
Have you seen Jane Birkin's Birkin? It's so well-used and it will hold up. That's what they're designed to do. I merely go an extra mile to be overprotective because I'm me 🙂
And, if you're fortunate enough that a Birkin fits in your lifestyle, well, welcome to the crazy slippery slope of orange boxes tied up with brown bows in massive orange paper bags!
PS-Purely for scientific reasons, I took a train into the city with the Birkin for work. I even tucked my slate tablet (work station) into the Birkin to see how it fares. Pretty decent, I must say. Not the worst experience I've had but not the best either. I would have much preferred a crossbody bag leaving my hands free to manage my coffee, myki card and checking for the next train on my mobile phone.
~ LeGeeque
PB Says: Thanks for sharing your honest experience and the pictures of your beautiful bag with us, LeGeeque! Also, thanks to J for the pictures and that adorable gif! I confess that despite knowing its shortfalls, this is still one of my Bag of Dreams. But at least I'll know what to expect if I strike the lottery, and an opportunity arises for me to get my own grubby paws on one! 🙂
Now, who else has this on their Bag Lust List?