You know, I know you all blame me for being an enabler (What can I say? I'm good at it… I guess? hehe) but you know what? I'm not immune either and friends, fellow bloggers and that damned Instagram take the cake! So, after seeing friend, fellow blogger and Instagrammer Lyn of Beautycabby (all 3 enablers rolled into one – it's no wonder I caved!) rave about the Revlon Colorburst Matte Balms, away I went to the local Revlon display at Watson's to take a look.
Not just a look, I picked one up and I wanted to see how I liked it or if it would be enough. You see, I don't particularly go for matte lipsticks. I'm now leaning towards wearing more matte eyeshadow and even blush, but matte lipstick can age a person somewhat.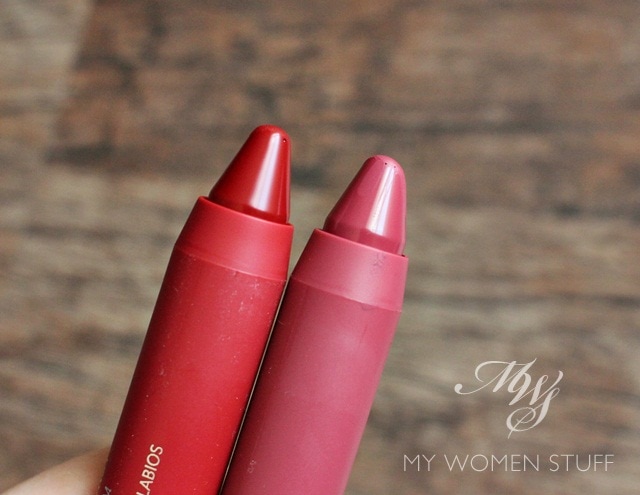 Revlon Colorburst Matte Balm Left: Standout Right: Sultry
We get 8 shades here in Malaysia and to my (and most people's surprise) the one I picked out for myself was Sultry. I know, most of you would have expected me to pick Standout, right? Right?! 😀 Well, so did the Revlon peeps coz I received Standout a couple of weeks ago 😛
How do you distinguish the Matte Balm from the other Revlon Colorstay Just Bitten Balm stain that I also like? Simple. The body of the Matte Balm pencils are matte. In case you are confused, there is also a sticker on the base of the pencil that says "Matte" so you don't make a mistake.
Importantly, how do these hold up? Are they too matte? Do they make me look old? Does it dry out my lips as many matte pencils do? Do you like these? 😀
Ok, I do like these and I'm surprisingly sold on them! I say surprisingly, because I'd been using the Matte Balm in Sultry for a week or so and found that I'd reach for it often because the colour was a great everyday colour for me, and I liked the pigment and longevity.
Like the other Revlon Colorburst lip pencils, these are your de rigueur twist up chubby lip pencils, hence no sharpening is required, and they come with a cap in the same colour as the body so it's quite easy to pick out the colour you want from your stash.
These were swatched just one time, running the lip pencil down my arm and you can see just how pigmented they are! It's absolutely wonderful to see this sort of quality from a pharmacy/drugstore brand! You may also notice how these don't look flat despite being a matte lip colour. I personally find that these aren't truly matte on skin, and there is a little shine to them, which will not sit pretty with purists. I however, like that it's not a true matte. I feel that that touch of subtle shine is more flattering than a flat matte but that's me.
Sultry is a berry with slight browned base which is a colour I wear and pick out often. It's my everyday lip colour for days when I don't really want to think about what lip colour to wear or when I want a no-fail colour that flatters without being too in your face.
Standout is as the name implies, a standout bright red with a blue base. It is incredibly flattering when worn and that bit of shine in the product makes it looks better and a touch more glamorous than a flat red, to me.
I managed to quickly swatch 2 other shades while at the counter so here they are.
Complex is a nude shade that I don't particularly find very complex and one I personally won't pick for myself but if you are the sort to wear light lip shades then this will be one you could look at.
Showy is a bright bubblegum pink that I think will look really cute on some people but again, not a colour I'd pick for myself because I know that pink will make my teeth and skin look sallow. But it's a vibrant colour.
So since we don't wear lipstick in stripes down our hands, here's how Sultry and Standout look on lips when I wear them.
Left: Standout Right: Sultry
Standout as you can see, despite it's claim of being a Matte Balm doesn't look like a flat matte and you can see that touch of shine in the middle of the lip. I find that a more flattering texture although it might irritate purists. Sultry has a more traditional matte look to it although it too doesn't look flat.
These Colorburst Matte Balms have the same minty smell and slight tingle on lips when first applied, although it goes away and despite the texture, I didn't find them particularly drying, which surprised me. I originally felt that the Just Bitten Balm Stains were drying but much later, I found they were fine. Since then, I haven't had a problem with Revlon's pencils but I won't discount the fact that some people may find it drying on lips.
They glide on very easily and smoothly with no tugging and I find the wear time incredible. It's longlasting and doesn't mark coffee cups as much as some other lipsticks I own, and I can wear these for hours without having to reapply. At just RM35.90 RRP I think these pretty good value for money.
For completeness, here's how they look in a full face shot.
Matte Balm in Sultry
Matte Balm in Standout
In a nutshell

The Revlon Colorburst Matte Balm lip colours are twist up chubby lip crayons in a matte formula. They are easy to spot because the bodies are matte when compared to similar products in the range. I find them easy to apply as they glide on quite smoothly and are very pigmented with good longevity. However, I don't find them particularly matte as I detect a touch of shine in some of the colours, which for me is great because a matte lip can be quite aging. However, those who want a true matte lip colour may not be happy with this. There is a minty smell and taste which dissipate and some people may find it a bit drying. I don't although I wouldn't call them moisturising either. I find some of the colours a little strange but there'll be a colour to suit everyone depending on your preference. I think these pretty good value for money and absolutely worth checking out.

Pros: Intense pigment, Smooth texture and easy to use, Twist up mechanism means no sharpening is required, Longlasting colour, Colour isn't flat and dull, Affordable

Cons: It isn't truly matte, Some people may find it drying

Who will like this: Anyone who wants a matte lip colour with good pigment that isn't too matte
I don't find these to stain, but they do last a long time and fade off quite nicely leaving a tint of colour so you can just top up with a clear balm or gloss for a shiny pout with a hint of colour as the day wears on, or to freshen your pout. I do find that if you try to layer on more colour it can look too heavy.
Oh and these trump the Suede lipsticks Revlon came up with last year. I ended up hating them because the texture killed me. Sticky and dry and that weird shine to it. Ick! These are MUCH better in terms of how flattering they look on lips and I think if you just look at the swatches, you can deduce that for yourself too! In a toss up between the two, get the Matte Balm, ditch the Ultimate Suede.
Are you a fan of these Revlon Matte Balms? Do you wear matte lipsticks?
I wouldn't call myself a fan because I do find Revlon's colour selection a little weird. There are one or two really neutral colours that most people can wear and then there'll be a bright pink or orange that most people can't. It always puzzles me. As for matte lipstick, I'm generally not a fan of it but I'd admit they have their place. I sometimes prefer a matte lipstick in a work place or when I have to put on a meeting face. It somehow makes me feel a bit more professional LOL 🙂
Paris B
Revlon Colorburst Matte Balms come in 8 shades in Malaysia – Complex, Showy, Sultry, Standout, Shameless, Mischievous, Audacious, Unapologetic Price: RM35.90 RRP but look out for sales Availability: All Revlon counters but stocks run out quickly