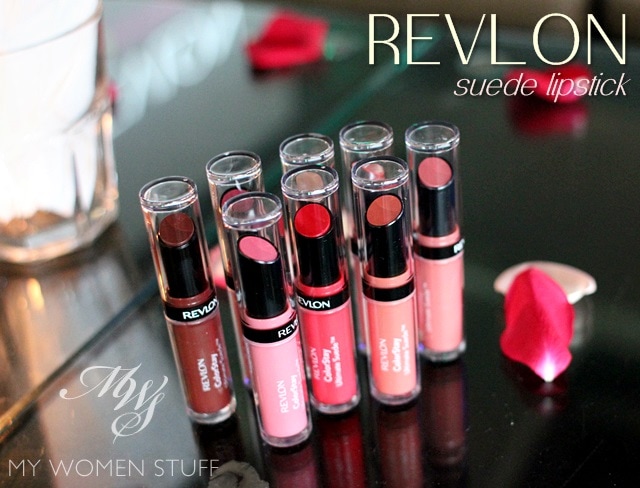 In the drugstore/pharmacy aisles, if you are ever in the market for a good lipstick, I will always steer you not so gently towards Revlon. Over the years, I've rarely been disappointed. Ok, I have been, but not so much that I'd not go back. I usually look to Revlon for foundation and lip products and they serve me well.
The last 2 lip products to grab everyone by the lapels and make them buy up all the colours in store were the Lip Butters and the Just Bitten lip stain. I'm told the latter is selling out like hot cakes – even better than the Lip Butters. I thought that intriguing because I'm not a fan of the latter, but I'm quite comfortable with the former.
But before interest can even wane in the Revlon lip products, along comes another in the form of the Revlon Colorstay Ultimate Suede Lipstick. These new suede textured (read: matte) lipsticks were launched locally a couple of months ago but I've been a little torn about what I think of them. Have you tried these?
I do have a comment about the packaging. I like how the colours outside correspond to the colours in the tube – it makes it easy to identify the colour you want. But, I don't like the packaging. I feel that the plastic is a little flimsy and when you twist up the lipstick, there'll be 2 clicks before it twists up smoothly. Ditto when you twist back down.
Revlon Colorstay Ultimate Suede lipstick in Finale and Front Row
I'm not sure what I was expecting in terms of texture. The Lip Butters have a slightly soft texture which means they break off a little more than I like. I find that to be the case with the Ultimate Suede lipsticks too. I don't know if its to do with our weather here (Its been abominably baking hot) but I do find that the lipstick breaks off at the edges when I apply it directly to my lips.
I have swatches of the rest of the collection below, but the 2 colours I took home from the launch were Finale and Front Row. Front Row is appearing in store sometime in April/May so if this is a colour you're eyeing, then do watch for it soon.
In terms of texture, I find that the Ultimate Suede lipsticks apply very smoothly on lips. They do glide on, which is nice. I also find that they apply quite creamy which again, is nice. It is almost like a pigmented balm on lips. Here are the swatches of Front Row and Finale.
Front Row on left is a shimmery very pale pink and Finale on right, is an opaque red. This is just 1 pass of the lipstick on the back of my hand so yes, the pigment is fairly good and you can see they apply quite creamy.
The same is true on lips. It is very easy to slick on the lipstick directly from the tube although with the red, you may have to be careful about the edges. Although it says that it has a suede (matte) texture, you can see that it is not a flat colour on lips, but there is a shine to it.
Front Row isn't a colour I'd wear because pale pinks like this one on my lips really washes me out something terrible. No use telling me to play up my eyes or cheeks or whatever. With pale lips, I look sick. But I do know of people who can carry this off very prettily so try it if this is a colour you like.
Finale is more like something I'd wear normally. Its a warm red that brightens up my complexion and you can apply it a little sheer, or layer it on to be a bit more opaque. The colour never ever turns a full matte as the name implies, keeping that slight glossy shine on lips, which I think is to do with the formula that contains shea butter and vitamin E.
However, I personally am not smitten by the texture. I find that the lipstick applies on my lips and feels a bit sticky, and this sticky feeling stays on. I also find this one drying for my lips. It applies nicely on, but over time, although the staying power is good, my lips start feeling dry. Granted, you could alleviate this feeling by using a layer of lipbalm underneath but I don't use lipbalm so I like my lipsticks to be moisturizing off the bat.
Here are swatches of the rest of the colours available in Malaysia at this time.
(1) 025 Socialite (2) 030 High Heels (3) 040 Flashing Lights (4) 060 It Girl (5) 070 Preview (6) 090 Private Viewing (7) 095 Finale (8) 096 All Access
I'd personally go for Finale, Socialite or Preview which you will notice, are the stronger, redder shades available. Front Row isn't included as its new and there may be more shades coming in as we go along. If the colours look a bit sparkly, its partly due to the spotlighting and partly due to the glossy texture of the lipsticks. There is no shimmer or sparkle in them, as you will see in the swatches before this.
For the sake of completeness, here's how Finale looks on me.
Just one of my regular lip colours 🙂 I like the colour and the initial texture. Not crazy about it as the hours wear on.
In a nutshell

The Revlon Colorstay Ultimate Suede lipstick is a range of moisturising suede textured lipsticks which mean they are rather more matte than usual. They aren't fully matte though, so there is a shine and gloss to the lips which makes it more attractive than if it was just flat matte. It has a balmy-cream texture that makes it apply very easily on lips. However, I find that its a bit sticky and also drying for my lips even if it does last very well through snacking and drinking. So this isn't a range I'd stock up on.

Pros: Affordable, Easy to apply, Easy to wear as sheer or opaque lipstick

Cons: Packaging isn't very attractive, Drying and sticky on my lips

Who will like this: Anyone who wants a long lasting lipstick
Oh if you have dry lips, be sure to exfoliate before using this one. It does have a tendency to catch and highlight every flaky bit of your lips which isn't very flattering. A layer of lipbalm before applying the Ultimate Suede lipstick can help if you find a colour you particularly like.
Have you tested the Revlon Ultimate Suede lipsticks yet? Find a colour you like?
They've been out for a couple of months so I'm curious if you did pick up any and if you like the formula. This isn't one of my favourites from Revlon but then, I'm never partial to matte lipsticks generally 🙂
Paris B
Revlon Colorstay Ultimate Suede Lipstick comes in 8 shades in Malaysia with more to come Price: RM31.90 Availability: Revlon counters