Hello beauty buffs!
Well, you must be a beauty buff, since you're reading this blog that's mostly about beauty, right? 😀 I am a self-confessed beauty buff and I love all these little pampering things we have and use for our skins – makeup, skincare, shower gels…
Yet, there are some products I don't really care for.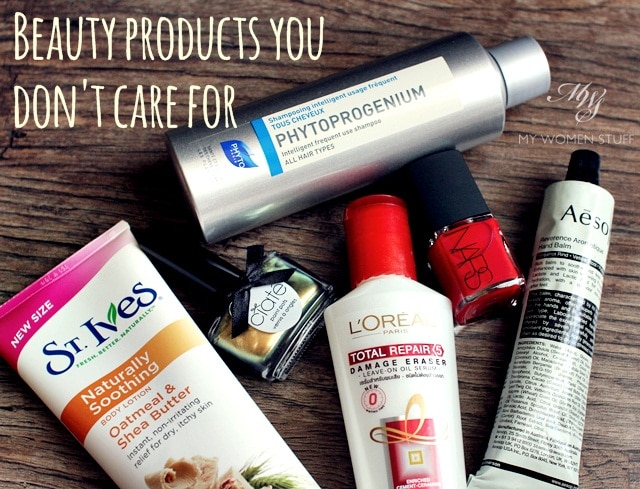 As I'm sure you do too!
For me, some of these are just products I don't use, or aspects of personal beauty that do not attract me at all. For others, I'm just not fussed about them.
What are yours? 🙂
Beauty products I don't pine for fall into roughly 4 categories.
Nail products
I used to wear nail polish off and on over the years, and although I've played with and found some nice formulas and colours over the years, nail polish and its ancillary products go whoosh! over my head. I no longer wear nail polish because I won't let it stay on for more than 2 days before I want to wipe it off. So I figured, why even bother?! I'm probably the only beauty blogger out there not flaunting her nice manicures in every shot LOL. Most of the time if you do see my fingers, they're naked 😀
Hand Creams or lotions
Related to nails but I never got into the habit of using hand creams or hand lotions. I used to use the ones by Crabtree & Evelyn but even those, I found too sticky and oily after a while. I do use a hand cream though. My favourite is the one by Clarins although I'm quite taken with the Biotherm one too after almost finishing the tube. I don't collect nor pine for them though. I won't use most of the hand creams out there and I'm planning to repurchase the Clarins one simply because it doesn't leave oily marks over my books when I read in bed 🙂
Hair products
Hair is one aspect I'm very unfussy about, and even more so now that I've cropped it short and it looks to stay that way for a while because I love it! I love the ease of care (hardly any care bar washing!) and that it keeps me cool in this infernal heat. So I just go for basic hair care – shampoo and conditioner – and I'm good to go. Sure, I like brands like Kerastase because they do make my hair feel nicer than normal, but I'm just as happy using L'Oreal Everstrong (which is surprisingly good and cheap and I don't even need a conditioner!) I don't style my hair (I'm blessed with naturally voluminous and pouffy hair) and while I sometimes use a touch of hair cream or wax to hold it in place, that's the extent of my "styling", so I don't really care for hair styling products either. Hair colour? Been there, done that, had ombré hair when it was known as "too skint to touch up roots" instead of a fashion statement 😛 these days, I embrace my natural hair colour and I'll start dying when the grey hair starts to overwhelm but till then, I'm low maintenance when it comes to hair.
Body lotions and creams
I'm a right sucker for body oils but not lotions or creams. In fact, the reason I never used to apply anything on my body was because I hated the feel of body lotion and creams! Too heavy, too sticky, too oily, ick! I still don't like them, although there are some out there that don't feel as icky, but I'll stick to my body oils that feel luxurious, nourish my skin and smell incredible!
So now you know why you hardly see reviews or chatter about these 4 categories of products on my blog. I'm just not interested enough although when I do come across something that's worth mentioning, I do and I will. I just don't chase after them nor do they interest me enough to.
What beauty products don't you care for?
I'm sure you too have your favourite beauty categories and your not-so-favourite ones. You know mine, now let's hear yours 😀
Paris B