I believe these wildly popular balm stains from Revlon arrived on our shores towards the end of 2012. So wildly popular, they eclipsed the popularity of the Revlon Lip Butters. Now that's quite a feat don't you agree? I thought the Lip Butter craze was bad enough!
Yet, I will understand the craze for the Revlon Just Bitten Kissable Balm Stains. They have been touted by many to be the drugstore or low end version of the other wildly popular stick lipbalm – Clinique Chubby Stick. This is where I will disagree wholeheartedly with all comparisons and allegations of dupes. The Revlon and Clinique lipbalm sticks are NOTHING like each other. Nothing. Thinking they are will leave you disappointed.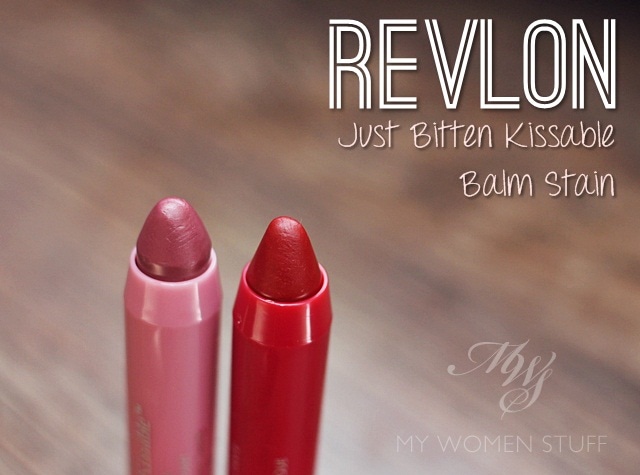 You see, the Clinique Chubby Stick is a tinted lipbalm (for the record, I don't like them. They dry out my lips) Expect colour to be sheer and for it to provide your lips with more moisture. The Revlon Just Bitten Kissable Balm Stains are lipbalm stains. The "Stain" bit is a give away that it will offer more pigment and also last on lips. Chalk and cheese, if you ask me. If there is a "dupe" I would compare these to the Clinique Chubby Stick Intense versions with a caveat that the Clinique ones aren't as long lasting.
I picked up the Just Bitten Kissable Balm Stain in Honey and Romantic at the peak of the craze. I didn't like them. I told all my friends so. I found it drying and it didn't feel right. Then 2 months ago, I rediscovered these in my drawer and thought I'd use them again just to see if my opinion had changed. Much to my surprise, 6 months down the road, I find myself using these almost regularly and I don't even know how or why it works. Now, it just does! I'm weird 😛
The Just Bitten Kissable Balm Stains are packaged as lip crayons which make them very easy to use. You quite literally draw on the outline of your lips and then colour it in. Quite a no brainer in terms of application. It is also very portable and wallet friendly so I can understand why many people like it.
At a glance, they do look very much like their higher end Clinique cousin's don't they? The difference will lie in the cap. The cap on these Revlon ones aren't silver, but a matching colour to the body. Just a minor detail. It is otherwise similarly packaged. Twist up the silver base and the stick will extend or retract as you please. No need for sharpening.
I will confess to a slightly weird feeling when I apply these because they leave a minty feel and scent on my lips. I don't like lip products with a minty feeling. I prefer them to just be tasteless and odourless. It will go away after a while, but that initial bit always bugs me.
As for the balm qualities, let's just say that I'm not a lipbalm user so I'm not your best gauge. This applies with a balmy feeling like a more intense version of the Dior Addict lipstick but does not feel waxy or heavy going on. I wouldn't say that these are your most moisturizing lipbalms because they aren't. The first few times I used Honey, I disliked how it felt because it actually felt drying. On hindsight, it could well be that I wasn't drinking sufficient water back then, or that I am doing something better now i.e. drinking more water in the day, so my lips don't dry out. I don't use lipbalm as a rule. I don't believe in them and I actually think using them creates an over-dependency on them but that's me and my half-baked theories 😛
Revlon Just Bitten Kissable Balm Stain swatch Left: Honey Right: Romantic
I swatched 2 layers of these and you can probably see just how pigmented they are on skin. Honey is a wonderful my-lips-but-better shade that I believe will suit many women. The colour on me is a natural soft rose that is perfect for a day-to-day look. Romantic is a warm, bright red that is, for want of a better word, bright.
In terms of these being lip stains, I have to say that they are quite impressive. For days when I know I need my lipstick to last, I've taken to wearing Romantic because the colour does last. It lasts me all through my morning coffee and drinks and all the way past oily noodles at lunch. Of course, it does fade a little by then, but I can just top up the colour with a light Dior Addict lipgloss and it's enough to go on again. Impressive!
Usually lip stains dry my lips out but these don't. Again, it wasn't always the case. Back in November/December 2012, it did. Now, it doesn't. Don't ask me why but it might be because I now ensure I stay hydrated all day more diligently than I used to.
Revlon Just Bitten Kissable Balm Stain on lips Left: Honey Right: Romantic
The colour isn't matte, having just a light gloss so it doesn't look too flat on lips. The stain isn't matte either. I have swatched most of the other colours at the counter and I can say that the colour quality varies quite a lot. I picked these 2 up as they are colours I'd usually use. I never went back to the counter because I know I disliked the other colours which were pale pinks that make me look dead, or weird fuchsia colours that clash with my skintone and one curious orange that will make me look like an orange. I still won't go near them until I see a better selection of colours available.
So, here I am wearing Honey which has become an everyday colour for me. It makes me look natural and polished without drawing too much attention to my lipstick.
And for glam factor, we have Romantic for that pop of colour and attention. Importantly, the wear time is impressive and it does not leave that dreaded ring around your lips where it wears out from inside out. It wears quite evenly which is pretty impressive.
Also wearing: Guerlain BB Beauty Booster in Light, Nars Radiant Creamy Concealer in Vanilla, Lunasol Smokey Ocean eyeshadow palette
I'm glad I decided to give these a second chance. They have quite certainly surprised me the second time around. If I had written a review back in December 2012, I'd have said forget it, don't get these. Now, I'd say give them a chance. They aren't highly raved by many for nothing 🙂
In a nutshell

The Revlon Just Bitten Kissable Balm Stains are affordable lip crayons that have good pigment and longevity on lips. There is a slight minty feeling and taste when I first apply and that does bug me because I dislike it. However it will dissipate. The colour Honey is a colour I think most people will like because it gives lips a lovely tint of natural rosey colour. Romantic is an intense red that not everyone will go for, but it is a good option if you are trying out bright lipstick. The wear time is impressive and does leave a stain on lips that lasts. I originally found these drying but I don't any longer which is very strange. On me, there is a light gloss and isn't matte at all. I'd say they are nice and affordable lip products to have but do not treat them as a lipbalm because I don't think they are moisturizing enough and they are nothing like Clinique Chubby Stick lipbalms. That's my last word on this.

Pros: Affordable, Longlasting colour and stain on lips, Easy to use and portable, Honey and Romantic are good colours to have

Cons: Minty scent and taste bugs me, Some people may find it drying as I originally did, Weird selection of colours

Who will like this: Anyone who likes intense lip colour that lasts a long time, Anyone who likes lip crayon style lipsticks
I'm sure many of you have tried these – what's your verdict then? Have a favourite colour?
I've been pleasantly surprised, I don't deny. My favourite colour is actually…. Honey! Haha! I don't usually go for such neutralish shades as you will notice, but it serves its purpose well and works for everyday, and especially well when working with deeper eye colours 🙂 Yours?
Paris B
Revlon Just Bitten Kissable Balm Stain Price: RM32.90 or watch out for sales Availability: Revlon counters at most major pharmacies and Sasa