Nvey Eco is a brand of natural and organic makeup that was introduced to me, to see if they might live up to my expectations when compared to conventional makeup that I use. I have to say that my experience with the Nvey Eco liquid foundation and the Nvey Eco Concealer left a lot to be desired. In fact, I haven't been impressed at all with much else I've tried from the brand. That is of course, my personal take on it, as my expectations will differ from another's.
However, there is one item that I did like, very unexpectedly because I'm very picky when it comes to this category.
And that is blush. There are 3 shades of blush carried by TNS Skinlab locally – Blushing Peach, Blushing Sunset and Blushing Golden. Blushing Peach, which you'll see here, is the lightest of the 3, and in person, the colour is very light, very nondescript and in a word, very boring.
You will not look at this and squeal "So pretty!" nor will you exclaim "Oh what a gorgeous colour!" The packaging is utilitarian and it just looks pale and light and just quite boring in pan. But this has quickly become a favourite blush for daily wear, which is something I never expected at all!
In pan, the colour is a dull washed out looking peach shade. It looks just one step up from a peach toned face powder, I swear. It is that nondescript.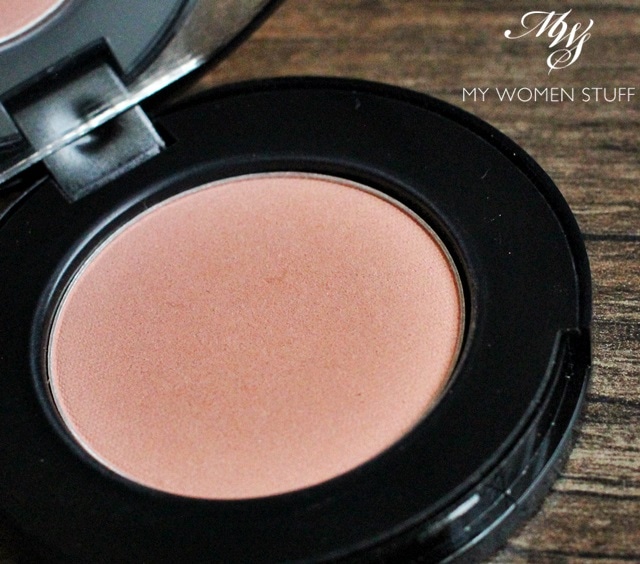 Boring, even. The powder is supposed to be formulated with organic ingredients and a blend of corn silk, chamomile and jojoba oil with Vitamins A, C and E to protect your skin even while you blush prettily. The texture of the blush is quite soft.
A natural hair brush will quite easily pick up product just by tapping it on the surface (I use my regular cheek brush) and this swatch should give you an idea of how it looks on skin.
It is quite light, with a straight peach tone that is actually surprisingly flattering, and it applies darker on skin than it looks in pan. I found that you actually only need very little product for it to show up on skin, despite the light colour, and it does show up as a beautiful flush from within.
Here's how it looks on me, basically as a very natural flush on the skin. The powder is matte and the effect surprised me because I've been using a lot of pink blushes lately, and to suddenly find a peach blush that actually gives that natural, almost neutral flush to the skin was a nice surprise.
I do have to warn you not to over do it, because it is surprisingly pigmented. I find that a tap on the surface of the powder with a brush, tap off and then buffing it into the skin gives the best effect of all because you really look like you aren't wearing makeup at all. If you want a little more flush, then add on a bit more colour. It doesn't look chalky, it's flattering and it's a surprise winner in my books. Lasting powder is amazing too.
The down side is therefore the price. The Nvey Eco blushes retail at RM99 each which is already reduced from before, and even at AU$29.95, I consider them pricey, for the simple reason I'd have to be a real die hard fan of natural and organic skincare and makeup to even consider these. For a lot less, I could get a similar product (Revlon Matte Blushes comes to mind – stellar!) and for a little more, I could go home with a luxury blush. The price is therefore the sole stumbling block to what is otherwise a very good product. For Australians however, this price might be considered average or even affordable. Cosmetics are otherwise very expensive there. But for Malaysians, it's expensive.
In a nutshell

The Nvey Eco Blushing Peach blush is a good quality, neutral coloured matte blush that gives cheeks that natural flush from within. You only need very little product, it looks beautifully natural and can be built up for colour and despite the boring packaging and dull colour in pan, looks just stunning on cheeks if what you're going for is something very natural. Like you've a touch of healthy colour in your cheeks – just better. Unless you are a big fan of natural and organic makeup or lead a natural lifestyle and therefore have few brands to pick from, I find it hard to recommend this as a buy, simply because I find the price too steep. There are many alternatives from below and the same price bracket that deliver as good a result. So I'd say this caters to a very niche market and if you belong in that niche, then I have just stumbled on a winner 🙂

Pros: Pigmented, Natural and flattering on most skintones, Gives skin a beautiful healthy glow, Not chalky or powdery, Only very little product is needed, Long lasting on skin

Cons: Pricey and not competitively priced locally

Who will like this: Anyone who uses natural or organic makeup and wants a natural looking and flattering blush
Oh it's not that large either. It's about the same size as the concealer, I believe, and this is a closer representation of what the colour of the blush looks like in pan. I told you it's about the most boring colour I've ever come across, but this is a blush I've been reaching for over and over in recent days simply because that natural flush to the skin is just so addictive.
Oh and one more gripe. It is almost as if Nvey Eco doesn't want to sell their blushes at all. On their website, there are 8 shades available represented by numbers, with no colour representations. (Blushing Peach is #953) Unless there is some esoteric code that only natural and organic practitioners understand, I'd be hardpressed to buy a blush just based on a bunch of random numbers. Fix that, Nvey Eco! It's embarrassing.
Have you used Nvey Eco makeup before? Are you into natural and/or organic makeup?
I'm not into the whole natural/organic thing as you can tell from my selection of products I use. Especially for makeup, I've tried them but mostly have been unimpressed. You just don't get the vibrancy of colour and texture in natural/organic makeup. Of everything I've tried from Nvey Eco so far, this has been the sole product to wow me. I'd tell you to try it in a heartbeat, if the price was more competitive, but as it stands, let's just say, you decide 🙂
Paris B
Nvey Eco Powder Blush Price: RM99 / AU$29.95 Availability: In Malaysia at TNS Skinlabs stores and online