There aren't many organic makeup brands around are there? Maybe there are, but I'm just not aware mainly because I'm not that specialized in the natural, organic field. But recently, I was introduced to a foundation by Nvey Eco and I also bought a highly raved concealer from RMS Beauty to see what the hype was about.
Since I have 2 concealers from 2 organic makeup brands, I thought it would be useful to have them both in one post so those of you who are interested in trying organic makeup will know of your options.
It has taken me a while to figure out if I like these or if they measure up to other non-organic makeup brands. The thing is, I recently found a firm favourite, and you might even call it Holy Grail concealer in the Nars Radiant Creamy Concealer so when I discovered that, everything else paled in comparison.
It was against this background that I put the Nvey Eco Erase Concealer and RMS Beauty Un Cover-up to the test and had to adjust my thinking accordingly.
Both these organic concealers come in a "paste" form i.e. they are compressed cream products that took me a while to figure out how to use. After a lot of experimenting, my final conclusion is that both these products work best using your fingers. In fact, you will HATE it if you don't use your fingers and try to use a brush. How do I know? Because I did. A month ago, that would have been my review. Hate this, don't buy it. But if you ask me now, I actually quite like these with a few caveats.
Nvey Eco Erase Concealer
Nvey Eco, is a brand of natural and organic makeup from Australia. I wasn't impressed with the liquid foundation that I tried before this and with that weighing on my mind, it took me a while to warm up to this one.
The Nvey Eco Erase Concealer comes in a compact pan and in 3 shades – Neutral, Medium tone and Deep Beige. The one I have here is Neutral which in pan looks very pale with a slight grey cast. The photo shows it looking a little warmer than it really is. To be honest, if you look at it, you will likely wrinkle your nose because it's a colour that doesn't look like anyone can wear.
But this is a concealer. You only need it on areas that need concealing which is likely to be areas of redness around the nose, blemishes and the undereye area. To use this, I highly recommend that you use your ring finger and rub it over the surface of the product until it warms up. It feels very hard to the touch and if you use a brush you barely pick anything up and believe me, you WILL be disappointed. The warmth from your fingers is highly recommended.
I tried using this one on the undereye area and it does conceal quite well if you use a thin layer and pat it on and blend with your fingers. Because the colour is this funny white-grey shade it can make the eye area look brighter, but use too much and does look a little stark against the skin if you layer so you should only use a thin layer. Be sure to blend it in nicely so you don't see white patches and the dreaded reverse-panda effect.
I use concealer to try to cover my pigmentation as well and this one doe the job, but only barely. Doesn't quite bug me, but if you want a very flawless cover up, this is not what you're looking for. However, what I have learned is that you have to apply pressed or loose powder over it to set it. If you don't, it has a tendency to melt right off. This isn't a problem I face with my other concealers so it might be something to do with the ingredients and the oils in the product.
All in all, I'd say the Nvey Eco Erase Concealer does the job quite well once you get the hang of it, but I can see a potential problem with the shade selection. Neutral is a little too pale and grey for most, and I have not seen Medium or Deep Beige but they do look more tinted. Also, this one is pricey. It retails at A$29.90 and RM108 which can and will put many people off. On the upside, it will last a long while. You don't need a lot and a little goes a long way. I would personally use this only for the under eye area. The shade selection is off when used on a wider area.
RMS Beauty "Un" Cover-up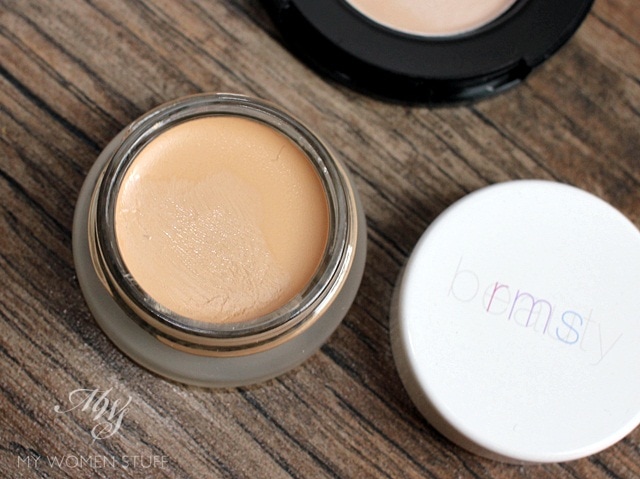 RMS Beauty is a brand of organic makeup by makeup artist Rose-Marie Swift – hence RMS. Her line of organic skincare is quite niche and has a cult following because the philosophy is a little different from the norm. What you get are jars of creams blended with organic ingredients and a short ingredient list.
The packaging for the RMS Beauty "Un" Cover-up is slightly different n that it comes in a little glass jar. The texture however, is similar to that of Nvey Eco's Erase Concealer – a thick heavy paste. The difference however is that the RMS Beauty version comes tinted in shades #11, 22, 33 and 44.
The one I have here is #11 which is the lightest shade available and if you look at it, it isn't very light at all. In pot, the shade is quite a strange warm ochre which I was a little worried about at first. When I first got it, I had the same problem with the Nvey Eco concealer. I attempted to use a brush. Mistake!
Use your fingers, folks! Rub your finger over the surface and you'll find that the hard product will soften a little under the warmth of your fingers. You will the find the product adhereing to your fingers quite easily and you can just dab it on skin for a very natural effect.
Although #11 looked a bit warm and even orange in the pot, I was quite gratified to notice that on skin it melts right into my skin and looks natural. So natural I can actually imagine using this as a makeshift foundation! I just need to dab a little on the parts of skin that need covering up and then blend it out and voila! Lots of people report that it gives a glow to the skin. I must be blind because I'm not seeing any glow at all 😛
In terms of the undereye area, I do find that it can cover up any shadows but if you try to layer on product, it will potentially look cakey. Thin layers are therefore, key. For blemishes or my pigmentation/freckles, I don't think it does that good a job in that you don't get full coverage. It doesn't bug me as it does sort of hide it enough. But like the Nvey Eco concealer, you must layer on some loose or pressed powder to set the product. If you don't, you will hate it because I didn't and I did, as it will melt and disappear 😛 If you layer on some loose or pressed powder, it will stay on much better on skin.
There's one thing I dislike about the RMS Beauty Un Cover-up though. There is a strong smell of coconut oil and oil in general. If I get past that (the smell doesn't linger on skin) then I am quite impressed by it. But on days when I can't get past the smell when I open the cap, I pass on this. Also, its really pricey at US$36. I got mine from Zuneta (now Cultbeauty.co.uk) at £28.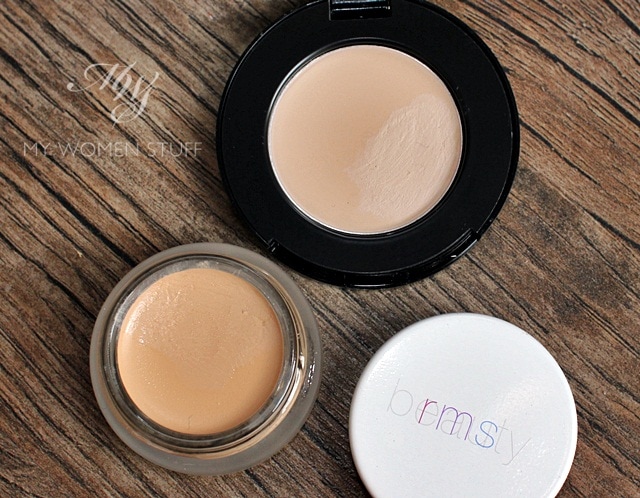 Here's a picture of both the concealers side by side so you can see the shade differences. Nvey Eco Erase Concealer in Neutral has a decidedly more pale cast as compared to the RMS Beauty Un Cover-up which has a warmer more yellow based tone to it. This is the lightest shade which I can imagine will not suit those who are very pale but it will suit most.
Left: Nvey Eco Erase Concealer – Neutral Right: RMS Beauty Un Cover-up #11
When swatched, you will notice that Nvey Eco Neutral has a slight pink cast while RMS Beauty #11 has a clear yellow tone to it.
In a nutshell

Both Nvey Eco and RMS Beauty are organic makeup brands using certified organic ingredients. The concealers both have a thick paste texture and from experience, are best applied using fingers. The warmth from your fingers will melt the product and make it easier to apply and blend on skin for a more seamless finish. Both products do a good enough job of concealing undereye circles but not very severe ones because I find that layering the product can make it cakey. Also, I highly recommend setting the product with powder else it will melt off quite quickly. The Nvey Eco Erase concealer in neutral has a very light slight pink cast and I find works best as an undereye concealer. It does brighten the eye area a little but due to the colour cast, it can look a bit odd when spread over a wide area. The RMS Beauty Un Cover-up in #11 has a more yellow tone and works both as undereye concealer and also to cover blemishes or even to use as a quick foundation. You can just apply a thin layer where you need it and blend it out. Its surprisingly effective! I was quite surprised that I actually liked both once I got the hang of using them. But seriously folks, fingers and thin layers are key!

Pros: A little product goes a long way, Easy to blend into skin if you use your fingers, Will appeal to those who are trying to incorporate natural and organic products into their lifestyle, Once set with powder they don't melt off

Cons: Pricey, Hard texture will put people off, Easy to give up on if you don't have patience, Needs to be set with powder or it will melt off very quickly, the RMS Beauty Un Cover-up has a strong coconut oil smell

Who will like this: Anyone who is trying to incorporate natural and organic makeup into their lifestyle
Here is the ingredient list of both products.
Have you tried either one of these organic concealers or other organic makeup? Have you tried anything else from either Nvey Eco or RMS Beauty that you like or dislike?
This was my first time trying an organic concealer and I must say that it has performed better than my first experience with the liquid foundation. I don't mind them and I think I could even potentially travel with the RMS Beauty Un Cover-up as a concealer cum foundation! But if you ask if I'll replace my existing non-organic concealers with these, my answer is no. They do the job, but they don't get top billing in my book. Oh, and you can't be squeamish about using fingers because otherwise, believe me, you'll hate it 😛
Paris B
Nvey Eco Erase Concealer comes in 3 shades Price: A$29.90 / RM108 Availability: Nvey Eco website or TNS Skinlab website | RMS Beauty "Un" Cover-up comes in 4 shades Price: US$36 / £28 Availability: RMS Beauty website or CultBeauty.co.uk