Summer season sees a surge in sunblocks and sunscreens, which for us here in the tropics is a year round affair. Are you tired of me banging on about using sunscreen daily already? Well, sorry babes, gonna keep banging on about it!
With the huge selection of affordable sunscreen on our shores, there really is no excuse not to use it. I have my favourite one and its pricey, I acknowledge, but for those on a tighter budget (and that includes me because I've just put myself on a beauty diet!) here are some new and affordable alternatives from Mentholatum.
Mentholatum brought in their Skin Aqua sunscreen a few years ago and like many Japanese style sunscreen, it has a very lovely light emulsion texture that makes wearing it very comfortable. For some reason, the Japanese have done for sunscreen what few Western brands have managed to do – make sunscreen comfortable to wear!
Previously, we had the Skin Aqua UV Moisture Milk but now there are another 2 products in their arsenal. The Skin Aqua UV Silky Smooth Milk SPF50 PA+++ and Skin Aqua UV Whitening Moisture Milk SPF50 PA+++ priced at an affordable RM35.90 each.
As part of the Skin Aqua sunscreen range, the products contain hyaluronic acid to keep skin moist and zinc oxide operates as one of the UV blockers. Zinc Oxide is well known to be one of the best UV blockers because it is a physical blocker that blocks both UVA and UVB rays very effectively. Unfortunately, I belong in the very small minority of the world's population that breaks out from products that contain high zinc oxide content. Frustrating? Yes. I broke out a little from the previous Skin Aqua UV Moisture Milk so I am leery about trying either of these new versions.
The pink UV Silky Smooth Milk has a light lotion texture and leaves skin looking and feeling smooth and shine free as it contains oil absorbing powder. So this one appears targeted at those with oily skin. The white UV Whitening Moisture Milk has a similar lightweight lotion texture and as the name implies not only protects skin from the harmful UV rays, it also acts to brighten and even out skintone. Not so sure about that, but these are the claims.
Since I can't use these on my face, I will instead be using them on my arms. That's what I have been doing with all my other sunscreens that I find I can't use or don't want to use because I'd much rather use my favourite. It's a good way to use them up and my arms get as good protection as my face does – win! 🙂
Another 2 new products in the Mentholatum Sunplay stable are the Sunplay Water Cool Body Mist Sunblock with SPF75 PA+++ (RM49.90) and the Sunplay After Sun Gel (RM26.90).
The After Sun Gel is essentially aloe vera gel which serves a variety of functions, not just to soothe your skin after going out in the sun. If you go out in the sun a lot, then it is useful having this on hand because I have learned over the years that aloe vera gel is one of the best things to use on skin that is overexposed to the sun. Sometimes, we may forget to reapply our sunscreen or just don't have the chance to or if you are the sort who are out and about a lot, and find your skin getting red and irritated, this gel will come in handy to cool and soothe the skin.
The Watery Cool Body Mist Sunblock is one I don't quite like. Yes, I tested this and I have tested something similar a while back. This is an aerosol spray can and you spray it all over your arms and legs in lieu of applying sunscreen all over your body.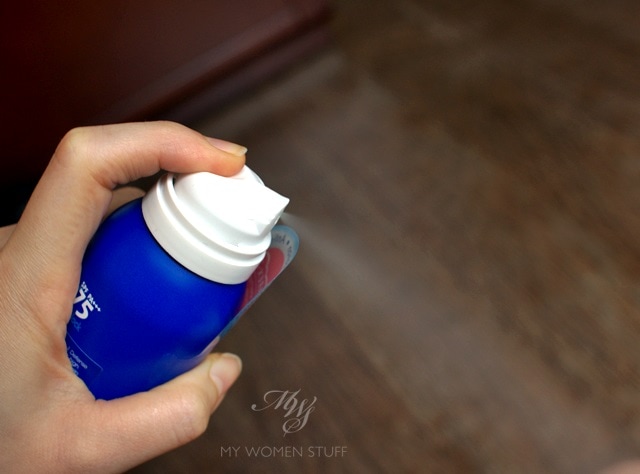 From a practical point of view, this is very practical when you are out and about and want to top up your body sunscreen. It sprays out a fine mist that does cool your skin quite rapidly so on a hot day, its quite fun. Unlike the previous incarnation, this one didn't leave an oily feel on my skin, but it made my skin feel dry instead.
If there is one thing I dislike about most Sunplay sunscreens that come in the colourful bottles is that they leave my skin feeling papery dry. This one is no exception. My skin felt papery dry and I didn't like it. So, I like the cool mist but not the after feel. Probably fun to use, but I'd rather just stick to regular lotion sunscreens.
Are you already using Sunplay Skin Aqua sunscreens? Do you have a favourite from the pharmacy brands?
Apparently, the Skin Aqua sunscreens are the No. 1 selling sunscreens in Malaysia! I'm not surprised because they are affordable and comfortable to use. For something that you go through quickly, being affordable is always a plus point! I can't use these on my face because I break out so my favourite pharmacy brand would have to be the Hada Labo ones. You?
Paris B
Mentholatum Skin Aqua UV Silky Smooth Milk SPF50 PA+++ and Skin Aqua UV Whitening Moisture Milk SPF50 PA+++ Price: RM35.90 each | Sunplay Water Cool Body Mist Sunblock with SPF75 PA+++ Price: RM49.90 | Sunplay After Sun Gel Price: RM26.90 | Availability: All major pharmacies nationwide (watch out for sales!)