Sunplay Skin Aqua sunblocks were recently launched in Malaysia and come in 2 forms – Skin Aqua UV Moisture Milk SPF50 PA+++ and Skin Aqua UV Moisture Gel SPF25 PA++ I had not had very good experiences with Sunplay sunscreens on previous ocassions. I did not quite like the watery texture and my skin felt "papery" and dry after using it. So, I tried the new SkinAqua with not a little trepidation.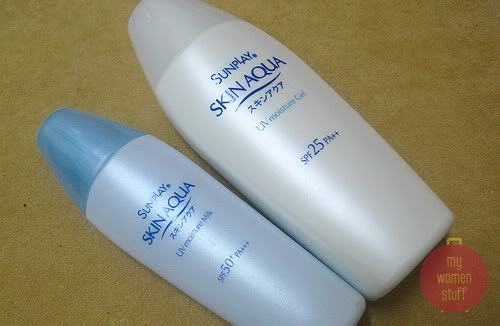 The 3 key ingredients are hyaluronic acid and hydrolyzed collagen to keep skin moist,Vitamin C and E for anti aging and zinc oxide for sunblocking. Despite the presence of zinc oxide I did not get a white cast on my skin. In fact, both sunscreens are non greasy and feel very nice going on unlike the thick textures associated with sunscreen containing zinc oxide.
Sunplay SkinAqua UV Moisture Milk SPF50 PA+++ (RM34.90 for 50ml)

Of the two, I prefer the milk version for the face. It is liquid but like a milky lotion and glides on your face easily. You have to shake the bottle to mix up the lotion prior to application. However, because it is so liquid and spreads so easily, I feel like I'm not using enough sunblock on my skin.Yet when I use more, it feels sticky. So there is a very delicate balance to it that I have yet to reach.
I always apply my sunblock at least 15 minutes before I do the rest of my makeup and before going outside. There is no use for you to apply sunscreen on your face or body and go straight out. The product has no time to bond to your skin so its as good as not applying any at all!
I like that its SPF50 (UVB measure) and PA+++ (UVA measure). The sunscreen blocks both UVB and UVA rays so its broad spectrum. It is also waterproof so you can take it swimming.

I use it over my usual day moisturiser. However, after about 3-4 days straight of using this, my facial skin started feeling a little dry and little spots and clogged pores appeared. So, I skipped it for a day or two and the skin cleared up and when I came back to this the same thing happened if I use it for a few days straight. I'm not sure if its the alcohol content in the product but I will not be using this as my only sunscreen and I've since started using it on my arms instead.
The sunblocking ingredients are Octyl methoxycinnamate, uvinul A plus and zinc oxide.
Sunplay SkinAqua UV Moisture Gel SPF25 PA++ (RM29.90 for 80ml)
This is a bigger bottle and comes in a gel form. You do not need to shake the bottle prior to applying and the gel feels fresh and applies smoothly. Again, because it glides on so smoothly, I feel I'm not using enough so I compensate by applying more and it ends up a little sticky. Also, I'd only use this one for days when I'm indoors a lot as it has lower SPF and PA rating. I'm a little paranoid about my skin LOL…
I liked the texture. Its lighter than the milk (only very slightly) so you can consider this one if you don't go out in the sun a lot or like light sunscreen. It did not make me any oilier but it did clog my pores a little. Sigh… so onto the arms and neck it goes! At least I'm not wasting product and I'm keeping my neck and arms covered! 😉
The sunblocking ingredients are Octyl methoxycinnamate, octocylene and avobenzone
Like I said, of the 2, I prefer the UV Moisture Milk version for these reasons:-
It has higher SPF and PA ratings
It is waterproof
It contains zinc oxide
Whilst both will help retain your skin moisture I do not recommend using them instead of day moisturiser but use them on top of your regular moisturiser. The level of moisture offered is sufficient to prevent my skin drying out but insufficient to act as a daily moisturizer. Both forms are easily available at Watsons and Guardian pharmacies.
Pros: Inexpensive, Light Texture, Non greasy, High SPF and PA rating

Cons: A little drying for me, broke me out a little