I'd been having lots of fun playing with my Jo Malone sampler set when I learned not too long ago that in September, there will be a new fragrance launched – Peony & Blush Suede.
Fascinating. Does suede have a smell other than it just being leather? I was quite intrigued by it and took a healthy sniff of it at the preview launch a little while ago. Not available yet folks! Look for it in stores in September.
The thing that hit me was how floral it was.
I don't know what peonies smell like and I won't pretend to. I don't know what suede smells like either because the last suede item I own has fallen apart. Suede doesn't hold up as well as regular treated leather, for me. But to me, suede will smell of leather. So the idea here is for the scent to open up with a sweet floral and dry down to that of a musky leather.
Sadly, it didn't smell like that on me when I spritz it on my skin. That's the thing about fragrances you know. The description can sell it to you, but then you spritz it on your skin and you go "Whaa…??? What was THAT?!"
During the product launch, I tested the scent on my skin and I will say that I don't smell any leather at all, not even after it has had the opportunity to dry down on my skin hours later. The overwhelming scent I received was flowers. Lots and lots of flowers. On my other wrist, I sprayed my favourite Pomegranate Noir. That one left me feeling all warm and cozy and in the words of a friend who was there – sexy and mysterious.
Peony & Blush Suede left me feeling…. normal. It basically evoked no feelings in me save that it smelled nice, if it wasn't on me.
The description tells you to expect a burst of red apples at the top followed by roses and peonies and then drying down to warm leather.
I get a sweet fruity opening and a floral note but that's where it stops for me. I don't get the warm feeling I associate with leather. I see myself in a flower garden surrounded by flowers and my car smelled of flowers as I drove but the dry down was almost boring on me. My personality is such that I don't pay well with strong, sweet, floral, feminine scents and it is for this reason that I knew that the Jo Malone Peony & Blush Suede fragrance will not be one for me.
Now, we know that Jo Malone scents are made so you can layer them, and suggested pairings are English Pear & Freesia and Orange Blossom. I can't test them seeing as I don't have a sample of the Peony & Blush Suede on hand, but you can always go to the boutique in September and get a whiff of it and see if it's you.
What I did like however, was the scent itself in the air and for that, I may consider investing in one of the candles.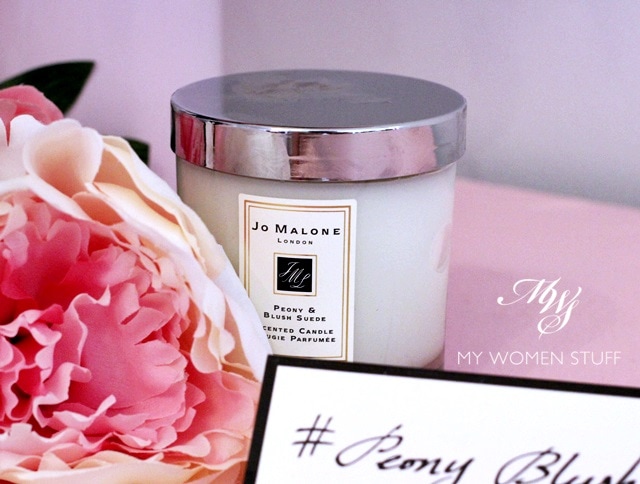 I love scented candles for the home and one of my favourite candles scents now accompanies me to sleep every night. It relaxes me and the flickering light from the candle is comforting as I read. The smell of the Peony & Blush Suede candle does freshen up a room or your house infusing it with a very lovely fresh floral scent.
Candles are a perfect way to clear your house of musty scents or just to freshen up the room as you unwind after a long day. I have an unhealthy obsession with them hehe… 😉
I had to get this out quickly because chances are that by September, I'd have forgotten what Peony & Blush Suede smells like and whether I liked it, without being able to refresh my memory. As of now, I'd say this isn't a scent for me. I can't tell if it'll grow on me for now. I like trying to persevere through a week of wearing just 1 scent to know if I'd like it on me so maybe I'll try for a sample when it launches, or maybe not.
I generally prefer warmer, spicier, woody scents with a hint of light florals. You could say, a more masculine scent suits me better than a soft feminine floral. Full on floral gives me a headache and sweet scents make me nauseous. Maybe it's just my personality. I'm not very sweet nor feminine LOL! 😉
Does the Jo Malone Peony & Blush Suede fragrance sound like something you might like?
I honestly do think many women will like this one. Everyone was cooing over how lovely and feminine it is as a scent and if you are the sort who loves floaty pink dresses, twirling flowers in your long hair and wearing soft pink lipstick, or just like soft feminine floral scents in general, I think you'd like Peony & Blush Suede 😉 Sitting here in my jeans, running my fingers through my short hair and having red lipstick on, it just isn't quite me 😛
Paris B
Jo Malone Peony & Blush Suede Cologne Price: RM225/30ml, RM450/100ml | Scented Candle Price: RM270 | Body Cream Price: RM300/175ml | Body Wash Price: RM200/250ml | Availability: Jo Malone store Pavilion KL from September 2013