About 2 weeks ago I told you about finding a slightly more affordable alternative to my favourite sunscreen from Shiseido. How about that, I appear to have told a little white lie 😛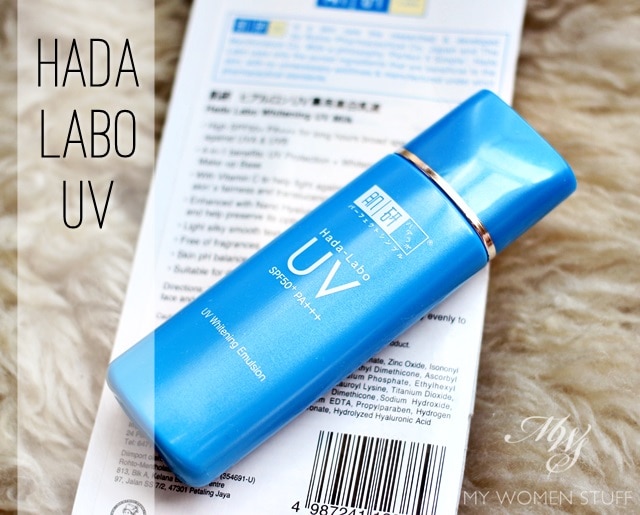 Yes, I like the Kose Sekkisei one but it turns out, that one has been relegated to third place, now that this one from Hada Labo has entered the fray. Actually I'd started using this a while back then lost it – I don't know how things go missing, I swear I breed pixies in my house – but its made an appearance again so I'd been using it again and it immediately leapfrogged to 2nd place in my sunscreen index.
This is the Hada Labo UV Whitening Emulsion SPF50+ PA+++ and if you recall that I too had mostly good words for the Hada Labo UV Moist Emulsion sunblock, you may wonder why there are two different types – one in a white tube and one in a blue tube. No, its not the blue is prettier – although I do like the colour better than the white haha! 😀
The reason it is blue is because the Hada Labo UV Whitening Emulsion comes under the Hada Labo "whitening" range of skincare which has blue packaging. So this is just to keep things consistent. It comes in a simple packaging and can be found at most major pharmacies but if you are really really looking, go to a Guardian pharmacy first. Hada Labo Malaysia had a relationship with Guardian pharmacy so its easier to find their products there than in other pharmacies.
According to the sticker on the front of the packaging, there are 4 benefits in this UV Whitening Emulsion which is – UV Protection, Whitening benefits, Hydration benefits and Makeup Base. I will attest to 3 out of 4 🙂
As a sunblock, this one ticks the right boxes for me. It is lightweight although it feels like a lotion (it does of course say "emulsion" on the tube) and it spreads and absorbs nicely into skin without feeling sticky or drying. I have a major beef with many Japanese brand sunscreens and that's the drying bit. That's the reason I don't use others by brands like Biore or Sunplay – I don't like the texture.
For moisture, I'd put it thus : Kose Sekkisei > Hada Labo > Shiseido so it depends a lot on the type of formula you like.
What else is good about this? Like its regular hydating version in the white tube, this one feels very lovely and comfortable on my skin and does not leave a white cast on my skin.
There is SPF50+ and PA+++ which covers the UVA and UVB blocking factors which are physical and chemical. I do note that this product uses Zinc Oxide as one of its UV blockers and my skin usually rejects products with high levels of Zinc Oxide in them, but to my surprise, my skin did not reject this one. Its the same with the Shiseido UV Perfect sunscreen. That too contains Zinc Oxide but my skin does not reject it. So maybe the levels aren't too high or maybe they have included it in a formula that my skin tolerates comfortably which is of course a good thing. Zinc Oxide is supposed to be one of, if not the best physical blocker for both UVA and UVB rays out there.
In terms of sun protection, I'd say Shiseido = Hada Labo = Kose Sekkisei
What makes this product a little different from the white tube sunscreen is the additional whitening ingredients. Not only does this one protect your skin from the harmful UV rays, it also works to whiten your skin. This is the one feature I cannot comment on because I personally saw no difference using this one as opposed to using a different sunscreen. Freckles and pigmentation are still there in their glory.
As a makeup base, its not bad. It isn't oily on skin and isn't too matte either. I do think the Shiseido UV Perfect makes a better makeup base than this one, as that one has slightly brightening effect too but as a base, this Hada Labo UV Whitening Emulsion makes a far better base than the Kose Sekkisei Sun Protector N as the latter feels more "moist" compared to the Hada Labo.
So as a makeup base, its Shiseido > Hada Labo > Kose Sekkisei 😛
Due to the formulation of this one, you do have to shake it up before using to ensure all everything is evenly mixed before you apply to your skin.
As you can see, dispensing it is easy and you can quite comfortably use it on face and body. The only "wrong" perception I'd say, is the price.
You see, this one retails at RM49.90 for 38ml. The bottle is compact and 38ml can easily last you a month or two depending on your use and how heavy handed you are (I am quite heavy handed so I get just slightly over 1 month's use out of it) The Kose Sekkisei one retails at about RM110 for 60ml so if you do the math, it actually comes up to roughly the same price per ml! Now, does that surprise you? 🙂
So, if you ask me, I'd say this isn't quite the budget option I expected it to be, but it will come under the budget category because its entry price is low.
So pricewise, I'd place it at Shiseido RM150/50ml > Hada Labo RM49.90/38ml = Kose Sekkisei RM110/60ml
In a nutshell

I like this sunblock. It feels lovely and comfortable on my skin and I like the high sun protection factors and UV screening. It is compact to carry about and it does not feel dry or uncomfortable on my skin. There is no white cast and it does work well as a makeup base, albeit not as well as the Shiseido but the latter comes in at almost triple the price. While I wouldn't quite consider this a "budget buy" due to various price comparisons, I will still say that this is a good buy because the entry level price is low and its easy to find. I am happy to use this interchangeably with the regular white version but I still won't use it as a primary sunblock because for that, Shiseido gets pride of place. I'd use this as a back up, and perhaps for my body (arms) because I like the texture. That will make it pretty pricey though 😛

Pros: Non greasy oily or sticky texture, Easily absorbed, Good makeup base, Can be used on face and body, High sun protection and UV protection factors, No white cast

Cons: Works out to be rather pricey on a per/ml basis, No visible whitening effects

Who will like this: Anyone who wants a hydrating sunscreen with high sun protection factor, Anyone who wants a non oily, greasy or sticky sunscreen
Here is the ingredient list for those interested to know whats in this:-
Don't you love the little warning in the Caution message? LOL! If staying out for long hours in the sun, make sure you reapply your sunblock at least every 2 hours. Its something we're supposed to do anyway on a regular basis but honestly, how many of us do that? It'd mean having to do our face every 2 hours! I don't think bosses will appreciate that a lot LOL!
Have you tried this sunblock or any from Hada Labo? What do you look for in a sunblock or sunscreen?
I have liked both versions (white and blue) that I've tried from Hada Labo so far. I'm waiting to see this one go on sale so I can pick up a back up because its almost finished. Sunscreen is one skincare item I almost always finish up without fail 😀
Paris B
Hada Labo UV Whitening Emulsion Price: RM49.90/38ml Availability: Most leading pharmacies but try Guardian pharmacy first