A while ago, I told you about the Eve Lom Cleanser and how its supposed to be the best cleanser in the world. Its not a bad product, but a bit fiddly. I love to carry it with me when I travel though because it works as an all in one makeup remover and cleanser and I like that ease of use when I'm on the road. At home, I prefer using separate products.
But we aren't here to rehash the cleanser, but to talk about the Eve Lom Rescue Mask. This is another product I've tried when I picked up a trial kit once, and its a product that Eve Lom is known for. What it is, is a clay mask and I think opinions are a little divided on this one. Some people love it, some hate it but that's how it goes with skincare. Can't please everyone!
I think its a nice mask to use for weekly deep cleansing. I am always a little wary about using clay masks because I have dry skin but I'm happy to report that this one isn't drying which is why I give it some props. Its a pricey little thing so what do I think of it?
Well, I think its not bad, to be perfectly honest. For a clay mask, it isn't drying at all on my dry skin and I appreciate that. I also like how it has this interesting depuffing action for eyebags. No, I kid you not. You can actually use this if you wake up with puffy eyes and think "OMG! I look like I have LV trunks under my eyes!" I'll tell you about how to do this below.
The product squeezes out a whitish thick cream which spreads on skin quite easily. There are some scrubby bits in it which help to exfoliate skin as you remove it from your face after it dries, and I find that it doesn't dry very quickly. I don't know about you, but some clay masks seem to speed dry on me and harden so quickly, I feel like The (Wo)Man in the Iron Mask, my mouth stretched in a rictus because my skin feels stretched.
This one doesn't dry that quickly and in fact, you don't have to wait for it to dry before washing it off. If you do wait till it dries totally, I can tell you that it becomes a lot harder to remove (but we have a trick for that!) so if you don't want the hassle removing it, start your removal when its about 80% dry.
Take some warm water and pat it on your skin, then slowly dissolve the mask in gentle circular motions. This helps to exfoliate your skin as well. Then splash away and remove the rest as you go.
In the alternative (and this is the much easier way to go) use a muslin cloth or a face sponge. What I do is wet the hardened mask on my face, dissolve it and exfoliate my skin, and then take a damp muslin cloth and wipe off the remainder, rinsing as I go. This removes the product very quickly and effectively.
What you are left with is lovely smooth, cleansed skin with (I swear) minimized pores. If I have some small spots, I apply a thicker layer over the spots and the next morning, they seem to be minimized or in the case of minor pimples, gone. If my skin looks a little dull and I've been slack in exfoliating my skin then this too does a good trick to make skin look brighter. Skincare seems to go on a little better too. I have used this one on and off in the past few years thanks to the trial sizes I have, but regular use in the past month (once a week – generous amounts) has delivered pretty good results. You could say, I'm happy with it 🙂
I must warn you of 3 things however.
You MUST shake it up before using. MUST. I cannot stress this enough because this product separates quite spectacularly. Leave it for a day and you will find that when you open the cap, water will drip out of it. When I had my travel sizes before, I didn't know this and thought my product had gone off. It hadn't. Shake it until you don't hear liquid sloshing about anymore then squeeze it out. This way, you don't have a problem with product separation.
The smell of camphor isn't for everyone. I don't mind it and find it soothing, but I can tell you that there are people who will hate it. Some people say this causes their skin to tingle when the product first touches the skin but I personally do not experience this tingling. I think my skin is too thick 😛
The larger size comes in a tub. Due to the separating product, I think this a bad idea.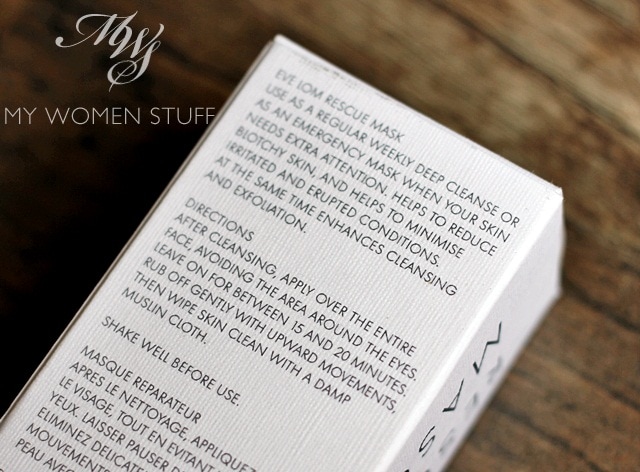 Its a little awkward, when you read the instructions, because they tell you to avoid the area around the eyes. Some people have told me that if they apply it too close to their eyes, their eyes start to water. I've taken it close and have no reaction. So I think a lot of it depends on how sensitive you are. Yet, you can actually use this Rescue Mask as an emergency eye mask!
Use as an emergency eye mask
Take a little Rescue Mask and dilute it with water until it is a thin consistency
Apply to the area under the eyes and leave it for 5 minutes
Rinse off.
It actually does help depuff eye bags which makes it quite helpful in the mornings if you have the time and you can put it on as you brush your teeth or take your shower then wash it off when you wash your face. Works a treat!
In a nutshell

The Eve Lom Rescue Mask is a clay mask that isn't drying at all even for drier skins. It does not dry too hard and can be hard to remove but if you use a muslin cloth or face sponge, it makes the job much easier. I like how it has these bits in it that help exfoliate the skin as you remove so you end up with very nice smooth skin and very clean pores. Its quite impressive for that. I also find that if I have minor pimples, it helps dry them out quickly, sometimes overnight. But not if its cystic acne or very large acne. Regular use, as with everything, seems to make my skin feel cleaner and smoother but you do have to note that it is imperative that you shake it up well before use and are able to tolerate the smell of camphor which not many people will like. It is, I feel, a little too pricey because many new generation clay masks aren't as drying anymore.

Pros: Skin feels smooth and clean after use, Not drying on dry skin although its a clay mask, Can be used as a quick fix eye mask to depuff eye bags, Seems to help get rid of small pimples quite quickly

Cons: Pricey, The scent isn't for everyone, The product separates and must be shaken up properly before use

Who will like this: Anyone who is in the market for a non-drying clay mask but to be honest, I think it much too pricey for what it does
Here is the ingredient list.
The instructions say you can leave it on for about 20 minutes. I actually leave it on a lot longer because I tend to be watching TV or reading or just messing around when I have a mask on and sometimes forget the time. So that's why I advise the use of a muslin cloth or a face sponge. It makes the job of removing the dry mask a lot easier.
One more thing. I don't know why they put this in a tub (100ml comes in a tub) because its way too fiddly for that. For one, you can't shake up a tub and secondly, its a lot easier operating a mask from a tube because I get my hands all messy a lot of the time. So if you want to try, see if you can get hold of a travel sample in one of the Eve Lom travel kits (not locally unfortunately) or go for the smaller 50ml tube.
Have you tried anything from Eve Lom? Do you like using clay masks?
I do have one product I like from Eve Lom, which is the TLC Cream that I love in dry weather. I'll tell you about it another time 🙂 I have used clay masks off and on over the years. It wasn't until I worked out that my skin was no longer oily but dry that I stopped. Clay masks tend to be drying which is great for oily skins and clearing out pores but not so good for dry skins that feel stripped thereafter. This was a nice non drying clay mask and I like how it was also an exfoliator but I personally feel that its a bit too pricey. I find the Kiehl's Rare Earth mask is pretty good too and its more affordable without the problem of the product separating so that's one to consider. The downside with the Kiehl's is that it is prone to drying out and cracking while still in the tub and it doesn't have the scrubby bits. You shouldn't have that problem with Eve Lom.
Paris B
Eve Lom Rescue Mask Price: RM185/50ml, RM245/100ml Availability: Eve Lom counters at Parkson KLCC, Parkson Pavilion, Parkson One Utama and Parkson Gurney Plaza