NOTE: REDEMPTION PERIOD HAS ENDED
Ladies (and gents!)
Ok I'm sort of excited about this one 🙂 Dior has teamed up with us to offer 50 MWS readers the chance to redeem a free Diorsnow deluxe trial set worth RM140. Some of the products will last you between 7-10 days, some longer. That's not all. One of you who redeems the trial set will have the chance to get a full size product of your choice, by just simply sharing your comments and experience with it. How easy is that? 🙂
I've got the info and details below on how to participate.
Here's what you have to do.
Print out the flyer below.
Take it to the Dior cosmetics counter at Isetan KLCC (only) from April 6-14, 2013
Go through a quick and simple skin analysis at the Dior counter to learn how to use the samples.
Pick up the free trial kit and enjoy!
Here's the flyer that you have to print out to take to the counter. Clicking on it will enlarge the image in a new window and you can print it from there.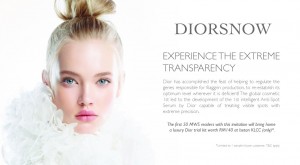 What you will receive in the trial kit worth RM140 (as pictured above) is:-
Diorsnow D-NA Control White Reveal Day Essence – 5ml

Diorsnow Anti-Spot Serum – 5ml
Diorsnow UV Shield BB Creme 020 -3ml (Eeks! My fave!)
Pure Transparency Compact Foundation
Win a full size product of your choice
Here's the deal. I'll be going through this trial period with you, where I'll be trying out some of the Diorsnow skincare products. The Anti-Spot Serum is new so I'm quite curious about that one, as I'm sure you are too.
When I share my thoughts on the products which will come in about 1 month's time, those of you who participated in the redemption will have the opportunity to share your comments and experience with the products you tried and 1 lucky person will win 1 full size item of your favourite from the kit. Lets just say that you'll have a pretty good chance of winning. Odds of 1 in 50 (or even less) aren't bad 😉
The redemption starts this weekend at KLCC so you know what to do right? Print out the flyer, stick it in your wallet or bag and head down to KLCC this weekend. Limited to the first 50 readers who show up at the counter, and terms and conditions apply 🙂
Have fun! Do let me know if you managed to get your trial kit (or if you had problems) and I look forward to sharing my thoughts and experience with you and hearing yours too 😀
Paris B