I'm a little tardy with this one, but if you have been to Parkson stores, you may have noticed a new skincare brand. Or maybe you haven't noticed 😛 I don't go to Parkson stores much but when I was at Parkson Pavilion recently, I did see the pale pink Aupres counter from afar.
This new brand is Aupres – A cosmetics brand with a French name, under Japanese cosmetics giant Shiseido, and before appearing in Malaysia, sold only in China. How's that for international? Its not sold in Japan, I'm told but then, neither was ZA Cosmetics until very recently 🙂 Aupres apparently means "next to you" or "close to you" in French but we'll need one of our resident French speakers to confirm this one 😉
It is quite a comprehensive brand, with 5 major skincare ranges to suit most if not all skin types, and a rather wide range of makeup products as well. Some of the makeup palettes reminded me a lot of a range Shiseido used to carry, but was discontinued. I'll tell you about it when I show you the image, and you can tell me if you remember the brand Inoui ID 😉
I must say that from a general overview at the press launch a couple of months ago, I was impressed most with the prices. The prices of the skincare are quite affordable, and start from RM45. Yes, RM45. Its a face wash, but still, think about the last time you stepped into a department store and managed to pick up a face wash for RM45. Go on, take your time… 😉 The priciest item is RM275 so that isn't exactly bank breaking territory either. This will just serve as a quick overview and introduction to the brand. I haven't tried anything from it yet but I will quite soon and when I do, you'll know 😉
The skincare comes colour coded which makes it easy to find the one that suits your skin or rather, your skin concerns. The peach one you see above Hydrating Pro-Balancing is as the name implies, a range to address hydration and moisture. One of their star products in the range is the Aqua Active Sleeping Mask (RM95/50ml). Its a light textured gel that you apply on skin and go to sleep in. Very popular in Asia, this sleeping mask phenomenon.
Then there's the pink Time Lock range for anti-aging, a white Ultimate White whitening range (Asians you know. Can't have skincare without a whitening range 😛 ) and a light blue Pureness Brightening range.
At the highest end is the gold Premium range for cell renewing, which uses stem cell research, and is has more premium, richer ingredients. That said, remember I said above that the price range was from RM45 to RM275? Well, that maximum price range would be found in this Aupres Premium range, which, when you think about it, isn't too hard on the wallet.
The range that caught my eye the most is the Aupre City UV Care Sunscreen range. There are different textures with different SPF levels to suit everyone. Interestingly, the little one you see on the left is a body sunblock. I was terribly amused that it came in a smaller bottle than the rest!
Like most Japanese sunblocks, the texture is very light on the skin. I found that one of them did not smell very nice, although I cannot remember which now, while I was happier with another. It might be this one that I felt more comfortable with.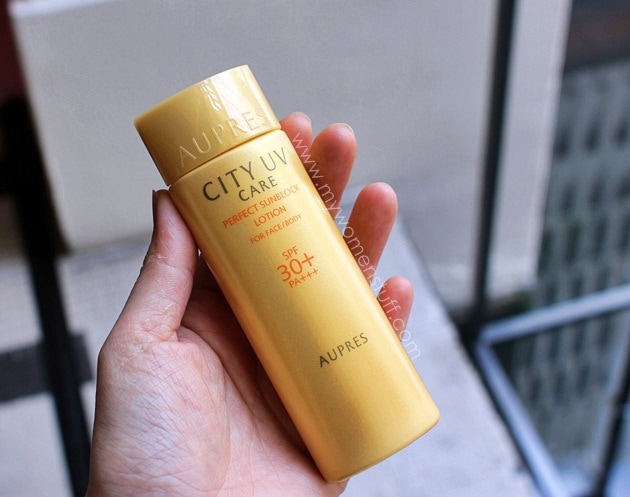 The sunblocks range from RM60-90 for a 60ml bottle (I can't remember if the small bottle is 60ml) which isn't terribly pricey. Then again, I've just finished up bottle #2 of the Shiseido Perfect UV Sunscreen that's RM150 a bottle so yeah, I'm probably not the best person to ask about pricing LOL!
Onto makeup then! You get the full range from foundation to eyeliner. I'll just show you 2 items that caught my eye.
These are the Aupres Expanding Image Eyeshadow palettes which are a very affordable RM80 each and come in 8 different shades. The quality is pretty much your typical Asian/Japanese eyeshadow palette, read: shimmery and light. So I will not say that they'll suit everyone, but if you like Japanese makeup you could always check them out. RM80 a palette isn't bank breaking 🙂
The palette that grabbed my attention the most was this one. Pretty right? The colours reminded me of the now discontinued Inoui ID eyeshadow palettes which were a Japan exclusive from years back. Inoui ID was also owned by Shiseido. Does anyone remember it? I had a couple of their palettes but I later discovered much to my chagrin (and the pain of my wallet) that my eyes were sensitive to them. They had a lovely silken texture with sheer and shimmery shades. The texture of these Aupres eyeshadows are nice, but based on my recollection not as silky as some others I am more familiar with. Still, they are pretty and a nice little treat.
Here's another item that caught my eye. I like these multicoloured powders a lot, it would seem, and the Aupres Lively Finish Pressed powder at RM100 looks pretty! There are 3 shades and are more highlighters than all over powders, I'd say. I found them a bit shimmery but for a highlighter, its pretty.
I'd place Aupres somewhere around Laneige in terms of pricing and affordability. They are affordable and apparently are doing very well in China where they were conceptualised and sold. Malaysia is just the 2nd country in the world after China to get the line and it will be expanding thereafter.
In terms of the makeup, I'd place them at being more affordable than Shiseido Maquillage. The textures of the products that I managed to test were quite similar in that regard so if Maquillage appeals to you then so will Aupres. I personally gravitate more towards the Shiseido Makeup range so the Aupres makeup does not quite grab my fancy as much as the regular Shiseido ones will.
Have you heard about the Aupres brand before this? Its been around for 2 months, so has anyone given their products a trial?
I would be up to trying the skincare, I know. Since it comes under Shiseido's umbrella, I'm more likely to give them enough credit to actually give it a go, as opposed to if it has been a standalone brand. I know, snobby! 😛 As for the makeup, they are pretty and affordable, but if I do try anything it might be one of their lip products, just to see if they live up to my Japanese lipstick ideal. I'm very particular about my lipsticks! 🙂 Yourself?
Paris B
Aupres by Shiseido skincare and makeup is available only at Parkson stores for now