I only just got this compact over the weekend but I just had to tell you about it because you see, I never buy back ups of anything. I would probably realistically never be able to finish up anything, especially a blush but I am seriously contemplating a back up of the Shiseido Camellia Compact. That's how sold I am on it, gah! 😛
I first saw this on Makeupstash and had that "OMG! Why haven't I seen this around?!" moment because a) it was just so damned pretty b) its a BLUSH! 'nuff said and c) Its just so damned pretty! I asked around and found out that locally, its been out since September or October 2012 and there are only very limited units left at the counters. So at the first opportunity, I hoofed it down to a Shiseido counter to pick it up.
Yes, it is just as pretty in person 😀 I believe this palette was to commemorate the brand's 140th anniversary which is something of an achievement. How many brands can comfortably say they have been around 140 years? Imagine having had to deal with centuries of fickle women always trying new stuff!
Anyway, the Camellia Compact is a tricoloured blush that is very very pretty to look at but I swear, even prettier on skin.
I have to commend Shiseido for bringing artistry to not only the product, but the packaging. The compact's slim compact case reminds me very much of lacquerware, with its black and red design.
It is very lovely to look at and I absolutely love the strong red and black that complement each other beautifully in a striking imagery.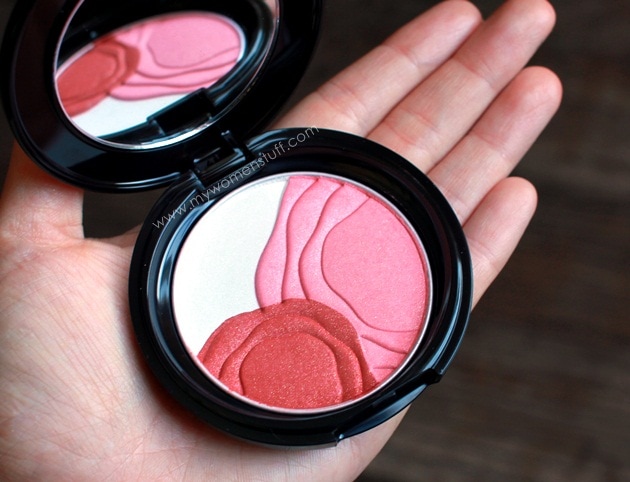 See, it fits right in the palm of your hand and is slim, with a nice mirror in the top. Open it up and you are greeted with the silhouette of overlapping camellia flowers on a white base. The tricoloured palette reminds me a lot of one Chanel did a while ago – Lumiere Magiques. I have that one and I was meaning to photograph these together, but didn't do it. Not sure why LOL! 😛
Anyway, when I saw it on Makeupstash, I knew it would work on me, because the Chanel Lumiere Magiques blush which shares the same 3 colors works on my skin beautifully. I was not wrong 😀
The 3 shades are swatched below individually and then sort of blended together to give you an idea of what the blush will look like.
Left-Right: Shimmer cool Pink, Shimmer warm Red, Shimmer White, Blended
All 3 colours are shimmery but not glittery so you only have a lovely sheen of colour on the skin. No fear of looking like a discoball at all! The colours also combine to produce different tones, depending on the shade you want. So add more red for warmth and more pink to cool it down. Add more white to lighten the colour or use it on its own as highlight.
Don't be afraid of the shimmery look of the powder blush. Here's an angle showing you the colour in its shimmer glory. Its just overspray. Underneath, the blush isn't very shimmery, but isn't matte either. Its got a lovely glowy vibe to it when applied on skin.
Oh and you would have noticed that it can be pigmented. I use my Lunasol Cheek Brush N with this, and one light tap on the surface grabs all the colour I need. I then tap off on the back of my hand for a bit and then apply it to my skin. What I get then, is a very lovely flush of colour on cheeks that can be described perfectly as a "glow from within" look. It does not sit on your skin looking like blush, but is sheer enough to allow your skin to come through, yet pigmented enough to deposit colour on skin. Do you realise just how complex that last sentence was? 😛
I just had to show you this picture of the Camellia Compact after I'd swatched it and used my finger to blend the shades because I'm sadistic like that 😀
When you use a brush, the colours don't mix up as much so you don't really get a smudge of colour like what you see on the white bit above. I used my fingers and you can see that on the red and pink, where the shimmer overspray has been rubbed off, the powder below is almost matte. When you blend the colours, the white will be a little dirtied. Perils of a pretty design.
However, when I use a brush, the muddiness isn't as obvious. It might be because I don't swirl my brush in it. Do not do it. Not only does it muddy the design, it means you end up with a splotch of red on cheeks, which is NOT how to wear blush. Well not unless you are auditioning for the Peking Opera! 😀
And here's how it looks on me.
A light tap on the blush with a brush, dab on back of hand to diffuse, then blend it on cheeks to get a very lovely flush of colour. It lasts long too. Towards the end of the day, I find that some colour has faded but it looks like I have a very healthy glow from within, that comes through the skin.
Seriously beautiful, I tell you! (The blush I mean) I really have to think seriously about picking up that back up because here's a blush I've been using daily and happy to use daily 😀
In a nutshell

Get it. Nothing else to say LOL!

Oh ok, the Shiseido Camellia Compact is a limited edition tricoloured powder blush. Use each colour on its own or blend them for a lovely flush of colour on skin. The colours are quite pigmented so use a fluffy blush brush or a skunk (stippling) brush if that's your thing. On skin, I find that the product is pigmented, but sheer enough not to look like you have a splotch of colour on skin. It is very easy to blend and imparts a beautiful flush of colour to give you that blushing from within look. Its beautiful to look at and to use and is worth every penny. The different colours mean it quite easily suits most skin tones from the fair to the deeper toned, just adjust the colours accordingly as you swirl your brush.

Pros: Beautiful blush to look at, Pigmented colours, Easy to blend, Long lasting, Not too shimmery, Lovely texture

Cons: None

Who will like this: Anyone who loves blush
I'm told this one came in very limited quantities so if you are keen on getting it, I suggest you do not delay. I picked mine up from Isetan The Gardens and it should be available at all Shiseido counters.
Does this grab you? Do you like using blush? How good are you at defiling something that looks so pretty?
I had to steel myself to swatch this one but I knew I had to do it, because I really wanted to use it and the only way I could was if I already marked it. It makes things easier 😀 I haven't had much love for blushes in recent times. I haven't even been buying many, which doesn't bode well for this blush fiend, so I've been working through my stash. The last one I bought disappointed me so I was a bit bummed. Still, I happen to own another blush from Shiseido and I'm reminded that Shiseido blushes are very nice, so remind me to tell you about that one soon. Now, about that back up… 😉
Paris B
Shiseido Camellia Compact powder blush Price: RM115 Availability: Shiseido counters Limited Edition: Yes, 2012 Holiday and 140th Anniversary