Here's a bit of trivia I picked up somewhere: Mother Nature never made anything black.
So that black cat or dog of yours isn't black, its a very deep shade of blue or purple. Its also why we rarely see black flowers. Well unless its dead 😛 So when you are faced with a fragrance named Dahlia Noir, the first thought that went through my head was "I wonder where they found a black dahlia".
Turns out they didn't.
Dahlia Noir is a flower that does not exist, but is conceptualised at the House of Givenchy. Givenchy wanted a flower that represented them, and the flower chosen was the dahlia – structured, yet feminine and soft. Black to add an air of mystery.
Another interesting bit of trivia : The Dahlia flower has no scent.
So how does a Dahlia Noir smell then? Ah, that was up to the imaginations of the creators. Interestingly, Dahlia Noir smells of roses. Interestingly also, the EdP and EdT both smell totally different! They could even be different perfumes.
While both flacons are shaped the same – a square glass block, the Eau de Toilette comes with a white cap and the Eau de Parfum in a black cap. The scents too are markedly different.
The EdT has a light scent of fruity roses. I personally found it a bit too powdery and floral for my tastes and it did not dry down well on me either. I will note that the scent is quite strong and does last quite a bit on my skin, so although its an EdT I don't think longevity will be too much of a problem.
My personal preference is the EdP version, with the black cap. The colour of the perfume in the bottle is a little deeper than that of the EdT but still clear. Without the box, you won't know what the name of the fragrance is.
All you see on the solid glass bottle is the name Givenchy Paris. Turn it over and nope, still no name. How do you know what this is called then? Ah, you have to have a spritz to find out 😉
Ah there it is! Lift off the rectangle cap and there, right where the spray is, is the name etched onto either side of the spray pump.
Dahlia Noir Eau de Parfum has a rather strong musky powdery scent that smells like roses and spices. I can tell you that most people surveyed during the press launch preferred the scent of the Eau de Toilette, because it is lighter, sweeter and just a little more girly. The EdP is stronger, more womanly, more exotic. Like me! HAHA! 😀
Ok maybe not like me, but I preferred this scent, and I have to say that it works with my skin. It starts out stronger and more musky but over the day, smells warmer. The scent of flowers almost disappears on my skin after a while, leaving behind a musky spicey scent that I happen to enjoy. Someone told me it smelt different and more unique than some of the other perfumes I've been using. I like that.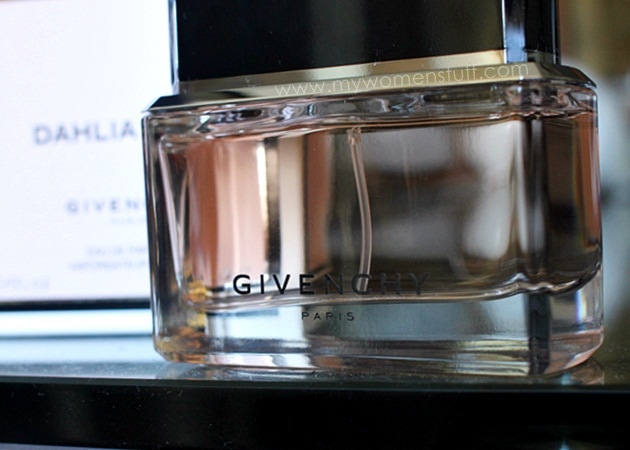 I will also tell you that many people weren't too thrilled with the scent of the EdP but you know the drill with perfumes. Words are insufficient to tell you anything because perfumes react with our skin and body chemistry. My body disliked the sweet, light, floral EdT and instead preferred the stronger, muskier, spicier EdP. Its just how we roll 🙂
So I suggest you head on down to a perfume counter, and test it out for yourself to see if its something you may like. I like the clean lines of the bottle and the hidden surprise of the location of the name of the perfume. But above all, I like how Dahlia Noir EdP smells on me and that my friends, is the most important thing of all 🙂
For anyone who knows their notes, the notes in the Dahlia Noir EdP are: Pink Pepper, Mandarin, Cedrat, Rose, Peach, Cedarwood, Sandalwood, Vanilla, Amber. See, spicy, musky notes – just how I like 'em 😉
Because a perfume isn't much fun without also viewing its commercial, here's the commercial, with the hauntingly beautiful Mariacarla Boscono.
Do you think this is a scent you might like? Do you like musky spicy scents or something more light and floral?
I don't usually go for floral scents and if the scent of roses is too strong, it tends to leave me with a headache. There are, in fact, very few florals that I can handle so I tend to go for something spicier or muskier. Its a bit unusual here, because in the hot weather, most people prefer lighter scents. I guess I'm just a little more unusual that way 🙂
Paris B
Givenchy Dahlia Noir Price: EDP RM234/30ml, RM333/50ml, RM396/75ml ; EDT RM190/30ml, RM267/50ml, RM324/75ml Availability: Sephora and major department stores