RM50, depending on how you look a it, can take you far (I could eat for a week on RM50!) or it isn't very much. RM50 at today's exchange rate is roughly S$20, £10, US$16 or €13. Yeah, once we do the math, it looks pretty pathetic LOL! 😛
Yet, RM50 can buy me some of my favourite beauty items or pick me ups, with change to boot! I know I talk a lot about department store brands and pricier (ok, expensive!) products on my blog. What can I say? Its a personal preference! 😉 But there are some affordable budget buys that I like too, and I thought I'd share them with you. I think RM50 is a nice budget friendly amount. Not hard on the wallet for most, and if you have a small budget or are a student it should be a good threshold.
I will pick up a group of items from time to time to tell you about the budget items I like that you could quite easily pick up without hurting your wallet too much. All items featured will cost RM50 or under. Take a look and chip in if you think there's a budget buy I should be taking a look at 🙂
My first 10 was easy to pick out. I literally picked up everything from my dresser or stash within 5 minutes of thinking up this idea. In fact, there was more than 10 items so you can expect the second installment to come up in the near future 🙂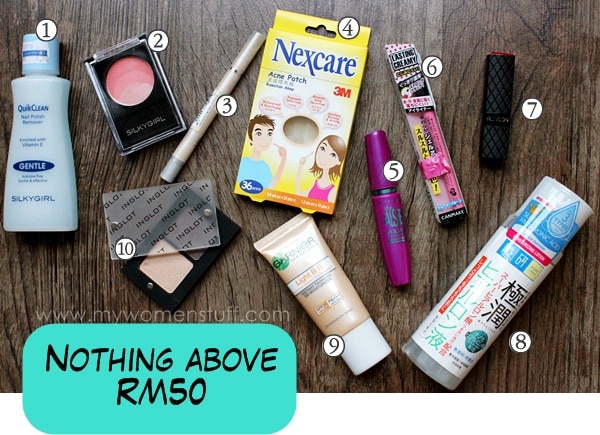 Silkygirl QuikClean Gentle nail polish remover(RM7.90) – it claims to be acetone free and it has that terrible smell that nail polish removers have but it does a very quick job at cleaning off polish. My nails don't feel too dry thereafter either. It must be said that I don't paint my nails often and when I do, this does a good job at clean up.
Silkygirl Blushing Trio blush (RM29.90) (review) – Cute to look at, and nice to use. Comes in 3 easy to use shades.
L'Oreal Touche Magique illuminating concealer pen (RM19.90) (review) – It isn't the best but it does a fair enough job at the price. One of my first concealers and one I still use now and again. Problem is that it always gets hard to find! Look in the bottom shelf of the L'Oreal display counter. They always store it there out of sight. I never quite understood why.
3M Nexcare Acne patch (RM14.90 for the bigger pack) (review) – Excellent stuff for shrinking painful cystic acne or for getting acne to go away after you've popped your spot. The person who invented this deserves some form of award.
Maybelline The Falsies mascara (RM42.90) (review) – I like this for a natural yet volumized lash effect. Its not the cheapest mascara in the pharmacy but it does a good job on my lashes.
Canmake Lasting Creamy Liner Pencil (RM38.90) (review) – I reviewed it in brown but I eventually picked one up in black. Its not a product you hear of often but it works well for lining and it stays incredibly long on my lash line. Enough to give my Guerlain Kohl liner a bit of competition.
Revlon Colorburst Lipsticks (RM39) (review) – I like the creamy texture of these lipsticks and the good opaque colour you get with a nice light texture on lips. My favourite that I wear most often is True Red featured here and here.
Hada Labo Super Hyaluronic Acid Moisturizing Lotion (RM40.90) (review) – I don't think this needs introduction. Out of the Hada Labo range of products, it is only one of two I still voluntarily go back to. The other is the sunscreen that I used quite a lot of once but have not for a while.
Garnier BB Cream Light (RM19.90) (review) – My favourite BB cream of them all. If I never used another BB cream, this is the one I would voluntarily purchase and use over and over. The texture is light, there's a nice brightening effect, it is comfortable on my skin and overall, is just perfect. On good skin days I sometimes wear this on a workday, with some powder and concealer. On weekends, I sometimes just wear this alone.
Inglot eyeshadows (RM30/eyeshadow) (review) – When I reviewed them a year ago, they were RM28 each which I thought very affordable. They're now RM30 each (not RM36 as I said before). I do think the Inglot shadows are of better quality and colour compared to MAC – just sayin'. A pan of shadow is affordable and the colours are good and pigmented. Not sure I'd get anymore myself but you can pick one up a month if you like and not feel it too much.
Are you in agreement with any of my budget beauty choices? Do you have beauty budget buys under RM50 that you'd like to share or that you think I might take a look at next time?
You could pick up a couple of them and still get change from your RM50 or better yet, if they are on sale, you could even pick up more! I'll collate another set and post another post some other time 🙂
xx Paris B
All prices are correct as at time of writing. Prices may fluctuate. All products listed can be purchased at most major pharmacies, supermarkets or Sasa stores