I swear I'm the last person in the world to learn about the acne busting wonder that is the 3M Nexcare Acne Patch. In my defence, I did not have much need for this in recent years. Spots were obediently not prominently present and even if they were, popped and healed very quickly without incident. Until recently that is.
My recent bout with chin acne came to a head recently and with a few reader suggestions pushing me to try the Nexcare acne patches, I stopped by a pharmacy and picked one pack up. It was while poring over the box that I remembered lots of raves about this product about a year or two back when almost everyone had something good to say about this.
I must however add my praise to the chorus. This acne patch thingy is a right acne buster!
I had a painful cystic sort of acne spot on one side, and an unerupted painful spot on another. It was as good a time as any to see how the Nexcare acne patch would work. I must also confess to some excitement – sad I know – because I would not at another time, purchase or try this 😀
I got the small packet which has 7 patches – 3 larger ones and 4 smaller ones. You can see the approximate sizes on the packet above and in my hand. This is a used pack, naturally 😛 The patches are sandwiched between 2 pieces of plastic which are then sealed in a sterilized pack. I appreciated that but it is worth noting that once you open it, its no longer sterilized. This is also the reason I opted for the small pack as opposed to the large one (even if the large box gives better value)
The slightly opaque silicone patches are sticky on one side – the side you stick to your face. I found it hard to find the sticky side because it appeared that both sides are a little sticky and if you manhandle it too much, it loses its stickiness. The larger one was easier (one side is smooth) but the small one was tricky.
Tips on using Nexcare Acne Patches
Ensure your face is clean and dry
Do not apply moisturiser or toner after cleansing or it will not stick properly
Ensure your hands are clean when handling these patches
Try to use your nails to peel the patch off the plastic sheet so it does not lose the stickiness
Once applied over the pimple or cystic acne spot, the translucent colour blends right into my skin so it isn't very noticable. The instructions called for the patch to be worn until it turns white. I however had no intention of wearing a patch under makeup so I only wore it at night and removed it in the day.
I did notice that when I removed the patch in the morning, the spot that covers the pimple or acne will be white or opaque. It might be the ingredients at work busting acne? I'm not sure.
But what I noticed was that when I woke up, the unerupted spot on my chin was markedly flat. 2 nights of use and it was basically gone. The other more painful one took a few more patches but its also now flat and no longer painful nor a spot. I now only have to take care of getting rid of the mark.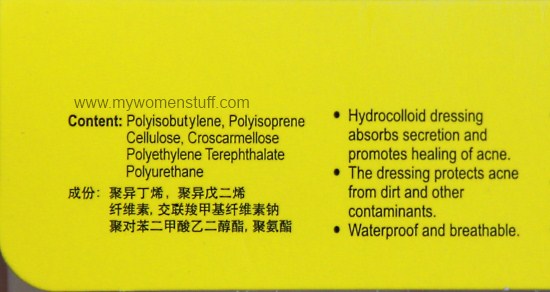 I think these patches are wonderful for spot treatment and would heartily recommend anyone to give it a go if you have an isolated painful pimple or spot that needs treatment because these things work!
And I'm probably the last person to find out 😛
Paris B
Nexcare 3M Acne patches come in different packages with the smallest being 7 patches. I purchased the 7 patch pack for RM4.30 and this is available at most pharmacies.