Ladies, most of us know that foundations come in more than just powder, liquid and cream. They also come in a solid stick form which from recollection, quite a few brands used to carry, but now no longer do. My first experience with a stick foundation was from Estee Lauder many moons ago. For some reason, I never quite caught on to it and found it a little thick.
Recently, I've been reintroduced to stick foundations and this time, I was suitably impressed enough to have worn this foundation for about 2 weeks straight. The brand is the little known Face of Australia – a brand which, as the name implies, is Australian born and found only in Australia for now. Don't go looking in the department stores though, instead, look in Priceline and selected pharmacies because this isn't pricey at all! 😀
The product is the Anti-Ageing Stick Foundation and I love this one for a very quick natural look, for use as a concealer (almost) and for holding up in our hot and humid tropical weather 😀 The last point is always a win factor.
My shade is Outback Ivory which I found a little amusing. In the Australian Outback, it is a very hot and dry place and an Ivory complexion would be quite difficult to achieve 😉 However, Outback Ivory is my perfect shade, blending in perfectly with my skintone.
The construction is simple. A solid slightly creamy foundation in stick form that comes in a chubby twist up tube. To use, just twist up part of it and swipe on your skin. It is quite chubby so I only use 1 swipe for my forehead, 2 swipes down my cheeks, a thin stripe down my nose and a dab on my chin.
Then, I use my fingers to spread and lightly blend it into my skin. The thing I quite liked is that the formula is a little creamy so it isn't very dry going on the skin and it makes blending a breeze. This also means that I do not have to press down very hard with the stick on my skin. If you do so, you will deposit too much product and it will look very thick unless you blend it out very well. So, use a light hand – its enough.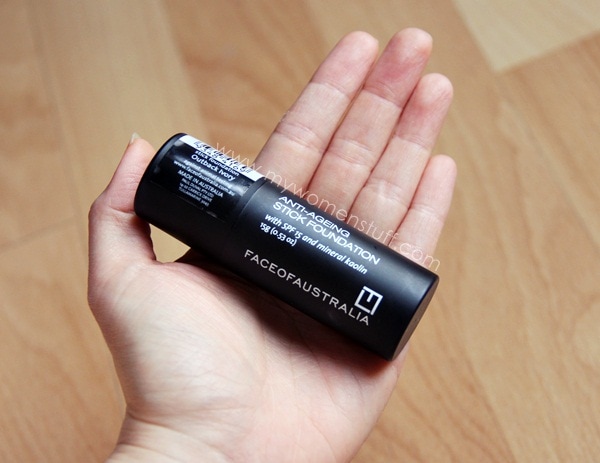 The texture, as I've noted is a little bit creamy so when you blend it out, it actually ends up covering quite a large area. The coverage is sheer to full, depending on your preference. I always sheer it out because its how I like my foundation. However what I also like about this foundation is how it is opaque enough that I can use it as concealer if I wanted to!
I sometimes blend a wee bit under my eyes and a slightly heavier coverage for areas that need more concealing. It offers just enough so I can get away without having to use a separate concealer so I love this one for toting around and for use on casual weekends. A light dusting of loose powder or Guerlain Cruel Gardenia (or regular Meteorites) over it is sufficient for a very natural no-makeup look.
FOA Anti-Ageing Stick Foundation Outback Ivory Swatch (1) straight from tube (2) blended out
When first swatched, I was a little worried because Outback Ivory is the lightest shade and it goes on a bit dark and a wee bit pink. Just a wee bit. But when blended out, its a perfect match for my skin (my other matching foundation shades are here for reference)
There is SPF15 and mineral kaolin in there, the latter of which I attribute to it staying on my skin through our mad tropical weather. I don't turn very oily with this on, and it does not slip on my skin at all. On the other end of the scale, it isn't drying either. I wore this over the Chinese New Year festivities, especially when I was going out and about to visit people, just to test how it would hold up to heat and sweat. And it holds up impressively well! A light blot and it looks as fresh as ever. That said, I do not have very oily skin so your mileage may vary.
The only fly in the ointment is the scent. For some reason, this foundation has a sharp metallic smell like that found in some sunscreen formulas. There is also a powdery scent that will go away, but the metallic sunscreen scent does stay on a bit. I don't mind it but there may be people who do.
In a nutshell

A handy stick foundation that is sheer enough for use as a sheer to almost full coverage foundation and opaque enough to use as a concealer for the under eye and blemishes. It is easy to use, and blends very easily with fingers. On my not very oily skin, it lasts very well throughout the day, in the hot and humid tropical weather, even through sweat. A light dusting of loose powder or finishing powder will help it last longer. There is however a slight scent that some people may not like but I otherwise like this foundation and do think it worth checking out if you can.

Pros: Holds up very well in heat and humidity, Easy to blend out on skin, Doubles up as a concealer, Quick and easy to use while on the go, Gives a very natural finish and coverage provided you do not use a heavy hand, Affordable

Cons: Only available in Australia, Slight metallic and powdery scent that some may not like
I've taken to using this one on weekends where I like something barely there, yet evens out skintone. I alternate it with my Garnier BB Cream which I also happen to really like. On weekdays, when I'm starved for time in the morning, I just slick this on, dust on Meteorites, do a quick touch on makeup and its impressively enough for me to face the day – its quite impressive, this little wonder 🙂
So if you have friends in Australia or who are visiting Australia or if you are planning a visit, I think it worth checking out this little wonder because its perfect for our weather and a lovely handy product 🙂
Have you tried a stick foundation before? Have you heard of Face of Australia or tried any of their products and if so, do you have something to recommend? I love discovering new brands and I love it even better when the new brands deliver a decent product at a nice wallet friendly price 🙂
Paris B
Face of Australia Anti-Ageing Stick Foundation comes in 4 shades Price: AU$11.95 Availability: Priceline Australia and selected pharmacies in Australia Online: Try Fashion Addict that ships internationally but I have never used their services